These sustainable soft drink brands are giving unwanted produce a purpose.
Dash
A pioneering brand in the 'wonky drinks' category, Dash has recently added its fourth variant, blackcurrant (rsp: £1.29/330ml). The canned seltzer is made from British sparkling spring water and unwanted blackcurrants from Herefordshire, and like the brand's other variants – lemon, cucumber and raspberry – contain zero calories. The drink's launch in February coincided with Dash's first foray into the major mults, when it won listings in Sainsbury's.
Urban Cordial
Two years after its launch in 2016, London-based Urban Cordial celebrated its November birthday with a brand refresh, new website and new seasonal flavours. As well as boasting Great Taste Awards and low sugar variants, the brand saves around 20 tonnes of British fruit from going to waste each year. Urban Cordial kicked off 2019 by announcing a partnership with the National Trust, which is now stocking three flavours – Pear & Ginger, Strawberry & Sage and Apple, Lemon & Fennel – at 89 of its sites. The cordials (rsp: £5-£6/500ml) are also sold online via The Whisky Exchange and Farmdrop, as well as in farm shops and independents nationwide.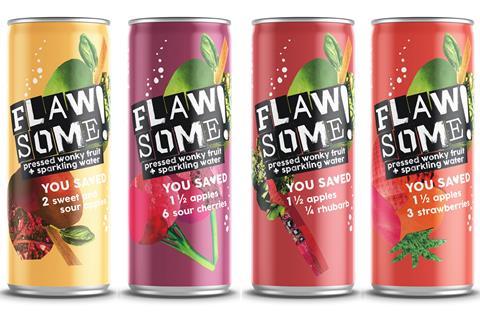 Flawsome
Wonky drinks startup Flawsome is adding to its existing range of cold-pressed fruit juices with a lineup of sparkling waters, all made with unwanted produce. Set to launch on 2 July, the canned drinks (pictured) come in Sweet & Sour Apple, Apple & Rhubarb, Apple & Strawberry, Apple & Orange and Apple & Cherry flavours (rsp: £1.29/250ml). The brand's juices come in fully recycled glass bottles and each label boasts the fruit it has 'saved' from being wasted.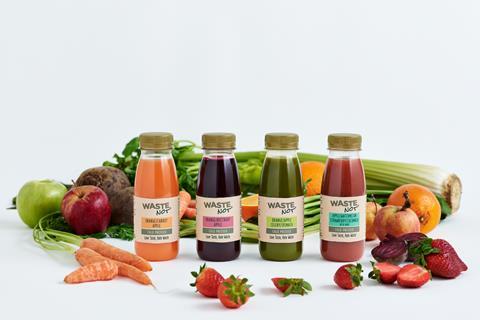 Waste Not
Tesco has overhauled its range of Waste Not surplus fruit juices, giving it a new design, updated recipes and two new limited edition flavours. The original range (pictured), which first launched in May last year, was created exclusively for the supermarket by two of its major produce suppliers, G's and AMC. The reformulated range rolled out in February, featuring Orange & Carrot, Beetroot & Orange and Apple & Celery flavours (rsp: £1/250ml). The limited edition Clementine & Pomegranate and Peach & Apricot flavours were added in April.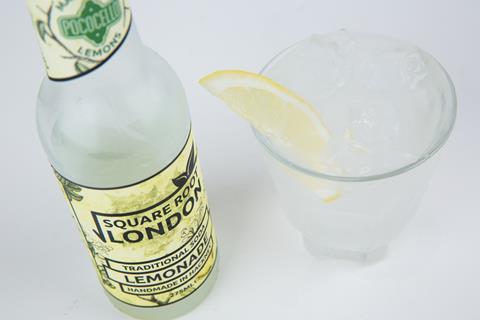 Square Root
London craft soda company Square Root has teamed up with pizzeria chain Pizza Pilgrims to create an Amalfi Lemonade (rsp: TBA/275ml). Pizza Pilgrims creates its own limoncello, Pococello, by extracting the essential oils from Amalfi lemon peel. The lemon flesh, which would otherwise go to waste, is then passed on to Square Root to be turned into lemonade. The launch follows a collaboration between the drinks brand and food waste charity FoodCycle in March, which turned surplus apples into a Spiced Apple soda, with proceeds going to the charity. The lemonade will be available in Pizza Pilgrims' restaurants from the end of May.