Food redistribution is a matter close to my heart. With so much food wasted worldwide, something simply had to be done.
We've watched the issue of food waste become significantly more public in the past few years and much of the consumer awareness cultivated, until recently, can be put down to celebrity chefs and TV programmes. We've seen a huge step change since then with national visibility of the issue rising as more influential people and companies get on board.

The Grocer is one of them and we hope its Waste Not Want Not campaign over the past 18 months has kickstarted a reduction of waste throughout the supply chain. Reduction is a great start but we know that waste cannot be eliminated entirely. So what becomes of it?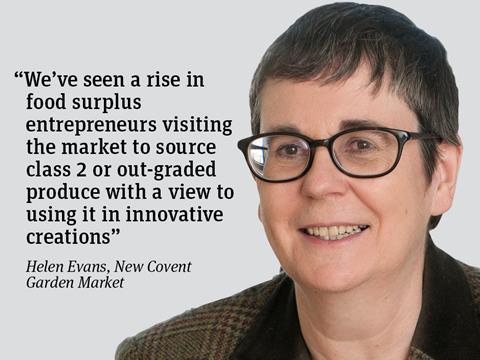 We were pleased to see The Grocer's campaign in part focus on redistribution, as we feel this is the best possible solution for surplus food. There are 160,000 registered charities in the UK and they work very hard to help the people who seek it.

We understand this and have forged a partnership with charity City Harvest, which carries the strapline 'Giving food another life'. We provide surplus food for donations, and the charity works with some of the markets to redistribute surplus fruit and vegetables across London. City Harvest now has six vans distributing an average of 1,000 meals per day to soup kitchens, homeless shelters, and organisations tackling drug and alcohol addiction.

Food that cannot be sold nor consumed, such as vegetable peelings and unfit-to-eat fresh produce, is sent to a pig farmer in Oxfordshire where it is used for composting or animal feed.

I've also noticed a rise in sales of class 2 fruit and vegetables. Supermarket 'wonky' veg ranges are going down a storm with consumers who seem perfectly happy to use imperfect products. Similarly, we've seen a rise in food surplus entrepreneurs visiting us specifically to source class 2 or out-graded produce with a view to using it in soups, juices and even ice creams. This sourcing behaviour is actually creating a demand for imperfect produce.

The message is to reduce waste where possible as the most preferable measure in this fight on food waste, with the next level in the hierarchy being reuse - sending to farms, or redistributing to charities for people in need.

Education is the first step and the features within these pages throughout the campaign have truly scrutinised every aspect of this important worldwide issue. From waste that occurs on the factory floor and surplus ordering by supermarkets to plate waste in pubs and restaurants - we need to look at every level of the supply chain and see where we can make a difference.

We have long supported the reduction and redistribution of food waste and we are excited to see where The Grocer's newly launched petition can take us. The possibilities for combating the war on food waste continue to develop. The more backing that this mission gathers, the more excited we can become about really making a difference to our environment and the people in need.

Helen Evans is business development director at New Covent Garden Market
● 'Are you #seriousaboutsurplus? Then sign our petition to get more edible surplus food to charity