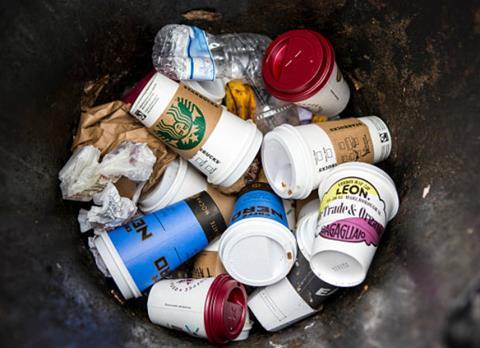 A 25p 'latte levy' should be placed on disposable coffee cups and all must be recycled by 2023 or face being banned altogether, say MPs.
The Environmental Audit Committee said the tax is needed to halt the 'avoidable waste problem' of some 2.5bn coffee cups thrown away each year.
A report published by the cross-party group says there is "no excuse for the reluctance we have seen from government and industry to address coffee cup waste".
The MPs say the charge would lead to 750 million fewer disposable cups being discarded as litter, incinerated or sent to landfill, and would generate £438m.
The extra cash would be used to invest in reprocessing facilities and 'binfrastructure' to ensure disposable cups and other food and drink packaging is recycled.
The tax would reduce in line with improved recycling rates for coffee cups.
Committee chair Mary Creagh said: "The UK throws away 2.5bn disposable coffee cups every year; enough to circle the planet five and a half times. Almost none are recycled and half a million a day are littered. Coffee cup producers and distributors have not taken action to rectify this and government has sat on its hands."
The UK generates 30,000 tonnes of coffee cup waste a year – enough to fill the Royal Albert Hall.
Most paper recycling facilities reject cups because it is hard to separate the plastic inner lining from the paper, meaning only 1% of those thrown away each year are recycled.
Creagh said coffee shops have been 'pulling the wool' over customers' eyes by saying their cups are recyclable.
"The government should set a target for all disposable coffee cups to be recycled by 2023," she said. "If a sustainable recycling system for disposable coffee cups cannot be set up by this date, they should be banned."
Charge for cups
Takeaway beverage chains including Caffè Nero, Costa Coffee, McDonald's, Pret A Manger and Starbucks have signed up to a scheme to collect and recycle more of the current types of cup. Costa is also collecting cups from rival brands in its shops.
This week, Pret doubled the discount offered to customers who bring in a reusable coffee cup from 25p to 50p.
Starbucks also began trialling a fully-recyclable coffee cup, invented by the entrepreneur and engineer Martin Myerscough, in some of its UK branches in June last year.
The US firm said it would trial a 5p charge on its cups at up to 25 of its London coffee shops in wake of the MPs' report. The three-month trial will begin in February.
"We recognise there is growing concern about the number of single-use paper cups being used and that our customers are interested in ways we can help them reduce, reuse and recycle," said a Starbucks spokeswoman.
Money raised from the trial will be used to fund a behavioural change study, undertaken by environmental charity group Hubbub, on how customers can be encouraged to use reusable cups.
"At the same time, we will redouble our efforts to ensure that drink-in customers are always offered a ceramic cup, thus cutting paper use even further," added Starbucks.
"Finally, we will continue to remind customers through our in-store marketing about the ongoing 25p cup discount and the benefits of going reusable."
However, the EA committee said although some cup manufacturers and coffee shops had made voluntary commitments to recycle coffee cups, they are 'inconsistent, and lack quantifiable targets and structure'.
A 5p charge on coffee cups was first proposed by the Liberal Democrats after it emerged last year that only one in 400 was being recycled.
Leader of the Liberal Democrats Vince Cable said the 5p plastic bag charge is proof that 'these levies work'.
"The whole point is to change behaviour and I'm glad the select committee has endorsed this Liberal Democrat campaign," he said. "The government must do the same and introduce the levy as soon as possible."
Other measures recommended by the committee include producers paying more for packaging, and improved labelling so consumers know how best to dispose of their cup.
Closure fears
Foodservice Packaging Association executive director Martin Kersh fears a ban on disposable cups would cause some coffee shops to close.
"By singling out disposable cups the committee is, by its own admission, looking for UK coffee retailers and their cup providers to underwrite the waste management of all packaging used on the go," he said.
"Its estimate of the funds created by a 25p charge are entirely disproportionate and it would seem the committee has failed to appreciate the point of an on-the-go waste management strategy is to achieve higher collection, less littering and more recycling for all on-the-go packaging from cans to cups, so simplifying waste disposal on the go."
In his Budget, Chancellor Philip Hammond described plastic waste as a 'scourge' and announced that he and Environment Secretary Michael Gove would investigate a single-use plastic tax to reduce waste.
The Grocer has contacted Pret and Costa for comment.