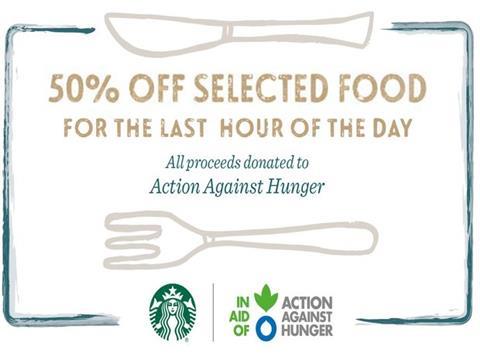 Starbucks is looking to improve its record on food waste by discounting food close to its expiry date.
Some 350 of its stores will slash prices by 50% in their last hour of trading, donating all profits to charity.
The move follows a successful trial in 16 of its Manchester stores earlier this year, which raised £1,500 from food sales over an 11-week period.
The sum went to Action Against Hunger, which works to support malnourished children worldwide.
"We're proud to have developed a programme that will deliver for the long term," said Starbucks Europe's head of communications Simon Redfern. "Off the back of the success of our Manchester trial, we're pleased to roll out this programme to the rest of our company-owned British stores, and will be working with our franchise partners to see where else this programme could work."
Action Against Hunger director of fundraising and communications Matt White added: "By working together with Starbucks and their customers we aim to reduce food waste while raising money to save children's lives where food security is threatened most."
The Grocer's Waste Not Want Not campaign highlighted in June that all Starbucks UK's surplus food goes to anaerobic digestion. With other high street operators it came in for criticism at the time from food waste charity Feedback.
"Many familiar high street food operators, like Starbucks, Costa and Greggs like to talk up their responsibility to suppliers, customers and staff - with Fairtrade ingredients and calories prominently displayed," head of communications Jessica Sinclair said at the time. "But what isn't so clear is what they're doing with food that isn't eaten, and how or if they're working to reduce how much is wasted."