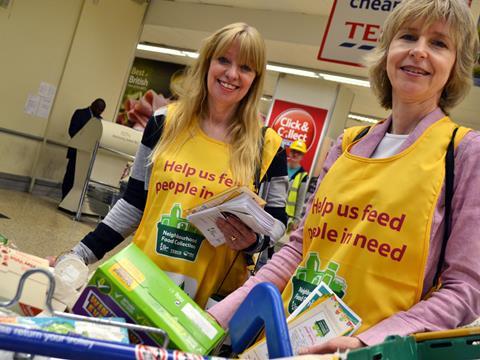 Supermarkets have ­massively stepped up their support for food poverty charities.
As The Grocer launched its Waste Not Want Not campaign, urging the industry to unite to reduce food waste and increase food redistribution, new figures from the Trussell Trust show Tesco and Waitrose increased their donations by a combined 16% in the past year to meet record high demand for food banks.
The two supermarkets jointly donated 3.6m kg of food in 2015/16, up from 3.1m kg in the previous year, according to figures from the Trust.
The food includes customer donations in-store, which resulted in 20,994 collections in Tesco stores over the past year and 6,697 at Waitrose.
Tesco also donated £48,000 worth of toiletries to the charity last year and a 20% financial top-up on the weight of food donated.
See also: How c-stores can join our Waste Not Want Not campaign
The increase in donations coincided with record use of the Trussell Trust foodbanks in the UK. The number of three-day emergency food supplies given out increased by 2% in 2015-16 to 1.1 million - a figure CEO David McAuley warned must not become "the new normal".
The charity does not hold figures on the amount of food collected from its three other major supermarket partners - Sainsbury's, Asda and the Co-operative - because it works with them on a local, rather than a national, level. But it said there were 5,955 collections from customer donations in Sainsbury's stores, 3,067 in Co-operative stores and 2,960 in Asda stores.
The number of Sainsbury's stores partnered with the Trust rose from 98 to 143 over the past year and the number of food donation points more than tripled in the past six months to 847.
"We've seen a real increase in the amount of customers looking to support local foodbanks, and are working hard to make these donations as easy as possible," said Paul Crewe, head of sustainability at Sainsbury's.
Sainsbury's also revealed it has deepened its partnership with charity FoodCycle by donating food to a further three of its hubs in Peterborough, Lewisham and Sheffield.
See also: How to pledge your support for our campaign
The supermarket will now support a total of 14 sites run by the charity, which cooks meals for people living in poverty and isolation.
Sainsbury's has worked with FoodCycle since 2006 and donated 15 tonnes of surplus food to the charity last year through 15 of its stores.
Crewe said the partnership fitted with the supermarket's "ongoing commitment" to sending zero operational waste to landfill. The food donations made a "real difference" to communities, he added.
Mary McGrath, chief executive of FoodCyle, reiterated the importance of the donations. "There is a real need in towns and cities to be providing hot, healthy food to people on the breadline," she said.
The meals also helped mitigate the "damaging effects of loneliness and isolation. For many of our guests, it is the only chance they have each week to share a meal and a conversation with others," she explained.
See also: How France is leading the way on food waste
Meanwhile Asda said it had seen a huge boom in the sale of wonky veg, since it stepped up its efforts on food waste earlier in the year.
The retailer has sold more than 32,500 wonky veg boxes since the January launch, helping it save 162.5 tonnes of misshaped veg that would otherwise have gone to waste. Asda said this week sales of the 5kg boxes remained buoyant and it remained on track to reduce farm waste by 500 tonnes through their sale by the end of the year.
It extended its trial of the boxes - which contain a variety of misshapen veg for £3.50 - on 18 February to a "permanent initiative" in 550 stores after "amazing feedback" from shoppers.
"Our shoppers absolutely love Wonky fruit and veg and we've seen sales steadily increase since we launched the range," said Ian Harrison, Asda's technical produce director, said. "Earlier this year we expanded the offer to include a unique and exclusive Wonky Vegetable box jam-packed with ugly veg that not only saves shoppers money, but also helps farmers get more of their crop onto our shelves. However, this range only solves one part of the food waste puzzle. The work we continue to do with our growers to ensure as much of their crop is sold as possible, by flexing specifications, is the golden ticket for farmers."
This article is part of our major Waste Not Want Not campaign, which you can read more about here.