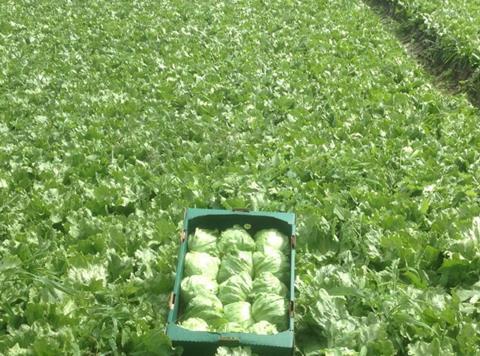 Tesco has bought 50,000 small iceberg lettuces from supplier G's Fresh in an effort to reduce food waste.

The retailer will sell the lettuces as part of its Perfectly Imperfect range for 29p, compared with the normal price of 50p, after "unseasonable" weather conditions led to a bumper crop.

Iceberg lettuce is the latest crop to benefit from a bumper harvest this year, after supermarkets turned to similar special offers on cauliflowers and carrots following strong supplies in recent weeks.

In April, the British Leafy Salad Association predicted early and abundant supplies of leafy salads and peppers this year, and suggested that UK growers could even export salads to the US, which is suffering from shortages.

In a blog on Tesco's website, chilled salads buying manager Georgina Reid said G's approached the retailer asking for help with the extra produce, which is available in selected stores nationally.

"We've worked with G's for years and are in constant conversation about how to deliver the best produce to customers," said Reid. "Growers usually have a difficult time selling these lettuces to the markets, processors and supermarkets because of their small size.

"G's knows we try to accommodate different specifications, where possible, for our Perfectly Imperfect range. In this instance the product is just as good as our regular iceberg lettuce, but it's smaller."

Anthony Gardiner, marketing director of G's Fresh, said the produce would normally be ploughed back into the ground as it sits outside standard supermarket specifications.

"It's really good iceberg, it's just a bit on the small side," said Gardiner. "We would call them fifteens, as 15 of them fit in a standard crate, compared to normally 10 or 12."

The move follows Tesco's decision to buy an extra 220,000 cauliflowers in March, and an extra one million carrots in April to capitalise on the extra crop and reduce food waste.

Aldi also hoped to sell an extra 500,000 cauliflowers at a discounted price in April, to "relieve the pressure" on growers managing the bumper crops.

The current abundant crops are in sharp contrast to the well-documented salad shortages at the turn of the year after flooding hit key growing regions in southern Spain.

It comes as growers this week moved to play down fears of drought across the UK after the Met Office revealed the UK had experienced its third driest winter on record.