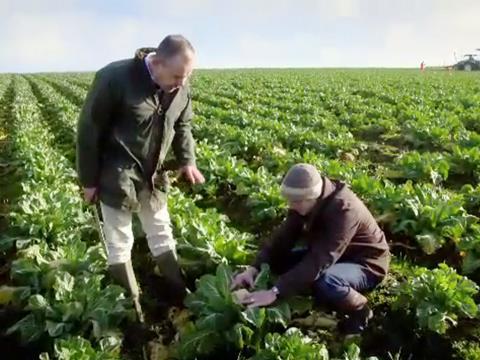 Hugh Fearnley-Whittingstall has said the supermarkets are "rising to the challenge" laid down by his campaigning War on Waste TV show.

Last November, Fearnley-Whittingstall highlighted the outrageous level of fruit and vegetables being rejected for cosmetic reasons by the supermarkets at farms and factories.

Morrisons in particular came under fire for rejecting 40% of the parsnips grown by Norfolk-based parsnip supplier Tattersett Farm because they failed to meet Morrisons cosmetic specifications. The supplier later went bust.

Fearnley-Whittingstall challenged all the supermarkets to relax their cosmetic standards to cut food waste, later supported by fellow celebrity chef Jamie Oliver.

Hugh's War on Waste returned this week and proved that levels of food waste in the fields are still extremely high. He visited one cauliflower farm where unseasonal weather had meant the farmer had left "millions" of cauliflowers to rot as the supermarkets have been "too choosy" over specs like colour.

But Fearnley-Whittingstall said there were "encouraging changes" from "most of the supermarkets". As the show progressed, Morrisons relaxed its standards at the cauliflower farm, which prevented half the crop (about 60,000 cauliflowers) from being wasted. Fearnley-Whittingstall also said Marks & Spencer, Lidl, Aldi and the Co-op were "easing up the cosmetic specifications on British-grown products like carrots, onions and potatoes. And Tesco has relaxed standards on green beans from Kenya".

Fearnley-Whittingstall also showed off a selection of new 'wonky' lines like Tesco's Perfectly Imperfect range, which includes parsnips, potatoes, strawberries and apples, and Waitrose's 'A little less than perfect' range, which is sold in 40 branches and includes wonky carrots, potatoes, onions and parsnips.

Last month, Tesco said its wonky strawberries, priced at 75p per punnet, now account for 10%-15% of total category sales. Overall, it said the whole range was "flying off shelves" and it was looking to increase the number of products to 20.

However, Tristram Stuart, who has run food waste campaigning organisation Feedback since 2009, cautioned that "there is still an awful lot of waste going on. If these trials become mainstream and these cosmetic standards are permanently relaxed across the board, that is what victory looks like."

Cutting food waste is one of the key aims of The Grocer's Waste Not Want Not campaign.