It's great to give something back to the community, but fundraising can take up a lot of time that many smaller business simply don't have. We speak to three c-stores to find out how they've overcome this with help from their buying group.
Nisa Making A Difference Locally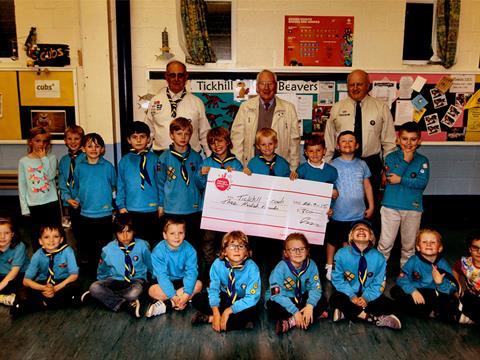 Making A Difference Locally (MADL) helps Nisa stores raise money for local projects through the sale of specific goods. Every time an item included in the scheme is purchased, a proportion of the price is added to the store's MADL fund, which (after a short application process) is then donated to a local good cause. All of Nisa's own-label Heritage range is included in the scheme, and the branded products are changed every three weeks.
"The great thing about the MADL scheme is the fact that it allows us, at retailer level, to give credit to suppliers for putting money in the pot for local causes," says Christopher Taylor, partner at Doncaster store Taylor's of Tickhill and MADL board trustee. "It creates a direct association between the products and those charities as we're saying: 'Shredded Wheat is putting 2p in for every pack you buy.'"
So far, Taylor's of Tickhill has raised £4,893 for local charities and projects including two local primary schools, a community centre, an under-12s football team, a conservation group, Scouts and Brownies. "It doesn't cost us anything to be involved," adds Taylor, "and with other charity projects our biggest concern is how to get customers involved. We don't have that problem with MADL as customers buy their groceries and donate to charity at the same time.
"I regard this as my free marketing budget," adds Taylor. "If I just give somebody a cheque for £250 and say nothing it's rather an opportunity wasted. We make sure we have an over-sized cheque, get the press involved and we're then seen as the local retailer in the local media doing things within the local community. This creates a direct association with customers shopping locally who can see where that money is going."
Blakemore Foundation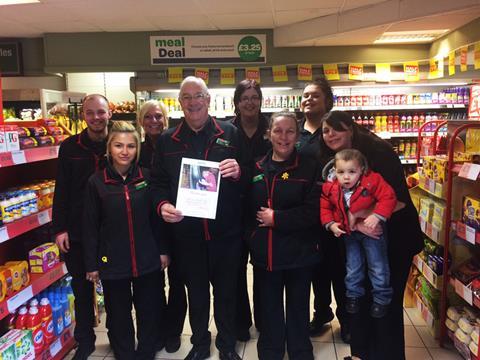 Blakemore Retail Spar in St Fagan's, Cardiff, has raised a whopping £25,000 for the NSPCC over the past five years through an array of fundraising events from dress-down days to raffles, as well as in-store bookstalls, fancy dress days and nights out.
"When you have a passion to help those less fortunate in life, fundraising can be extremely enjoyable. It's brilliant for team building as it allows staff to let their hair down and relish in the fun," says store manager Alan Collett. "The challenging thing is always coming up with more lucrative events to gain customer support and raise the profile of the store and company."
The scheme is supported by the Blakemore Foundation, described as "extremely supportive and helpful" by Collett. It offers different types of grants for its retailers' charitable projects including donations and match-funding. They also help provide the base materials for various events.
It's great to help the local community, but does this activity add anything to the business? "It doesn't really increase footfall or give you more business," says Collett, "but it does raise your profile in the local community, which is a good thing."
In terms of manpower, Collett explains the schemes and events come at a minimal cost to the business as he and the staff volunteer to help out on their days off. How? "You've got to make it fun," he says. "No-one wants to give up their day off for something boring. I make sure I lead from the front and the staff tend to follow suit."
Costcutter Local Pride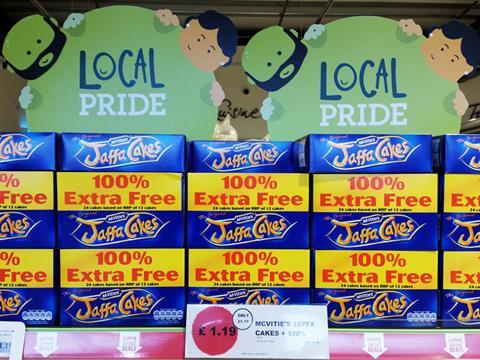 Costcutter's Local Pride raises money through the sale of goods that are part of the Local Pride offers. In addition, customers can buy a carrier bag and pop change into one of the collection tins in-store.
The Chalet Costcutter in County Armagh jumped at the chance to join the scheme when it launched in January 2016 and has already raised £1,000 for its chosen charity – Helping Hands Community Outreach Project.
"Because it is a local charity, supporting local people, it's really helped with community engagement as customers have really got behind the campaign," says store manager Craig Crossey-Truesdale. "What's more it's helped bring in new customers as the charity has promoted our partnership on its own social media channels."
Crossey-Truesdale advises others to ensure the charity is one the community will care about. And to think about how much time and effort you're able to put into fundraising – Local Pride is great for staff morale and takes very little management time, unless you take the decision to do additional fundraising, he adds.
In addition to the three basic fundraising activities of the scheme, The Chalet offers the beneficiaries of the charity food hampers at cost price, which Crossey-Truesdale says has the added benefit of really driving awareness of the store's fresh fruit and vegetable offering.
"We've also introduced additional offers, so after a promotion finishes we'll extend that offer, giving the price difference directly to charity from our own pockets and promote this using social media and plinth ends."