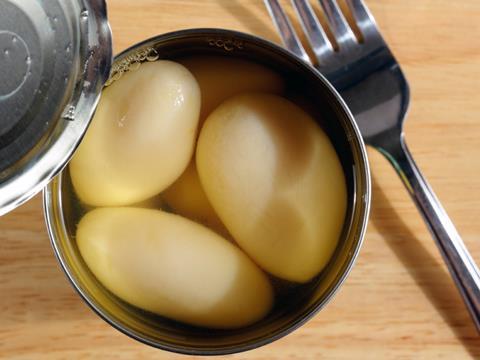 Price cuts are boosting sales of canned potatoes to cash-strapped shoppers - as sales of fresh spuds continue to slide.

Volume sales of canned potatoes rose 13.4% in the three months to 2 February, although the drop in prices kept value sales static, while sales of fresh budget potatoes fell 32.4% [Kantar Worldpanel]. The volume boom is even more marked in full-year data, with volume sales of canned spuds up 17.1%, while fresh potatoes were down 8.4%.

Canned potatoes were attracting new shoppers, said the Potato Council, with the number of households buying into the category up 3.6% year on year in the past 12 weeks.

Price has been a key factor. While a 2.5kg bag of budget fresh potatoes is about £1.18 in the big four retailers - and 1kg of budget salad potatoes 69p - a 540g can of budget new potatoes is just 15p. To compound the issue for fresh spuds, the average price of a kilo of canned potatoes has fallen 8% in the big four in the past year, while the average kilo price of budget fresh potatoes has risen 15% [BrandView 52 w/e 31 March 2014 vs 2013].

"Canned potatoes have recorded significant volume growth over the last year," said Jennifer Leck, analyst at the AHDB, of which the Potato Council is a division. "The average price has dropped significantly, helped by heavy promotions, which has brought new shoppers to the category as well as encouraging shoppers to buy larger volumes and shop more frequently."

However, she added, the fall in economy fresh spud sales was down to quality and availability rather than people switching to canned.

Despite the growth in canned, it is still a tiny part of the potato market, accounting for just £10.5m of the £1.3bn category and 1.3% by volume [Kantar].