British milk production was at its highest in 18 years in December 2013 and the forthcoming annual 'spring flush' is tipped to be more of a wave this year.
In previous years, so much extra milk might have threatened a crash in dairy prices, but this time around, industry analysts are not so worried.
December milk production stood at 1.15 billion litres, up 8% month-on-month and 3% year-on-year [Mintec].
Initial signs suggest the extra milk has started to impact on UK wholesale prices - bulk cream prices fell by 9%, to £1,500; and the price of butter fell 5% month-on-month in January, to £3,300/t. However, the EU is set to reopen private storage aid for butter shortly, which will help control the amount on the open market.*
And despite the weakness in cream and butter prices in the UK, cheese was "holding pretty firm", said one industry source.Mild and mature Cheddar prices remained unchanged last month at £3,450 and £3,650, respectively, and SMP was also flat month-on-month at £2,775 [DairyCo].
Even though the UK is seeing increased milk output, the UK's processing capacity - and ability to cope with excess milk - has expanded in the past year, allowing it to cope better with greater milk output and tap into global markets.
Robert Wiseman, for example, opened its new butter plant in November and Arla Foods UK started selling SMP on the Global Dairy Trade auction in the same month.
"Domestic supply and demand does have an influence on wholesale prices but dairy is traded in an EU and increasingly global market, with demand for dairy commodities in countries such as China and production in the US and New Zealand," said AHDB.
"No-one seems to be suggesting a sudden collapse," the industry source added.
Coffee prices rising
Coffee prices continue to rise. Arabica is up by 20% over the past month as a result of dry, hot weather in Brazil, which is the world's biggest producer of Arabica beans. Production in Brazil is expected to be down 4% this year to 5.2 million tonnes.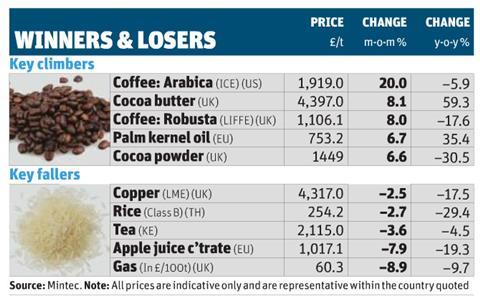 A weather-related drop in production has also led prices of Robusta coffee to rise in recent weeks, and they are now up 8% month on month, although they remain down on a year-on-year basis.
Meanwhile, tea prices are down thanks to improved supply from Kenya, and rice has dropped because the Thai government is currently trying to sell large quantities of rice to settle its $4bn debt to growers under a national subsidy scheme.
Prices digest
Arla: Arla Foods is to raise its direct suppliers' standard litre milk price to 33.5ppl from 1 March. It said the increase resulted from improved business performance in the UK. It follows an increase in the milk price granted to its farmer owners from 3 February.
Monsanto: Agri-giant Monsanto has acquired the soil analysis business of agricultural technology company Solum Inc. The asset acquisition includes the Solum brand, soil testing IP, a soil test lab in Ames, Iowa and Solum's 'No-Wait Nitrate' nitrate ­testing system.
Rice: Thailand's foreign trade department has denied claims the country has dumped cheap rice on the world market, in breach of WTO rules. Thailand has a rice stockpile of 18 to 20 million tonnes.
Beef: UK beef export volumes to France in 2013 increased 8% year on year to 11,350 tonnes with value up 11%. Eblex, which released the figures, said the increase was driven by shipments of boneless product.
*Amendment: Since this article was published, the European Commission confirmed to The Grocer that it is unlikely to open private storage aid for butter in 2014.
From this year, PSA for butter became optional with the entry into force of Regulation 1308/2013, having been mandatory previously.
Private storage aid is a mechanism used by the EU to help control the market price and is usually used when market prices crash.
"Given the present market situation [i.e. strong butter prices], it is unlikely that we will consider opening optional PSA for butter," a Commission spokesman told The Grocer.
UK wholesale prices for butter fell 13% month-on-month, to £2,875/tonne in February, their lowest level in 12 months [DairyCo].
Most of the fall had occurred in the first half of February due to ample milk supply and low demand, DairyCo reported. Once prices had fallen to world price levels in the middle of the month, buyers had returned to the market and prices stabilised, it added.
"Whilst this relationship with world prices is maintained, UK butter prices are unlikely to see further significant falls," DairyCo reported.
This article was amended at 13.23 on 7 March 2014 with the amendment above.