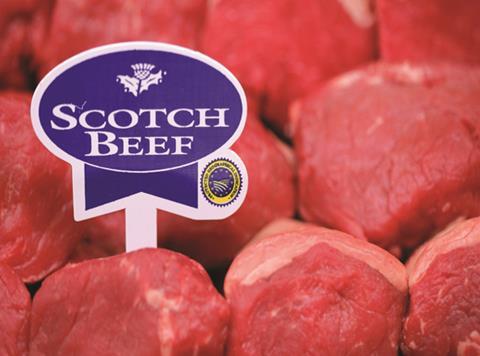 Tesco is to offer shoppers Scotch beef across 100% of its own-label fresh beef ranges in its Scottish stores.
It means that from the spring, fresh beef sold on Tesco counters, and in its pre-packed Everyday Value, standard tier and Finest fresh beef ranges will be sourced from cattle which have been born, reared and processed in Scotland.
Tesco said the move "reinforces our standing as the Scottish beef's industry's biggest customer", adding: "Our dedicated Scottish sourcing office works with over 160 Scottish suppliers, so we hope customers in our Scottish stores will really enjoy the best of what Scotland has to offer," said Richard Marris, commercial director of fresh foods at Tesco.
Packs will feature the Scotch Beef logo, the EU's Protected Geographical Indication (PGI) logo and the Scottish Saltire flag.
"We have recently seen an increase in the number of people who believe locally sourced red meat is important to them and Tesco's commitment is a welcome boost to the Scotch Beef PGI brand," said Jim McLaren, Quality Meat Scotland chairman.
Farmers supplying the beef will be offered direct, two-year contracts by Tesco, in conjunction with its principal beef supplier 2 Sisters Food Group. They will be audited by QMS' Scotch Beef Assurance Scheme.
Tesco own-label frozen beef and beef sold in ready meals will continue to be sourced from British and Irish farms.
Tesco has almost 200 Scottish stores.