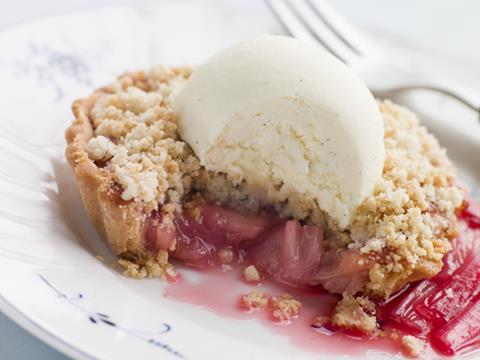 Volumes of foodies' favourite Timperley rhubarb could be down by up to 50% this year as the crop feels the effects of unseasonal weather in 2012 and 2013, the UK's leading rhubarb grower has warned.

E Oldroyd & Sons started supplying the early variety Timperley rhubarb to UK wholesalers and retailers this week, but said volumes were down considerably on an average year.

"Growers are reporting from 35% to 50% loss in yields on Timperley Early," said director Janet Oldroyd Hulme. "It is a severe blow to the rhubarb industry."

The Timperley root stock - which is grown outdoors for two years before being transferred indoors - had suffered from the "atrocious" wet weather of 2012, which had washed nutrients out of the soil, and last year's late spring, which had reduced the crop's spring growing window by more than a month, said Oldroyd Hulme.

As a result of the EU banning the herbicide simazine several years ago, the number of weeds had also increased in recent years, taking nutrients away from the rhubarb roots.

Despite the anticipated shortfall, Oldroyd Hulme said she was confident supply to retailers would be maintained. "We've not thrown anyone out, but there may not be the quantities that they would like."

If retailers were unable to get the quantities they wanted, they may have to supplement UK-grown Timperley rhubarb with Dutch rhubarb, she said.

Yields from the main forced rhubarb crop, which will be harvested in February, were likely to be better, she added.

Timperley is a key rhubarb crop that has become increasinly popular with foodies and is a named ingredient in premium products such as Tesco Finest Timperley Rhubarb Crumble and Sainsbury's Taste the Difference Timperley Rhubarb yoghurt.