This article is part of our Frozen digital feature.
Overall frozen sales have frozen. Over the past year, the category has seen a 0.4% decline in value and volume [Kantar Worldpanel 52 w/e 6 December 2015].
The overall market may be flat, but consumers are spending more per pack. Average prices across five of the seven sub-sectors measured by Kantar are up, with notable increases in ready meals, fish and confectionery.
So why is this? Well, with limited freezer space and retailers looking closely at ranges, brands are making sure they're making the most of the space they're given. This has led to a raft of added-value NPD hitting the market in recent years as brands aim to squeeze more money out of the space.
Here's how they're doing it…
Bisto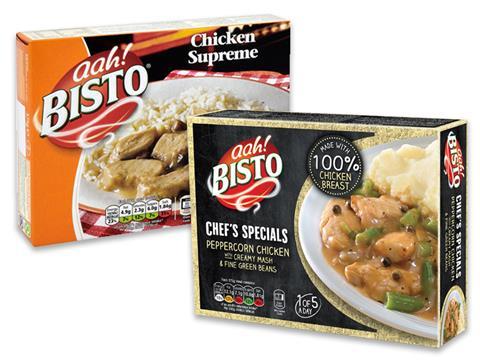 Bisto Classics – rsp: £1 (no promo price)
Bisto Chef's Specials – rsp: £1.50 (no promo price)
Ah Bisto! Seeking to drive value for the market and brand, while heeping prices affordable, isn't an easy task. But Bisto has managed it. In April 2015, Kerry Foods, under licence from Premier Foods, rolled out a mid-tier range of frozen ready meals in the form of Chef's Specials, selling at 50% more than its Classics range.
"The Chef's Specials range taps into the premium market, encouraging new shoppers into the fixture by offering high-quality ready meals from a well-renowned brand that offers trust, quality and heritage," says Charlotte Bourne, frozen ready meals brand manager at Kerry Foods. "Total Bisto is up 23.5% with Bisto Chef's Specials now worth £1.4m. The main drivers of this growth are average price per pack and penetration (+10.7%)."
Whitby Seafoods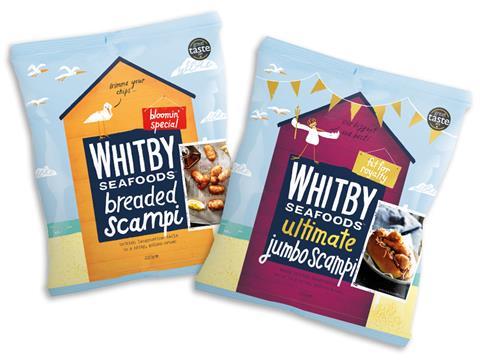 Whitby Scampi – rsp: £3; promo price £2
Whitby Jumbo Scampi – rsp: £4; promo price £3
Whitby's Breaded Scampi may be 'bloomin' special' but its Ultimate Jumbo Scampi is 'fit for royalty' – so much so that its quirky seagull mascot has been given a crown and sceptre on-pack. So, what are consumers paying more for?
"We aim to tempt consumers with a better product, not just a more expensive product in more expensive packaging," explains Matt Whelan, head of retail. Keen not to erode the value of its range, Whitby only drops the price three or four times a year on average. "Brands need to tempt consumers to shop the whole fixture and not isolate them to the promotion end," adds Whelan. "Our new-look branded offer at Whitby Seafoods is just over 12 months old and is attracting consumers to reconsider frozen."
Goodfella's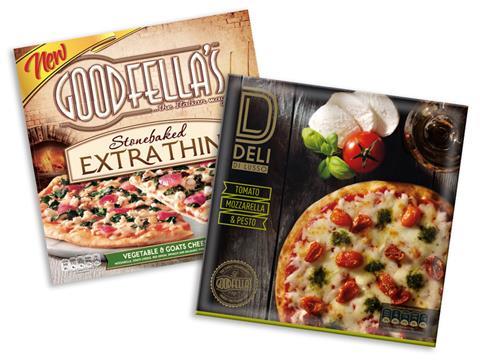 Goodfella's Stonebaked Thin – rsp: £2.50; promo price £1.25
Goodfella's Deli Di Lusso – rsp: £3; promo price £2.00
Goodfella's is keen to highlight the use of fresh authentic ingredients in its premium Deli Di Lusso range, launched last February. "Deli Di Lusso has a higher rsp than the standard Goodfella's range because it contains more premium, higher-quality ingredients right the way through from the flour and extra virgin olive oil in the base to the toppings, giving it the best 'pizzeria' taste, which is worth spending the extra money on," says Claire Mitchell, category controller Green Isle UK.
It's paying off – Goodfella's says the premium offering has racked up £3.6m since its launch in March and has a repeat rate of 21%. "Deli Di Lusso is successful because it offers 'accessible premium' to the frozen pizza shopper," adds Mitchell. "A superior quality product that looks and tastes great without the risk of an excessively high retail price means that consumers are willing to make that initial purchase to try the product, and we know that when they do they love it so they come back and buy again."
10 Things You Need To Know About... Frozen Food
1

2

3

4

5

6

7

Currently reading

Ooh la la! Posh produce drives gains in the freezer

8

9

10

11