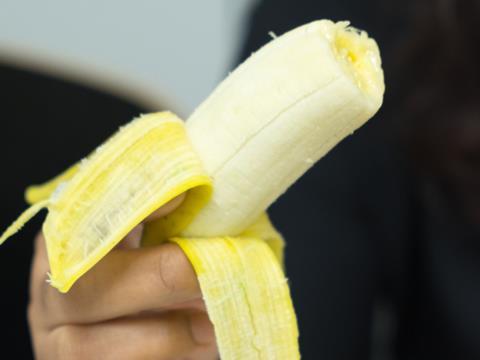 Sales of organic bananas have increased by over 25% in the past year, meaning almost one in 10 of all bananas sold in the UK are now organic.
The 25.5% increase in sales means bananas are the fastest-growing product across all organic food and drink, according to the Soil Association [Nielsen Scantrack 52 w/e 1 July 2017].
"Sales of organic bananas are higher than organic beef and almost level with organic egg sales. After organic babyfood and carrots, bananas now have the third-highest sales in this market," said Finn Cottle, business development manager at the Soil Association.
"It could be because, like organic milk, organic bananas, which are often linked to a better deal for producers, are seen as an easy way to buy into produce that feels healthier and cares for growers."
Organic fruit sales are also up 12.6% in the past year, while organic tomatoes and salad sales have risen 13.1% and 7.9% respectively.
It comes as demand for organic food and drink has risen for the fifth year in a row, according to the Soil Association's Organic Market Report 2017.
Organic sales in the UK were up 7.1% in 2016, topping £2bn for the first time since the recession.
Alongside increasing consumer demand for organic produce, the Soil Association says a growth in innovations within the organic sector has also fuelled the rising sales. This includes NPD in categories such as nut butters and confectionery, which have grown by 21% and 8.3% over the past year.
"Organic product innovation is demonstrating a wide appeal for consumers prioritising food quality, taste and wellbeing simultaneously," said Clare McDermott, business development director at the Soil Association, which expects sales to increase further following its annual Organic September events and promotions next month.