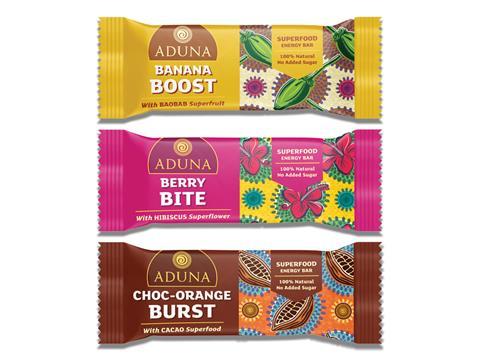 Africa-inspired health food brand Aduna is seeking £300k from the crowd to increase distribution of its new energy bar and tea ranges.

The campaign will raise funds to scale up production of new tea and energy bar ranges, which contain ingredients such as cacao and hibiscus, as well as its ingredients business and investment in digital.

The company said the introduction of more recognisable products was intended to grow the brand before it introduced the baobab and moringa-based products it specialises in to the multiples.

The campaign is offering 7.5% equity for £300k, on a pre-money valuation of £3.7m.

It follows a successful crowdfunding campaign last year, when the business raised £471k, ahead of its £325k target, from 370 investors.

In the previous financial year, the supplier recorded sales of £1.1m and said it expected this to increase about 20% for 2018.

Growth was expected to accelerate next year, said CEO Andrew Hunt, , on the back of NPD and a drive to increase listings at multiples. "Now is really this inflection point for the business, with the new products and the crowdfunding campaign and the way we have restructured our team to take our brand into the mainstream," said CEO Andrew Hunt.

"We've spent the last five years educating the market about superfood ingredients baobab and moringa which we have introduced to the market.

"We've focused on health food retail and early adopters, which has been hard work, and now we are at the point where we want to take this more to mainstream retailers."

The company's African superfood powders and superfood energy bars are sold in more than 2,000 stores, including Ocado and Holland & Barrett.

Aduna said it had "created 850 sustainable jobs" for women in northern Ghana, believing that this was a key selling point to increasingly ethically-conscious consumers.

"We offer a very specific social mission with our products and that is something that engender loyalty from our customers. They won't primarily buy for that reason, it has to taste good, but assuming you get that right, consumers right now are interested in the social aspect," Hunt said.