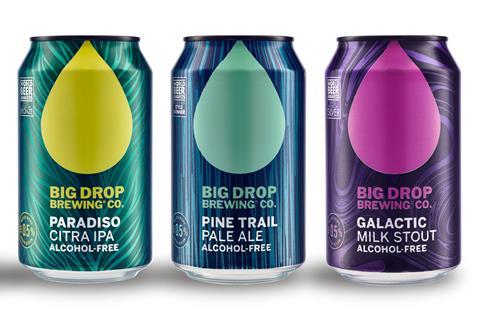 Alcohol-free craft brewer Big Drop Brewing Co has kicked off a half-a-million pound fundraising drive to underpin its efforts to take the craft revolution to the growing no-alcohol market.

The non-alcoholic beer brand has taken to Seedrs looking for £500k in exchange for a 6.2% stake in the brand - for a £7.5m pre-money valuation.

It has so far raised over £180k from 193 investors. The goal was to raise up to £1m, founder & CEO Robert Fink said.

Big Drop has already secured the backing of several industry experts, raising £1.3m from the founders of Camden Town Brewery, professional private equity investors and various angel investors and high net worth individuals.

The brand will use most of the cash from the latest campaign to open an experiential taproom in London and a mobile bar to use at trade shows and events.

Additionally, a chunk of the money will cover costs associated with a packaging relaunch, the launch of an updated website, start-up costs from brewing in new markets and NPD to keep up with new trends.

Big Drop beers are currently stocked by Tesco, Morrisons and Ocado and will list with Sainsbury's from July as well having on-trade listings in over 3,000 sites including Youngs, Mitchells & Butlers, D&D Group and Cirrus Inns.
Internationally, the company exports to over 12 countries, including Scandinavia, the Netherlands, Hong Kong, Canada and South Korea, with a launch planned in the US "very soon".
In January 2020, Big Drop has sold around 100k pints of beer achieving revenues of nearly £900k in 2019.