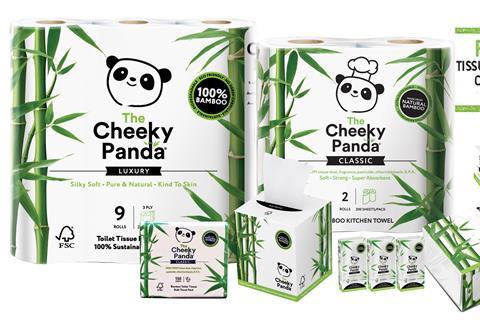 Bamboo tissue brand The Cheeky Panda has smashed its crowdfunding target to raise a seven-figure sum valuing it at almost £25m.

Founded in 2016 by eco-entrepreneurs Chris Forbes and Julie Chen, the supplier sought £750,000 in return for 2.9% of its equity, valuing the company at £24.8m pre-funding.

Within three days of the campaign's launch it has raised more than £1.3m for around 5% via by 296 investors.

Cheeky Panda's range, made from virgin bamboo, is stocked by Ocado, Booths, Morrisons and WHSmith, among others in the UK, as well as overseas retailers such as Dunnes in Ireland, Monoprix in France and Carrefour in Dubai.The Cheeky Panda says it offers the tissue market a sustainable and health-conscious alternative.

The toilet tissue, kitchen towels, travel and facial tissues, handtowels, baby and wet wipes it manufactures are also "free from harsh chemicals found in regular tissues" - saving trees and animal habitats into the bargain, it says.

The funds raised will be used to support buying stock, marketing to raise brand awareness, and internationalisation.

Forbes told The Grocer that when it closed the fundraising it will give away a maximum of 5.5%.

Cheeky Panda first went to Seedrs in 2017 when its valuation was £5m.

Forbes said: "Last year turnover was £600,000. By the end of the financial year we were doing £70,000 a month. Last month we did £300,000. Annualised turnover is currently £4m. By the end of 2019 we want to take that to £10m."

He added that the company would probably book a small net profit this year but it would be "pretty minimal" because it was reinvesting. "In five years we expect to be a public company," he added.