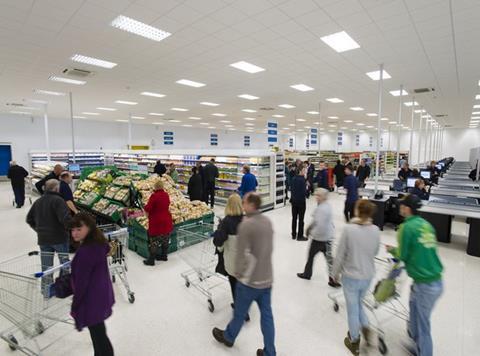 Food surplus distributor Company Shop is driving forward with major expansion plans after securing more than £4m in funding.
The retailer, founded in 1985, has launched its most recent store in Washington, Newcastle, after securing a £4.2m funding package from Lloyds Bank Commercial Banking.
Funding will go towards the Barnsley-headquartered retailers plans to double its site portfolio across the UK.
Company Shop said it plans to double its portfolio to ten stores over the next two years, with potential nee locations including Hull, the East Midlands and the West Midlands.
The business buys and sells surplus stock from retailers and manufacturers, which would have otherwise gone to waste, passing on discounts to its members.
"Over the next three years, we anticipate our increasing network of stores will help us to save over 100 million units of perfectly good products from going to waste each year," commented John Marren, founder and chairman of Company Shop.
This will support retailers and manufacturers to reach their sustainability targets while ensuring products are made available for people to use as originally intended.
"Lloyds Bank will play a key role in helping us to expand and increase our positive commercial, social and environmental impact.
"It helped us to launch our St Helen's store, followed by our latest store opening in Washington, which marks the next step of an exciting chapter in Company Shop's 40-year history."
The cash injection was drawn from the commercial banking arm's clean growth financing initiative, a £2bn scheme it launched in May 2018.
Mark Butterworth, relationship director at Lloyds Bank Commercial Banking, said: "Company Shop is an outstanding firm with a very positive mission.
"WRAP estimates that there are 205,000 tonnes of edible surplus in the supply chain that could be redistributed, and businesses like Company Shop are doing excellent work to bring this figure down and to help the sector become more sustainable.
"It's a great example of a firm that we want to support with our Clean Growth Finance, which was launched to help companies that help Britain prosper by reducing the UK's overall impact on the environment."