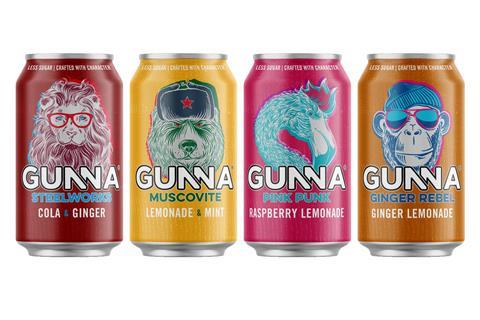 Craft soft drinks startup Gunna has raised almost £290k from the crowd to see the brand through the coronavirus crisis.
Providing low-sugar alternatives to traditional soft drinks, Gunna took to Seedrs at the end of March launching a convertible equity offer, which will allow investors to secure a 30% discount in its next fundraising round planned for early 2021.
The cash raised in the current offer will be used to "bridge" the business to its next round, provide working capital to deal with the coronavirus pandemic and ensure it can resume marketing activity when the crisis has ended.
"We were planning to raise towards the end of this year, beginning of next, but what Covid does, is it creates a huge amount of uncertainty, which is very difficult for anyone to handle but particularly startups," founder and CEO Melvin Jay said.
"So we decided to go to our existing shareholders first, then to the pulic, and ask them to support up to see us through so that, in the event that it goes on much longer, we are not worrying about the business being in existance."
In addition to requesting support from shareholders, the business was exploring aid measures offered by the government in the coronavirus job retention scheme and business interruption loan, Jay added.
"As soon as I saw the CBIL scheme come out, I could immediately see that the banks were not going to help startups through CBIL," he said.
"There were obvioulsy two clear issues, in a recession banks would not want to back startups first of all and there is a key word which is 'viable' in the scheme guidelines that makes it very easy for a bank to say your startup is not viable."
Jay added the brand's hope is to now raise between £300k and £400k, which will be enough to support the business through "12 months of virtual hibernation, with no sales" as it had reduced its overheads to £20k per month.
Gunna however, had so far experienced a lower impact than expected from the coronavirus outbreak, Jay added.
"The retail business has held up very well and in some places we have actually increased sales, online has gone through the roof growing five fold and made up for any kind of frop in retail.
"Where we have been hit is in the out-of-home space. And that hit us in two ways, obvioulsy we has some business in there but also a lot of our future growth was coming from that sector and suddenly our future customers are not open and we don't know when they will reopen. So that growth we expected is now on hold."
Just six months ago, the company had smashed a crowdfunding campaign target raising over £600k, while in 2018 it raised £850k, overfunding by 64%.