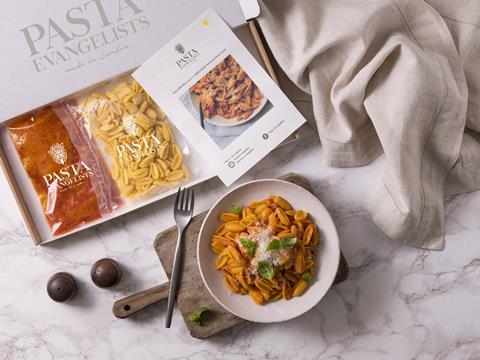 Direct-to-consumer luxury pasta maker Pasta Evangelists has secured a £1.7m investment led by Guinness Asset Management
The private equity firm spearheaded the equity fundraise, in order support rapid growth at the pasta supplier, which is backed by food authorities including Prue Leith and Giles Coren.
The online supplier was founded by Genoa native Alessandro Savelli and co-founders James McArthur and Chris Rennoldson in October 2016, and has seen 10x revenue growth in the past 12 months.
Pasta Evangelists has sent out more than 50,000 meals, from more than 200 recipes, to customers in the past two years.
The founders have said that premium pasta and sauces have "seen the least innovation in the food industry over the past decade".
Alongside Guinness AM, the equity raise, in order to bring in working capital, has received support from Martin Mignto, partner of Index Ventures, and Nicholas Hassall, former global head of UBS' Consumer & Retail Sector.
The investors have joined current shareholders and leading figures in food, Leith, Coren and Masterchef judge William Sitwell.
"We are disrupting one of the largest segments in the food space - pasta is a £50 billion global category," commented Alessandro Savelli, founder of Pasta Evangelists.
"It is a great vote of confidence in Pasta Evangelists to have Guinness AM partner with us."
Malcolm King, of Guinness Asset Management, said: "We have been impressed by the obvious passion of the Pasta Evangelists team and the company's accomplishment to date.
"The company's 9.1 out of 10 Trustpilot rating and 10x growth in revenue over the last 12 months evidences not only the quality of the food but also the appeal of the through-the-letterbox consumer model.
"We are looking forward to working with the Pasta Evangelists team to help them realise the next phase of their growth ambitions."