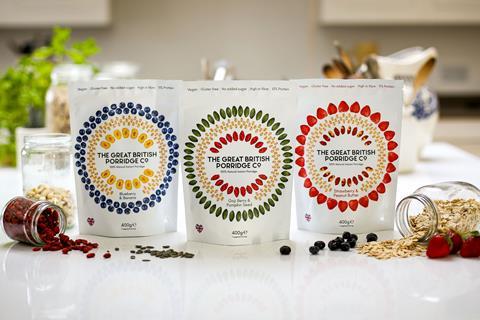 The Great British Porridge Co has decided to reject a £60k investment offer secured on Dragons' Den as the show's aftermath boosted sales "through the roof".
Founder Jacqueline Barleycorn and business partner Matt Hunt will now seek to grow the company through outside investment and retain a larger chunk of the business.
Appearing on Sunday 18 August's episode of the BBC reality show, the Sussex-based all-natural porridge maker received investment proposals from all five multimillionaire 'Dragons'. Following "difficult deliberation", the founders picked Tej Lalvani's £60k offer, in exchange for a 22% stake in the business.
However, the couple has now decided to turn down the offer and "go it alone", after receiving over 4,000 online orders since the show aired – amounting to over £50k – and achieving "sky high" retail sales as customers flocked to acquire the "Dragons' favourite porridge".
"We are lucky that the Dragons' Den effect has made sales go through the roof," Hunt said. "The growth is phenomenal, an average month for us would have been around £4k turnover, last month we turned over just above £100k."
So far this month, sales have already topped £60k.
Furthermore, Hunt explained that the contract received "seemed really restrictive".
"There were lots of things on it stating what we could or couldn't do," he added. "We are quite used to working on our own and move quickly and if we had to get authorisation from anybody before we did anything it would take too long to get to where we want to."
Since appearing on the show, the brand has taken on five more wholesalers, increased production and hired six additional staff members to "keep up with orders", as interest in its vegan, gluten and dairy-free instant porridges mounted among both retailers and outside investors.
The attention received played out on a global scale with the company, which already exported to Denmark, Spain, Hungary, Latvia and Kuwait, signing three more deals to ship its products to Singapore, Malta and Germany.
In the UK, The Great British Porridge Co's three-strong line-up is currently stocked in Whole Foods Market, Selfridges and Harrods.
The company, which started in 2018 from Barleycorn's kitchen table, was listed in nearly 600 Sainsbury's stores last month – with sales so far coming in 200% above initial expectations – and will launch into 78 Waitrose stores next week.
Among its growth plans, the brand is looking to add new products to its offering, including a children's line and single-serving pots, and expects to achieve turnover of between £1.5m and £2m by 2020.
"This is a very exciting time and we're looking forward to building this brand even further," Hunt added.