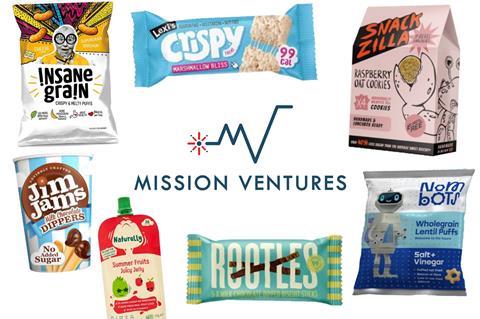 Accelerator Mission Ventures has selected seven startups to take part in its 'Good Food Fund' initiative, providing support and funding to bring healthier options to market.
Mission Ventures unveiled the £1.5m fund – subsequently increased to £1.8m - and accelerator programme at the end of March, as it started recruiting food and drink challenger brands to help tackle childhood obesity.
Despite the heightening of the coronavirus crisis, it chose to go ahead with the project, as there was "no better time to support small businesses", director and co-founder John Stapleton said.
It received 120 applications and the final cohort comprised seven brands at different growth stages, selected mainly because their mission aligned with Mission Ventures' aim to provide healthier after-school snacks to reduce rising levels of obesity in children.
Other determining factors included the businesses' proposition, whether it was commercially viable and scalable and the team or entrepreneur behind it.
Three of the brands are pre-revenue: quinoa crisps maker Nombots, healthy marshmallow brand Lexi's Treats and chocolate covered biscuits made from 40% carrot Rootles.
Insane Grain, a sorghum puff available in two flavours and healthy oat cookies maker Snackzilla have just launched, while jelly snack Naturelly and low-sugar chocolate dippers Jim Jams have been on the market for a few years and are fast-growing brands.
Mission Ventures will not split the total amount of the fund equally between the brands, as "there is no one size fits all", Stapleton added.
"They are different businesses at different stages of their entrepreneurial journey. Some need money immediately while others are self-funding and will need money later on.
"There are lots of different reasons determining how much money you need in total and how quickly and we will help them make the right decision through the accelerator."