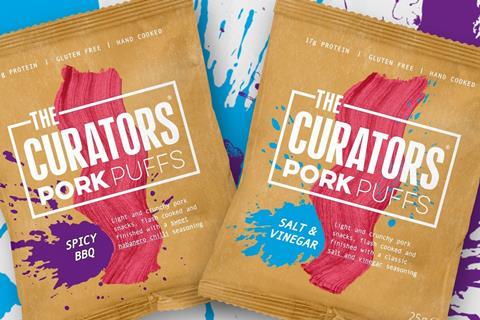 Premium meat snacks specialist The Curators has received a seven-figure funding boost to build its brand and expand further into the high-protein snacking category.
The producer of 'natural' beef jerky products listed at Sainsbury's, Selfridges and Amazon has raised the funds from a combination of existing investors and a new cash injection from private investor network Adjuvo.
The Adjuvo investment brings with it a number of senior industry figures as investors and advisors to the business, including former Weetabix boss Giles Turrell, Saga CEO Lance Batchelor and Barry Chevallier Guild, the former owner of Aspall Cider.
Founders Max Rees and Ed Hauck retain a majority stake.
"Our initial seed round last year already included some impressive c-suite execs from the food and drink world, and this round bolsters that even further while giving us the funds to drive the brand forwards," Hauck commented.
Founded in early 2018, the brand is part of the Sainsbury's Future Brands programme and is solely listed at the supermarket amongst mainstream grocery retailers and available in over 400 of the chain's supermarkets.
"We have a big, bold ambition to bring foodie flair to functional and nutritious snacks," Hauck said.
"We've had a year in the market to prove the concept and now is about investing in the areas we know are working, including a couple of key retailer relationships and supporting innovation and consumer outreach."
The brand recently launched its health-focused Pork Puffs pork rind snack, which is listed in 1,500 outlets nationwide, including all of the Sainsbury's Local outlets in the UK.
The funding will also support growth of the team and investment into its supply chain.
The brand is likely to focus on growing the depth of its relationship with Sainsbury's in the immediate future, but is likely to look to expand its listings to other retailers in the medium term as well as move into non-meat, health-focussed snacking options.