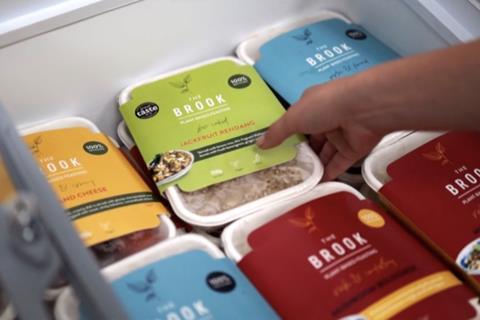 Vegan ready meal manufacturer The Brook has smashed its £200k crowdfunding target within a day, as it looks to roll out its range into major UK retailers.
The company took to Seedrs this week offering a 5.4% stake, representing a pre-money valuation of £3.5m.
It will use the funds raised to increase brand awareness through marketing spend, make "key hires" and scale production in pursuit of further expansion within UK grocers.
"We thought we would start our first year of business just opening an online e-commerce shop, but what we found is we started getting interest from retailers straight away," said founder and CEO Thea Brook.
"Over the last six months we realised that the timing was right for what we are doing. People are desperate to understand how they can eat more plant-based food and retailers are looking for interesting and innovative new products.
"So, we shifted our plans and decided that we were going to go for it, ramping up production a lot quicker and making the range more retail-ready."
This included packaging its meals sustainably, first on wooden trays and then in a fully compostable material, which is easily recyclable by customers at home.
The Brook started five years ago as a plant-based restaurant in London. It unveiled its range of vegan ready meals in March, aiming to make its high street grocery debut, and successfully secured a listing with the Co-op.
Talks are now ongoing with other two major UK retailers for full national listings, the company said, with the launch expected early next year.
Within foodservice, The Brook is also co-operating with "one of the largest" pub chains in the UK to help develop their vegan menu.
The company is willing to overfund up to £300k, with the extra cash to provide "more leeway" to achieve its ambitious plans.
"We really want people to understand how good plant-based food can be," Brook added. "Our passion is to reach as many people as possible to make them understand that they can include vegan food in their diets without compromising and in order to do that, we have to have big ambitions.
"We want to be in as many places as possible for people to buy the product and on as many menus as possible for when people go out for dinner."
In 2018 the company raised £170k on crowdfunded cash, overfunding by 140%.
Since then, it launched an e-commerce platform and partnered with DPD to test a DTC model, similar to that of meal box suppliers Hello Fresh and Gousto.
However, Brook said she was not sure how the service would evolve once the brand expanded within the retail sector.
She added: "If we get to the point where the products are widely available, it may become not as necessary for us to have a DTC service. It may be something we don't need in the future or it might evolve into something slightly different."
Having launched just a couple months ago, Brooks considers the business to be at a stage of "pre-revenue" but expects things to "ramp up all at once" during the first quarter of next year.
"We are going to have a steady growth for the rest of this year and then it is going to jump in the first quarter, so we are getting ready for that," she said.