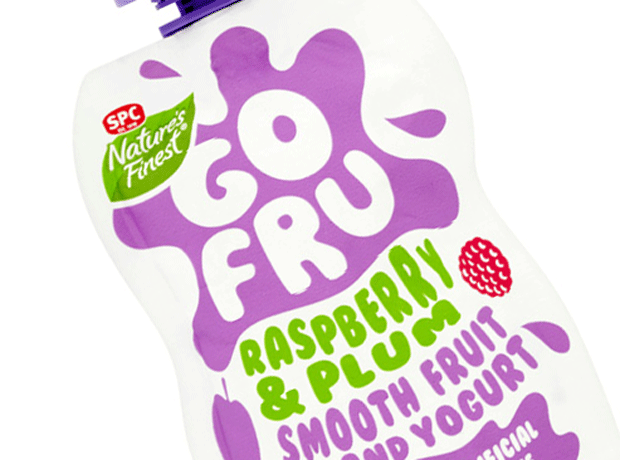 A new brand featuring on-the-go yoghurt pouches for kids and teens is being launched… in the ambient aisle.

Produced by fruit snacking brand SPC Nature's Finest, the five-strong Go Fru range comprises three pouches of fruit purée with pasteurised yoghurt, and two pouches of fruit purée and coconut milk.

Nature's Finest is targeting £1m in first-year sales for the brand, which launches next month in five variants: raspberry & plum, strawberry, and banana - each paired with yoghurt - and two coconut milk variants: peach & apricot and tropical.

The company admitted consumers might initially be hesitant to try ambient yoghurt, but said it was confident they would like it once they had tasted it.

"It is about crossing a divide with yoghurts, but when the communication is right, then why not?" said UK marketing manager Georgina Edmonds.

The range would help parents give their kids both fruit and calcium in one snack, she added.

The pouches contain a minimum 55% fruit content, with the remainder comprising yoghurt made using British milk or coconut milk.

They are similar in format to the Baby Brekkie range sold by Ella's Kitchen but Ella's is aimed at younger children, while Go Fru is aimed at kids up to 14. Some of Ella's products also contain rice.

Nature's Finest would advise retailers to stock the product in the fruit snacking aisle of stores but also in the front-of-store chilled ready-to-go section, Edmonds said. The range will hit the shelves of Tesco, Waitrose and Booths next month (rsp: 89p for a 90g pouch).

Go Fru is the latest in a string of ambient dairy products to hit the market.

Earlier this year, Premier Foods launched Devon Dream, and last year Dairy Crest launched UHT Frijj.