Fewer and fewer consumers, it seems, want jam today. The jams & marmalades category has continued to decline at much the same rate as last year, although this time it is own label driving the decrease. Despite a 1.1% dip in volumes, the brands have managed to preserve a little value growth, largely through price rises as commmodity-driven inflation continues apace.

Market leader Hartley's, which along with several other Premier Foods jams, jellies and spreads was sold to Hain Daniels in August 2012 as Premier refocused on its 'power brands', has had a good year. It has turned around last year's decline to widen the gap with second-placed Bonne Maman, which looks to have suffered from Tesco's temporary delisting last winter.

Stablemate Robertson's, however, has not enjoyed the same success, with last year's decline lessened, but not replaced by growth. Hain Daniels' decision to focus on Hartley's, which it is extending into the fruit and fruit snacks category, probably won't have helped. Neither will the fact that Robertson's has run 84 deals in the past year versus Hartley's 502 [BrandView.co.uk].

However, it's also possible that Hartley's is the exception and Robertson's the rule. According to Nielsen senior client manager Carol Ratcliff, consumers have "been switching out of marmalade and jam towards peanut butter, chocolate spreads and honey."

These other spreads remain in solid value growth, albeit not as pronounced as last year. As in jams & marmalades, the brands are outperforming own label, which has fallen into volume decline and is detracting from the 5.2% volume growth of branded products.

Honey continues to be a significant driver of sales in the spreads category. Second-placed brand Rowse has returned to growth after a difficult 2011, when price rises encouraged consumers to trade down. This year, says Ratcliff, "prices are more stable and the company has managed to regain some of its lost volumes".

Despite struggling jam sales, it's also been a good year for Tiptree, which boasts many honey variants - although inflation appears to have contributed significantly, with value sales growing at five times the rate of volumes.

Peanut butter has achieved solid growth once again, driven by own-label lines as well as by brands such as Whole Earth. Sun-Pat, in double-digit decline last year, has returned to growth - although the fact that volumes are up by three times as much as values suggests promotions have played a significant part.

For the Unilever brands, it's been a difficult year. Bovril has fallen in value and volume, and Marmite has also declined slightly.
TOP LAUNCH 2012
WI Jam WI Foods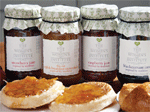 It could have surprised us all with a Mexican meal kit or a microwaveable hotdog - but instead the Women's Institute opted to play to its strengths when launching its first wave of branded food products. Jams were at the centre of a 15-strong WI Foods range, which also features chutneys, biscuits and flours. Raspberry, strawberry and apple & blackberry variants are among the jams that debuted at last year's Good Food Show and have since won listings with Waitrose.