On most people's lists of cheap, filling foodstuffs, rice, pasta and noodles would probably feature relatively near the top. They should, on the face of it, be doing well out of recession. But, as with so many sectors perceived as go-to grocery areas for , that's not the case.

Although all areas of the market are in value growth, pasta and noodles are in volume decline. Rice has kept volumes in the black, but only by a whisker, and industry insiders agree pricier ready-to-heat products are driving much of its growth. The area posting by far the best performance is also the least commoditised: instant pot snacks.

It owes its strong value and volume sales largely to the ongoing success of branded NPD - in particular, Mars' two star launches of last year, Uncle Ben's Rice Time and Dolmio PastaVita (The Grocer's Top Launch of 2011).

"Uncle Ben's Rice Time and Dolmio PastaVita are continuing to build momentum. Consumers are looking for a quick, warm and healthy meal for lunchtimes and the Uncle Ben's and Dolmio products meet this need perfectly," says Mars Food UK customer marketing manager Christina Lowther. "Consumers tell us they love our products and this is demonstrated in their repeat purchase rates, above 40%. Both are microwavable, offering a point of difference in a category that is traditionally dehydrated."

Symington's Mug Shot is also performing well, its 65.1% value growth more than doubling last year's 28.5%. It too has innovation partly to thank - having entered the on-the-go arena this year with Mug Shot On the Go!, a cup format that was highly commended in The Grocer's 2012 New Product Awards.

"Mug Shot has gone from strength to strength over the past year, largely through organic growth," says Symington's brand manager Daniel Johnston. "Increased penetration has been the key factor, with more consumers buying into the brand. Mug Shot is a well-priced, convenient snack that appeals to a large consumer group."

Pot Noodle, which in last year's Top Products Survey posted 21.1% value growth following significant investment in its latest NPD, Pot Noodle GTi, has this year returned to more muted growth. It remains comfortably in top spot, but is losing market share to some of the younger brands, despite what Nielsen senior client manager Simon Kershaw terms its "considerable media support" and "high level of promotion".

That said, it is still looking much healthier than second-placed Batchelors, whose value growth masks a 9.8% decline in volumes. Mug Shot's stablemate Golden Wonder hasn't done too well either, its value sales slumping 7.8% (after rising 20.1% last year) and its volume sales falling 9.6%.

Johnston puts the reversal of fortunes down to "a decline in average weight of purchase driven by a reduction in the number of multibuy promotions".

When it comes to explaining the growth in the wider pot snacks category, industry experts point to one key driver: the need for convenient and affordable out-of-home food.

"As consumers continue to feel the pinch, they are looking for inexpensive but filling alternatives to get them through the day," says Johnston. "Snacking products have increasingly been seen as a lunchtime snack or even, in some cases, meal replacements."

"Despite worries about weight, general health and a drive for natural fresh foods increasing, the growth of convenient snacks is not showing any sign of decline," adds Kershaw. "Pot snacks are an ideal convenient hot lunch, cheaper than the sandwich shop."
"Pasta will always be a large commodity area and NPD is needed to excite consumers" Hannah Thirkill, Asda
What growth rice has managed is also largely down to demand for convenience, with the ready-to-heat sector being the only real boom area in the category.

"The performance of rice has been driven by the expandability of the microwavable format as it adds incremental shoppers to the category," says Asda world food buyer Hannah Thirkill. "Penetration is now flattening out, so it will be interesting to see ways we can bring new customers to rice in future."

Second-placed Tilda has been particularly active in ready-to-heat, growing its range of Steamed Basmati pouches and launching its much-lauded Kids range (our Top Launch of 2012) earlier this year.

"The continued growth of the Steamed Basmati range has been partly fuelled by the brand's ongoing investment in innovation, which has helped attract new shoppers into the category while also driving consumers away from other competitor brands," says Tilda brand innovation manager Camilla Sheeley. She reports that the brand has reached record penetration levels, as well as increasing both average volume bought per trip and frequency of purchase.

Tilda is still some way off posing a real threat to Uncle Ben's, which remains comfortably in top spot despite a small decline in value and volume sales. But it's arguably won at the expense of smaller brands. Veetee - owner of the Dine In microwaveable rice range - is looking a little flat despite the popularity of ready-to-heat, and even Batchelors, in healthy value growth, is in volume decline.

At the opposite end of the pricing spectrum to Tilda, the rise of big bags of rice as supermarkets bulk out their ethnic food offerings continues. Kohinoor, Laila and Salaam are all managing impressive growth - albeit at the expense of rivals including Badshah.

Risotto rice brand Riso Gallo, meanwhile, is struggling, with values down a fifth and volumes a quarter. It's not for want of trying - all too conscious of consumers' insatiable drive for convenient food, the brand has rolled out an Expresso quick-cook pouch range and a microwaveable Risotto Box, and is confident these will help it return to growth.

"Although 2012 saw a slight decline in sales, we're confident 2013 will see substantial growth," says Riso Gallo UK MD Jason Morrison. "We re-evaluated the market, spotted opportunities for NPD and have implemented two successful launches in the last quarter. We've been successful in securing strong listings for both lines and we're confident that those listings will grow in early 2013. We've committed to a five-month TV campaign, which will be supported by our ongoing PR and social media activity, a £500,000 investment."

Pasta has yet to fully tap into the trend for convenient solutions. While Veetee extended its Dine In range to pasta in October, little else has been done in the market to compete with microwaveable rice products in terms of ease and speed.

"Pasta will always be a large commodity area competing against other commodity carbs," says Asda's Thirkill. "NPD is needed to excite customers."

Although the category's volume decline is driven by own label, which makes up 78% of the market by volume and 70% by value, the brands aren't exactly in rude health. Value growth has been driven by price inflation, with Nielsen reporting that the average price of dry pasta has increased from 78p to 85p per unit year-on-year. And volumes, although in the black, are teetering on the edge of decline.

Even market leader Napolina, which looks to be in marginal growth, has declined in volume sales - although the brand claims it is doing well. "Napolina is in growth by 39.8% value and 41.9% volume if you look at the latest 12-week data," says Napolina marketing director Dean Towey, attributing this to distribution gains, strong advertising and promotional support.

Scottish brand Marshall's has also suffered volume decline, as has Doves Farm, possibly losing out from the ongoing decline in organic food and drink. Buitoni, by contrast, is in strong year-on-year growth, as is La Doria's Cook Italian range, a new arrival last year that has continued to climb the rankings.

Over in noodles, it is the brands that are responsible for much of the volume decline. Own label has performed exceptionally well - but because it makes up only a small part of the market, its contribution to growth has been minimal, with price rises on branded products a more significant factor.

"Considerable decline in Sharwood's and Amoy, which suffered double-digit volume decline, has dragged the whole market down," says Kershaw. "Blue Dragon, the clear number three, has had the strongest year, but by growing distribution as opposed to promotion."

He also tips the new number six, Mama Rice Vermicelli from Vanka Kawat, as one to watch based on its "encouraging growth" this year.

Kershaw attributes the slowdown in growth of plain noodles over the past year to their need to compete with pasta, rice and flavoured noodles, as well as the likes of couscous. In such a competitive environment, adding value is crucial - and the brands that can do so are likely to reap the rewards.

In particular, many see health as the holy grail for the rice, pasta & noodles market - especially when it comes to convenient products. The growth of Food Doctor's 'just add hot water' pots, which make use of grains such as bulgur wheat, quinoa and lentils, is testament to consumer interest in healthier alternatives: the brand has leapt from 29th spot to 16th in the instant pot snacks rankings.

And Kershaw's prediction for the coming year? That "more healthy alternatives will come into the category".
TOP LAUNCH 2012
Tilda Kids Tilda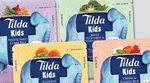 Ready-to-heat products have proven the saviours of the rice category this year, and Tilda's thirst for innovation has been key to its growth. This range of pouches designed exclusively with little 'uns in mind was a stroke of NPD genius, from the flavours - child-friendly cheese & tomato, sunshine vegetable, sweet vegetable & wholegrain and mild & sweet curry - right down to the design. Like the product itself, the packs appeal as much to adults as kids - a difficult brief, but brilliantly met.