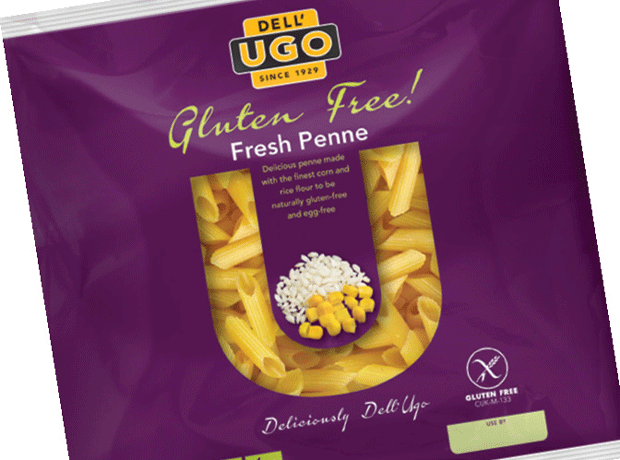 Chilled pasta supplier Ugo Foods Group is rolling out what it claims is the first authentic fresh gluten-free pasta to hit UK supermarket shelves.

The group, which produces filled and unfilled fresh pasta, is launching Dell'Ugo Gluten Free! tagliatelle and penne in Waitrose next week.

The pasta comes in 300g packs designed to serve two people and has an rsp of £1.79, but will be sold at a 99p introductory price this month.

It is made from a mix of maize and rice, enabling it to more closely emulate traditional pasta than Ugo's existing gluten-free fusilli line, made from ground chickpeas.

Owner Paul Ugo had been inspired to develop the range by his wife's sensitivity to wheat, said Ugo Foods marketing head Helena Jevons.

"Paul is delighted his family can enjoy pasta together again," she said. "We are pleased to be bringing to market a fresh gluten-free pasta that tastes like pasta. No more falling apart, sticking together or compromise."

While the Dell'Ugo range is believed to be the first fresh gluten-free pasta to gain UK supermarket listings, British distributor Echo Partners announced last summer that it planned to launch filled pasta products made by Italian supplier Pasta Julia. Echo Partners this week said it hoped to gain listings by the end of the year.

Dried gluten-free pasta is already sold by brands including Annabel Karmel and Doves Farm, and the market has been boosted by a dried range from Heinz. In March, Heinz launched three gluten-free pastas - penne, macaroni and spaghetti - and three gluten-free pasta sauces.

Suppliers are looking to tap the 23% year-on-year growth in the £140m UK gluten-free market [Kantar Worldpanel 12 m/e October 2012].

Ugo Foods was set up in London in 1929 as a shop that delivered fresh pasta by bicycle.