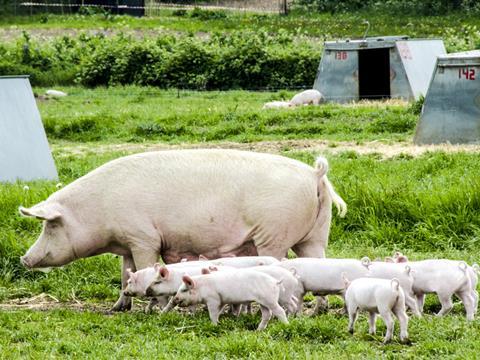 Fears of an imminent 'antibiotic apocalypse' have been heightened after government scientists confirmed bacteria resistant to 'last resort' drug colistin has been found in pigs and people in the UK.

The Animal and Plant Health Agency started screening for the resistance gene MCR-1 after it was discovered in China last month, and confirmed on Monday it had been found in pigs on three farms across the UK.

Public Health England has also been screening samples for the resistance gene, and confirmed it had been found in 15 bacteria samples from human patients, including E.coli and salmonella strains.

The MCR-1 resistance gene, which scientists believe can spread easily between humans and pigs, has also been found in Denmark, France, the Netherlands, Portugal and several Asian and African countries.

Scientists believe colistin resistance could be the result of the widespread use of the drug in animal agriculture.

According to a Freedom of Information request submitted by the Alliance to Save Our Antibiotics, 837kg of colistin was sold for use in British farm animals in 2014, whereas just 300kg was used per year in human medicine. In Europe as a whole, the amount of colistin used in farm animals (545 tonnes) is more than 500 times higher than the amount used in humans (about one tonne).

UK veterinary and farming sectors have agreed to temporarily limit the use of colistin, but the Alliance said "no action" had been taken by regulators to stop routine preventative use of the drug.

It has renewed calls for tighter controls of antibiotics, including a complete ban on routine preventative usage.

"Despite scientists saying that resistance to this last-resort antibiotic is likely to be spreading from farm animals to humans, it still remains completely legal in the UK and in most EU countries to routinely feed colistin to large groups of intensively farmed animals, even when no disease has been diagnosed in any of the animals," said Cóilín Nunan, scientific adviser to the Alliance.

"We need the government, the European Commission and regulatory bodies like the Veterinary Medicines Directorate to respond urgently. The routine preventative use in farming of colistin, and all antibiotics important in human medicine, needs to be banned immediately."
However, a Defra spokesman claimed colistin usage in animals in the UK is actually very low, making up less than 0.2% of UK antibiotic use in livestock.
"We are enhancing our surveillance for colistin resistance, and veterinary prescribers have voluntarily updated prescribing guidelines to restrict use of colistin in animals," he said.
He stressed all of resistant bacteria found in the UK were treatable with other antibiotics.
"Public Health England has said the risk to human health is very low, and the Food Standards Agency has said the risk from eating thoroughly cooked pork is also very low," he added.