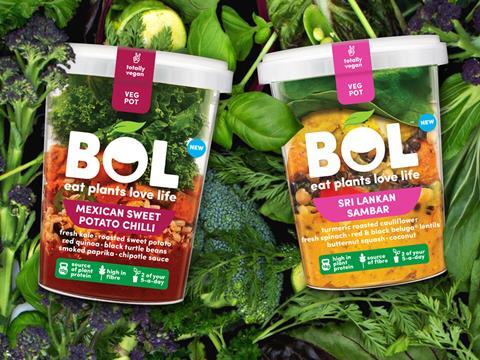 Bol, the meal pot brand founded by ex Innocent head of food Paul Brown after the company axed its Veg and Noodle Pots, is going meat free. From June, its entire portfolio will be 'plant-based' and suitable for vegetarians or vegans.
"As a generation we just have to start changing the way we eat - 18% of all greenhouse gas emissions are generated by animal agriculture, whereas transportation is only 13%," says Bol Foods chief Paul Brown. "As a small business, we decided to celebrate what Mother Nature gave us and push the plant-based movement. Ultimately, it's going to be better for people and kinder to the planet."
This means a "completely new look and feel" to the brand, with a new logo and strapline: 'Eat plants, love life.' Changes will also be made to the product lineup. "At the back end of 2015, almost half the space we had as a business contained British chicken or fish in the recipes," notes Brown.
One of Bol's bestsellers, the Jamaican Jerk Chicken lunch pot, is set to be axed, with a Jamaican Jerk Curry replacing it. The Persian Lunch Pot, part of a four-strong salad jar range launched in April 2016, is also being replaced with a Mexican Salad Jar. The new pot contains layers of chargrilled corn, black beans, mango, roquito peppers, quinoa, smoked provolone and a jalapeño dressing. Notably, the rsp of all products will stay the same: £3 for the lunch pots and £4 for the salad jars.
It's a bold move given Bol's ambitions to double sales to £14m this year. "The reality is we're probably going to see a bit of a commercial downturn initially, because we won't have as many recipes out there," Brown says. "This rebrand is more important than our commercial performance. We're setting ourselves up to become a brand that can play a pivotal role in this huge consumer shift; if that means we will not grow by quite so much then myself, the team and our investors are absolutely backing that."