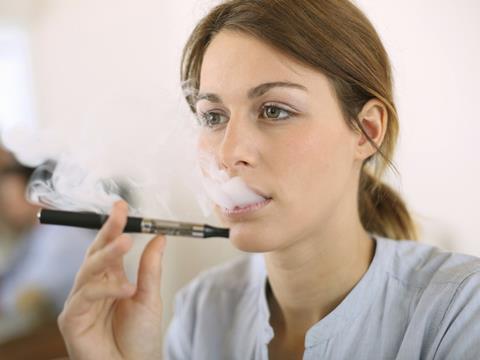 Electronic cigarettes are 95% less harmful to health than conventional tobacco products, according to a new report from Public Health England.
E-cigarettes helped most smokers quit tobacco altogether when supported by a smoking cessation service, said Duncan Selbie, chief executive of PHE, which is an advisory body to the Department of Health.
The 100-page report says encouraging smokers to switch could help reduce smoking-related disease and death and there is no evidence e-cigarettes are undermining the long-term decline in cigarette smoking and may, in fact be contributing to it.
E-cigarettes are attracting "very few" people who have never smoked, it says. And when used as intended, e-cigarettes pose no risk of nicotine poisoning to users, but e-liquids should be in child-proof packaging, it advises.
The report also warns that the absence of non-tobacco industry products going through the Medicines and Healthcare products Regulatory Agency's licensing process suggests the process is inadvertently favouring larger manufacturers, including the tobacco industry, which is likely to inhibit innovation in the prescription market.
It says an assessment of the impact of the European Commission's revised Tobacco Products Directive, which comes into effect next May, will be integral to its implementation.
"This should include the degree to which the availability of safe and effective products might be restricted," it says.
Brett Horth, managing director of e-cigarette company Vapouriz, called the report "fantastic news" and "extremely positive".
Deborah Arnott, chief executive of health charity Action on Smoking and Health (ASH), said: "This timely statement from Public Health England should reassure health professionals, the media and the public, particularly smokers, that the evidence is clear: electronic cigarettes are very much less harmful than smoking."
She said many hundreds of thousands of premature deaths would be prevented if every smoker switched overnight to electronic cigarettes."
A spokesman for the Association of Convenience Stores said: "We fully support the 18-age restriction on e-cigarettes and proper regulation on product quality to make sure dodgy products aren't getting onto the market.
"The prevailing evidence from the PHA and Ash is that they should be a positive part of the health strategy."