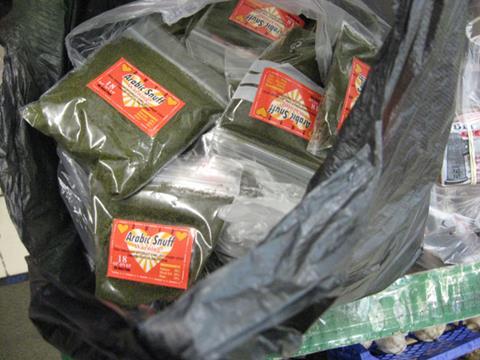 Police teams successfully foiled alleged attempts to evade millions of pounds of unpaid duties and taxes on tobacco last month.
The biggest haul involved HMRC in co-operation with the European Anti-Fraud Office (OLAF) which seized more than 43m smuggled cigarettes in Croatia and Greece.
The European Commission (EC) said the UK was often the final destination of smuggled cigarettes because it had one of the highest tax rates on cigarettes in the European Union.
Customs officials in the Port of Piraeus, Greece, seized a further 34.2m cigarettes in three containers from China which were declared as home furnishings.
The Greek authorities contacted OLAF and HMRC and when the containers were examined they were found to contain 13m Raquel Slims, 10.6m 777s and 10.6m Gold Mount cigarettes.
The EC said unpaid duties and taxes on the 43m cigarettes seized in the two operations amounted to more than £5.8m.
Closer to home HMRC, working with Derbyshire Police, seized a tobacco-processing machine thought to be capable of producing more than £700,000 of illicit tobacco a day.
They confiscated more than 1.2 tonnes of tobacco, worth an estimated £282,000 in duty and taxes.
A 38-year-old man from the city of Derby was arrested and released on bail until June.
HMRC, working with Lancashire Police, also seized more than 412kg of raw tobacco and dismantled a suspected illicit tobacco plant in Hutton, near Preston.
The latest hauls indicate that HMRC is determined that its new strategy, "Tackling illicit tobacco: From leaf to light", will reap results.
Sandra Smith, HMRC's assistant director, criminal investigation, said: "Tobacco fraud is a highly organised global crime which costs the UK £2bn a year in lost taxes which should be spent on public services.
"In addition to significant revenue loss, illicit tobacco products damage legitimate businesses and the trade is unregulated making cheaper tobacco more readily available to the young and vulnerable."