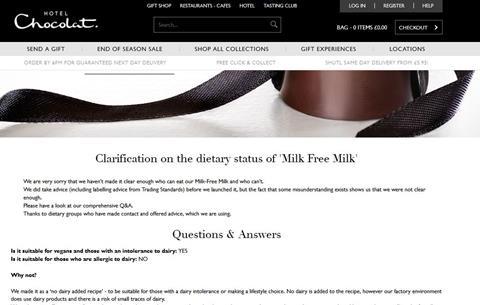 Hotel Chocolat has withdrawn its 'Milk Free Milk' range from sale after it emerged the chocolates are not suitable for people allergic to dairy.
The product recipes do not use dairy but - despite the 'milk free' branding – the chocolates are produced in an environment where dairy is handled, creating a risk small traces could be contained in the product.
Hotel Chocolate has now withdrawn the full range, comprising all pack sizes of the Milk Free Milk Bunny Lick, Puddles, City Bunnies, Goose Egg and Scrambled Egg products.
The supplier admitted the labelling - which it said had been approved by Trading Standards – had been misunderstood by some shoppers, adding it was "reviewing the clarity of our message around this product". All Hotel Chocolat products already carry 'may contain nuts' warnings, and the company is reviewing whether to add 'may contain dairy traces' to its packs.
"We have become aware from customer feedback that there is a risk of confusion, in the general excitement over this new product," said Hotel Chocolat, which maintained the products were suitable for vegans and those with an intolerance to dairy.
"We make every effort to manufacture dairy and non-dairy products separately, with robust and extensive cleaning and control measures in place," it added. "However, there is still a risk of small traces of dairy.
"We are currently unable to declare any of our products as completely dairy free (even our dark chocolate), although it is something we are currently reviewing."
Shoppers that bought any of the Milk Free Milk products for someone with a dairy allergy are advised to return it to the store they bought it from for a refund.