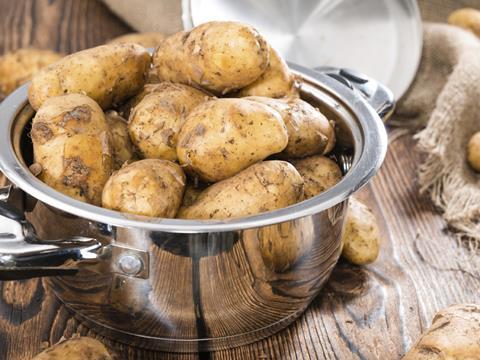 Pregnant women should not stop eating spuds over fears of gestational diabetes, the British Nutrition Foundation has warned.
A US study published in the BMJ journal yesterday concluded pregnant women who eat lots of potatoes have a higher risk of contracting gestational diabetes mellitus (GDM).
Researchers claimed substituting two servings of potatoes per week with other vegetables, legumes and whole grains reduced the chance of GDM by 9%-12%.
However, Professor Judith Buttriss, director general of the British Nutrition Foundation, said the evidence in the study was too weak to warrant ditching potatoes, which are an important part of a healthy diet for pregnant women.
"It's important to recognise that the main nutrition-related determinant of GDM is pre-pregnancy body weight where the risk far exceeds the level of risk reported in the paper from potato consumption," she said.
"The authors point out that cohort studies can only demonstrate associations rather than determine causal relationships, and it is not possible to exclude confounding by other dietary and non-dietary variables."
Butriss said current UK advice remained for pregnant women to eat a varied diet including starchy foods such as wholegrains and potatoes - ideally with skins on for maximum fibre - as well as lots of fruit & veg and moderate amounts of meat, fish or other protein and dairy products or calcium-enriched dairy alternatives.