An apple a day keeps the doctor away, but it seems Brits believe a daily dose of vitamins could have the same effect.

Sales through the major multiples have surpassed those of painkillers for the first time since 2005, rising 1.8% to £362.7m; adult analgesics, meanwhile, are down 0.7% to £361.6m [IRI 52 w/e 19 March 2016]. Kantar Worldpanel puts the market for vitamins, minerals and supplements in even finer fettle, with sales up 5.9% on volumes up 4.5%, taking category value to £431.4m [52 w/e 24 April 2016].

What's behind this? As lifestyles become increasingly hectic, are Brits choosing pills as their preferred nutrient source? Or is it just a daily pick-me-up?

"Healthy living has become a big trend in recent times," says a spokeswoman for Superdrug. "We've seen customers consciously choosing to make healthy choices in their everyday lives by incorporating vitamins into their daily routine."

Superdrug saw the fastest growth of any retailer, with sales up 16.4%, closely followed by Wilkinson at 15.1%, but it was high street stalwart Boots that really made waves, adding a cool £13.5m to sales with 9.2% growth. Also growing fast are the discounters, and their predominantly own-label ranges, as they convert "previously very brand loyal" customers, says Lidl buyer Elizabeth Soar. "More people are taking vitamins due to hectic lifestyles and not getting their appropriate vitamin intake through food," she says.

Bestway Group has also invested heavily in the market, having acquired the 780-strong The Co-op Pharmacy chain in October 2014 for £620m and unveiling a £200m investment plan in February 2015. It is currently experimenting with new concept stores under the Well brand. The plan is to make it a "place for people to go who are well, as well as sick", says David Hamilton, commercial director of Well. He says the stores aim to create a welcoming environment, rather than the "typical clinical feel that consumers are used to".

Hamilton believes the face of the traditional multivitamin, a tablet taken once a day, is changing. "There are many manufacturers taking a more innovative approach to vitamins and minerals to fit them into daily diets and routines, and that is why you see brands such as Glacéau Vitaminwater," he adds.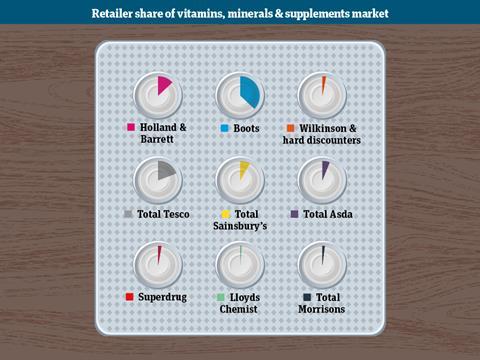 Vitamins, minerals & supplements continues to perform strongly with 5.9% value growth, ahead of the total healthcare market's growth of 3.6%.
Both adult and children's multivitamins are driving growth, which are up 7.4% and 16.8%, respectively. Children's in particular is being driven by brands, particularly the top four - Haliborange, WellKid, Bassett and Abidec.
The greatest retailer contribution comes from the high street as Boots sees value grow 9.2%, adding £13.5m to the market, thanks to shoppers purchasing more frequently. The fastest growth, meanwhile, comes from Superdrug and Wilko.
Alex Daykin, Kantar Worldpanel
| HEALTHCARE TOP FIVE | | |
| --- | --- | --- |
| 52 w/e 19 Mar, 16 | | |
| | VALUE | |
| | £m | y-o-y % |
| Own Label | 482.4 | -1.2 |
| Nurofen/Nuromol | 117.3 | 0.9 |
| Nicorette | 65.2 | 4.4 |
| Calpol | 64.2 | 5.4 |
| Lemsip | 61.3 | -0.6 |
TAKE HOME SHARE
52w/e 24 April 2016
VALUE
VOLUME
£m
y-o-y%
packs (m)
y-o-y%
Adult Multivitamins
101.2
7.4
26.7
6.8
Other Supplements
45.6
12.0
7.3
17.4
Childrens Multivitamins
43.4
16.8
13.3
13.2
Cod Liver Oil
42.2
7.3
11.5
1.6
Glucosamine
38.6
12.3
5.6
10.3
Mineral
26.5
11.0
7.1
13.2
Vitamin C
26.4
-1.9
11.8
-3.6
Other Fish Oils
24.2
-15.1
4.5
-13.1
Herbal Supplements
20.6
-1.4
3.4
0.7
Pregnancy Multivitamins
18.1
-0.8
2.8
0.6
50 Plus Multivitamins
12.7
3.5
2.2
-3.2
GLA
11.5
6.1
3.3
-5.1
Vitamin B
7.2
-0.4
2.8
0.3
Garlic
5.5
-11.8
1.8
-16.2
Vitamin D
5.3
27.4
1.6
27.3
Vitamin E
2.3
6.3
0.7
0.9
TOTAL CATEGORY
431.4
5.9
106.3
4.5
A pill for all ages
It's also a market where supplements for every age group and targeted toward specific medical needs are becoming more available.

"The biggest market sector increases are seen in joint care and energy," says Lidl's Soar. "I expect to see these areas and more specific products for men and women continue to experience ongoing growth."

Superdrug agrees, with the spokeswoman adding: "Women's health and pregnancy have seen significant growth, and beauty supplements are also becoming a big trend."

As well as more specific, the products are also becoming trendier. "Tablets are for sick people," says Hamilton. "Modern consumers are now looking to ingest something that feels more holistic."

So teas, powders, gel capsules and water are appearing more regularly. "We went to the US and 80% of the products were not tablet or capsule," says Paul Kerry, MD of Schwabe Nature's Way. "Interesting delivery formats give consumers the vitamins in a nicer, enjoyable form, which improves compliance."

Schwabe Nature's Way focuses on premium products using natural ingredients such as fruit and veg-based extracts as well as botanicals and flax.

These trendy superfoods will also become more common in the category, predicts Lisa Rowland, head of category for VHMS at Holland & Barrett International. "The trend for superfoods will transfer into the VMS sector with combination products and different delivery methods like liquid shots," she says.

"And we are seeing strong growth from vitamin D, thanks in part to increased awareness about its benefits for all ages. Likewise magnesium has grown in popularity."
Greens with Benefits

Launched: August 2016

Manufacturer: Forza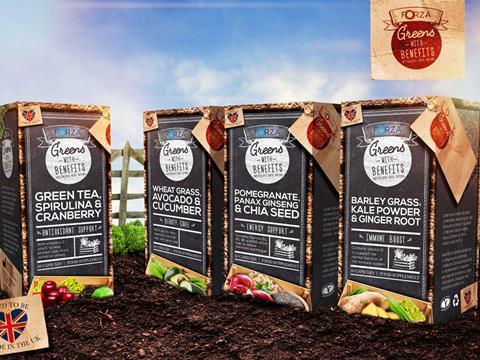 Meeting growing demand for products that are natural, organic and have no artificial ingredients, this new range contains 'immune-boosting and energising' vitamins and minerals. The capsules (rsp: £12.99) and powder (£13.99) formats both contain a variety of 'superfood' ingredients, from pomegranate, panax ginseng and chia seed to green tea, spirulina and cranberry.

Alive! Calcium and Vitamin D

Launched: May 2016

Manufacturer: Nature's Way/Schwabe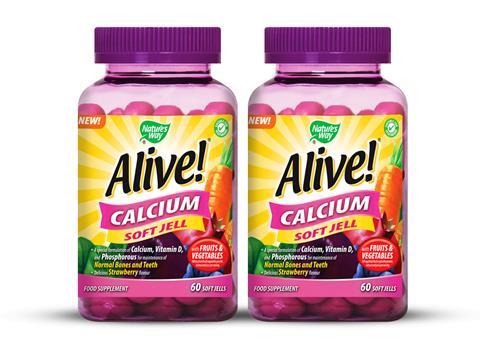 Nature's Way has launched Calcium Soft Jells, the latest product (rsp: £14.99/60) from its multivitamin brand Alive! Calcium with Vitamin D joins the Soft Jells range, launched at the end of 2015 following success in the US. "Consumers are looking for easy-to-consume supplements," says Paul Kerry, MD at Schwabe Nature's Way.

Bioglan SmartKids Range

Launched: January 2016

Manufacturer: Bioglan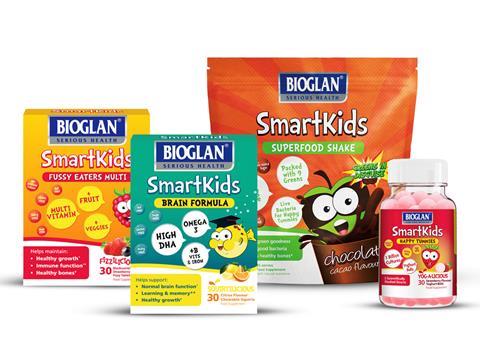 Bioglan Smartkids is a range of supplements aimed at giving children the supplements they need. The range (rsp £9.99) includes a 'greens in disguise' shake packed with superfoods, fruits and veg masked with a chocolately cacao taste. There is also a 'fussy eaters multivitamin' in a fizzy berry tablet.

Higher Nature - Mind Matters Range

Launched: October 2015

Manufacturer: Higher Nature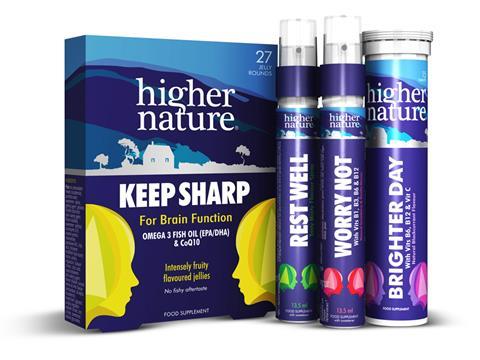 The Mind Matters range taps the emerging trend of mindfulness. It comprises Rest Well and Worry Not, in natural peppermint and strawberry & vanilla respectively; Brighter Day, a natural fruity flavoured effervescent tablet; and Keep Sharp tangy citrus omega-3 jellies with coenzyme Q10 for brain support. Rsps: £7.99 to £12.99.
Meal replacements
The major category trend of meal replacement is the reasoning behind Forza's new meal replacement drink Stir it Slim, which comes in a variety of coffee flavours.

"We realised many of our customers were skipping breakfast in favour of a cup of coffee," says Lee Smith, Forza Supplements MD. "We can assist dieters without them having to adjust their daily routine."

Meal replacements are just part of the bulging market in supplements aimed at the overweight. However, unpleasant side effects, including heart problems, hypertension and horrendous digestive issues have cast a negative cloud over diet products. "There is still a lot of snake oil out there readily available for consumers," says Smith. "Quick fix products are on the slide and the traditional 'diet pill' is becoming replaced by more long-term, research-backed alternatives."

To combat this negative publicity, diet brands have hugely increased their advertising spend. XLS Medical increased by 25.3% and Slimfast by a gargantuan 2,618.5%. They stepped into the gap left by some of the previous big advertising spenders, like Centrum and Seven Seas, whose ad spend fell 21.7% and 12.25% respectively [Ebiquity 1 March 2015-29 February 2016].

Forza has also upped its advertising game. It recently ran a campaign on the London Underground and increased its "magazine-spend fivefold" says Smith.

Holland & Barrett, meanwhile, is focusing on education and discovery. "Last year, for example, we did Coconut and Horny Goat Weed advertising campaigns, which drove real interest in these products," says Rowland. "We are focusing more on giving the customer information about the products across all marketing channels."

Multibuys will remain an important part of the promotional mix, says Kerry, but "new products need more short-term promotions with a third off or 25% off to drive initial trial."

Smith backs this, noting about 25% of Forza's sales come from in-store deals. "We accept it's inevitable that the culture of promotion and sales will continue to expand."

And so will the category as a whole if it continues to make its way into Brits' daily lifestyles.