The key drivers propelling interest in brain health supporting food and drink are plant-based nootropics, the gut-brain axis, and on-the-go delivery formats, according to expert insights set to be presented at the Active Nutrition Summit.
Some of them could be ingredients you've never heard of but there is a growing group of consumers to whom they mean everything
The previously niche brain health category of the food and drink market has gone mainstream since 2020 when the pandemic sparked mass interest in mental health.
As such, many nutrition companies have been developing products fortified with mind health supporting ingredients, often communicating the 'cognitive health' benefits to consumers.
The term 'cognitive health' covers a wide array of brain benefits, from concentration and memory to stress control and sleep quality.
Dr Harini Venkataraman, associate research director at the market insights firm Lux Research, will provide a deep dive into this topic at NutraIngredients' Active Nutrition Summit, taking place in Amsterdam this October (9-11).
She will provide an overview of the main trends shaping this category, key consumer concerns, ingredients with scientific zest, regulatory challenges, the movers and shakers in this category, and the pitfalls that brand should avoid.
Speaking in advance of her on-stage appearance, Dr Venkataraman explains that most consumers looking for mind health benefits would like to get them through products that fit into their routine and are enjoyable to consume, whether it be with gummies or with drinks, it's important to get that experience on point.
She points out PepsiCo's previous foray into this space, the Driftwell drink launched in 2020, seemingly drifted into thin air which she suggests was due to the poor flavour profile of the drink.
She says: "The flavour was artificial and that, ultimately, is the most important thing to the consumer."
Thanks to the rise in industry interest, many ingredients in this space are enjoying a growing body of research to back their mind health benefits.
For example, there is a plethora of research to back the benefits of pro- and prebiotics to improve the health of the gut microbiome and therefore impact mind health via the gut-brain axis.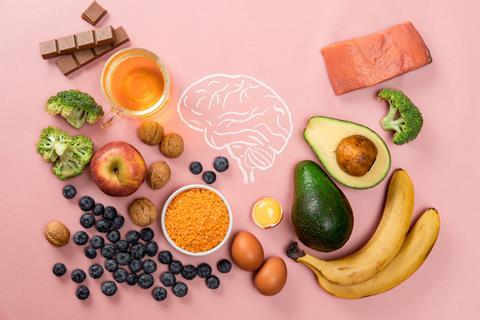 This is a new but fascinating area of research showing that improving the diversity of healthy bacteria in the gut microbiome can have a positive impact on several parameters of brain health, most notably on sleep and mood.
Dr Venkataraman points out that interest and investment is coming from both academic bodies and corporates, driving understanding of the bi-directional link.
Looking into some of the key plant-based ingredients, aka 'botanicals', she says ashwagandha, a medicinal herb used for centuries in Ayurvedic medicine, tops the charts when it comes to the number of cognitive health focused studies conducted in 2022. A PubMed search reveals 170 on this ingredient.
This is closely followed by L-Carnitine, a chemical that is made in the human brain, liver, and kidneys and helps the body turn fat into energy, with 140 publications last year.
The analyst says the market has seen phytonutrients - chemical compounds produced by plants –"going mainstream in 2023" with innovators focusing on improved extraction techniques to improve bioavailability of the compounds, as well as focusing on convenient formats.
With so many ingredients available to innovators, there is a wide array of companies entering the field and a wide range of solutions with some riskier than others.
She explains low risk endeavours will involve the development of popular formats, such as beverages, with traditional ingredients with strong research backing and consumer awareness, such as chamomile, ginseng and B vitamins.
Higher risk endeavours involve the use of more novel formats and ingredients, such as adaptogenic mushrooms and botanicals including lion's mane, reishi, L-theamine, bacopa monnieri, ginkgo biloba, holy basil, gotu kola, and lemon balm.
Active Nutrition Summit
Named the 'Sports & Active Nutrition Summit' in previous years, this annual conference hosted by the Grocer's sister title NutraIngredients has been given a new name and focus in order to stay in-tune with the fast-evolving category.
This category is now supporting the health-conscious mass market consumer to stay fit and healthy as well as supporting the performance goals of elite sport stars.
With that, the range of products and services on offer have expanded to encompass new and exciting health targets and these targets have underpinned the areas of focus at this year's conference - women's health, cognitive health, life-stages nutrition, and personalised nutrition.
Within this, speakers will delve into hormonal cycles, the gut-brain axis, menopause, AI, sarcopenia, botanicals, CBD, and wearables, to name just a few topics.
Dr Venkataraman will join the cognitive health pillar of the event. Other speakers in this part of the programme will include cognitive health nutrition researcher Professor Andrew Scholey, from Monash University in Australia. He will draw on three decades experience and over 100 clinical trials into the impact of nutrition on the brain, with insights into how cognition is measured and the biologically plausible targets which can be modified through 'nutra' interventions.
Simon Church, Co-Founder of CBD Performance, will provide insights into the benefits of CBD for athletes' mental health and the challenges that come with selling in this space.
Finally, a panel discussion on the gut-brain axis will be joined by Ewa Hudson, Director of Insights at Lumina Intelligence, Sophie Medlin, Consultant Dietitian at CityDietitians, and Jonathan Scheiman, founder of FitBiomics.
To download an agenda for the event and register to join, visit the website here.