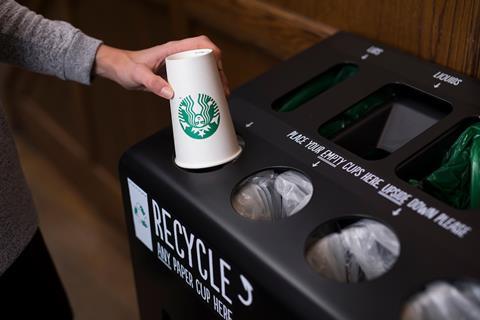 Coffee chains are falling short on helping use reusable takeaway cups, a survey from Ask the Q has revealed.

At the end of 2016, the online environmental resource contacted 25 café chains about their policies on reusable takeaway cups. Of the 18 out of 25 that responded, only three sold reusable cups in store across all their outlets and only three offered any kind of ongoing incentive to customers to bring in their own reusable cup.

Starbucks offered a 25p discount on its own reused cups, Caffè Nero offered an extra stamp on customer loyalty cards and Costa Coffee gave a 25p donation to litter charities.

However, Ask the Q said it visited a number of company outlets and none of these incentives were sufficiently promoted by staff or on information displays.

"Our survey of coffee chains' support for the use of reusable cups showed that few sold these cups in-store, which undermines efforts to incentivise customers with discounts," said Ask the Q founder Anya Hart Dyke.

The news comes as the government faced a backlash for failing to include the issue of coffee cups in a new anti-litter 'taskforce' this week.

However, further research showed there was significant confusion among consumers about the recyclability of coffee cups.

A survey, commissioned to ICM Unlimited by Frugalpac, interviewed 2,005 adults aged 18-plus online from 31 March to 2 April 2017 and found that only 10% of people use specialist in-store recycling bins to discard of their used paper coffee cups.

Half of consumers (50%) believed their coffee cups were being recycled all or most of the time. In reality, only one in 400 paper cups in the UK is actually recycled.

The research also found that 89% of people thought it was the responsibility of coffee shops to stock recyclable paper cups and 92% said that they thought it was important to be able to dispose of takeaway paper cups within the current recycling system.

"There are worrying signs that placing different types of recycling bins may well be exacerbating the problem - consumers rightly assume that by placing their cup in one of these bins, they've 'done their bit'," said Martin Myerscough, founder of Frugalpac.

"The simplest way of encouraging people and businesses to reduce their contribution to waste is to give them products which can be recycled easily."

Frugalpac said 2.5 billion paper coffee cups were being thrown away in the UK every year, with the vast majority going to general waste and landfill. This is because standard recycling plants are unable to separate the inner plastic lining within the cup from the paper.