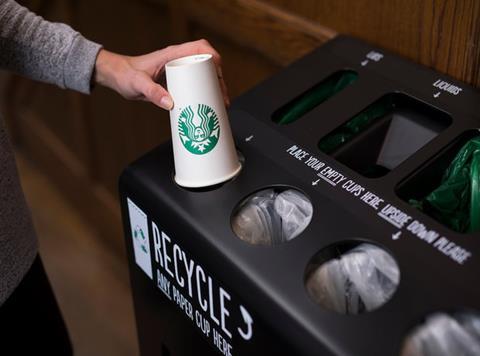 Environment minister Therese Coffey has refused to back a tax on coffee cups to reduce the 2.5 billion thrown away each year.

Coffey was giving evidence today before the Environment Audit Committee hearing into the effects of packaging, which put it to her that a 25p charge could help reduce waste.

The cross-party group questioned why the levy could not have similar success to that of the 5p plastic carrier bag charge that has reduced usage by 80% since its introduction a year ago.

Coffey told the committee the success of the plastic bag charge was because there was a "readily available alternative" in the form of a bag for life.

"The slightly bigger challenges [with coffee cups] is you've already paid the cost of the drink," said the Tory MP.

"I think one of things I'm expecting the group to understand is, would a levy of 5p or 10p really make a shift in behaviour and on what basis would we make that assumption? I'm not agnostic about it, I'm open about it. But I'm not particular pro about it. I need to understand whether there's confidence it would lead to a shift.

"If you have a product where the average retail price is already £3, does £3.25 make a significant change to somebody? It may do. It may be that pricing point is a significant change."

Coffey also refused to answer when asked if she wanted to see fewer disposable coffee cups in circulation.

Only 1% of the 2.5 billion paper coffee cups used in the UK each year are recycled.

The plastic film inside the cups means they can rarely be recycled with other mixed recycling.

Committee chair Mary Creagh said billions of coffee cups are littered, sent to landfill, or incinerated every year.

"If you wanted to design the perfect non-recyclable product, the disposable coffee cup is it," she said.

Takeaway beverage chains, including Caffè Nero, Costa Coffee, McDonald's, Pret A Manger and Starbucks have signed up to a scheme to collect and recycle more of the current types of cup. Costa is also collecting cups from rival brands in its shops.