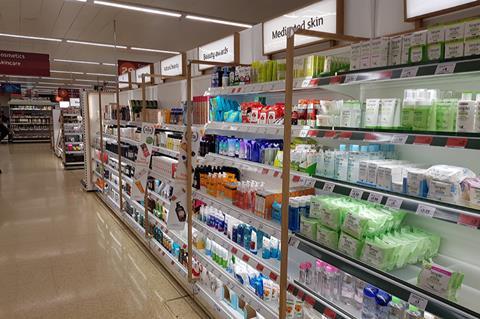 With the unexpected news that Boots is closing 200 stores UK-wide, and other high street retail struggles, what role can supermarkets play among all these changes – could they help reverse the retail decline and offer a 'heroic' solution?
The big four have already started to change their long-term in-store strategies to become 'more than just' grocers. Take Sainsbury's, for example. Towards the end of last year it not only doubled the size of its beauty offering by selling up to 3,000 products from brands including Burt's Bees and Essie, but it has also increased the prominence of beauty by repositioning the aisles in the middle of some stores. This is undoubtedly disruptive to typical shopper habits and it means the previously 'hidden' category is much harder to ignore.
This feels like a smart move. According to Mintel, UK consumers spent an estimated £5.1bn on beauty products in 2017 and this is expected to grow by 17.2% over the next five years. With challenges in the personal care category continuing (with ongoing pressure on pricing), focusing on the opportunity in beauty is likely to be lucrative. The discounters have done this well, with both Aldi and Lidl continuing to strengthen their position in the beauty market by offering shoppers premium own-label products at an affordable price point.
Tesco has also started to blur the lines by partnering with Next on a store-in-store concept. Now you can find a Next concession in various Tesco stores across the UK (as big as 4,300 sq ft) and they've targeted this cleverly – the concessions are in locations where Tesco already overtrades in clothing. Furthermore, it really is a two-way partnership, with shoppers also having the option to buy Tesco's own clothing label F&F online at Next. Sainsbury's has also piloted a similar approach, launching Oasis concessions in October 2018 in a bid to create 'fashion destination' sites.
So what does this mean for the future of grocery retail?
For retailers, broadening the offering of brands and product categories will help increase shoppers' dwell time in-store, inevitably driving higher footfall and increased sales. It will continue to make in-store purchasing the priority for supermarkets, in stark contrast to the ruthlessly competitive e-commerce retail platform. This works well for the beauty category, as the 'experiential' element of shopping in this category (seeing, touching, smelling and testing) remains paramount.
For brands, this strategy from supermarkets will help attract a whole new audience that isn't normally associated with the business' targeted demographic. What's more, supermarkets can start to pair like-for-like categories for specific audiences. For example, health-conscious millennials may be drawn to a supermarket by a vegan food brand, but might also find their fashion/beauty-focused interests addressed in the supermarket – removing the need to go elsewhere to find that same product.
While this blend of food/beauty/fashion has been somewhat subtle over the past few years in supermarkets, they need to start making bigger and bolder moves very soon (and get them right) to keep up with online competitors who are beginning to champion convenience for shoppers. Supermarkets can no doubt change the retail landscape and revolutionise the way shoppers buy their everyday products – I just look forward to seeing this executed.