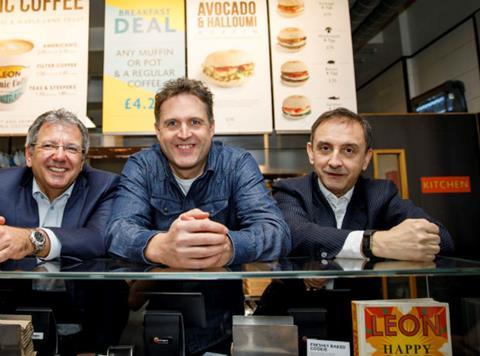 Leon has announced an exclusive partnership with restaurant operator HMSHost International.

The new agreement will see 20 new Leon stores launch in airports and stations across the UK, Europe and the Middle East.

The deal extends a pre-existing partnership, which saw Autogrill subsidiary HMSHost operate nine Leon locations in the UK and the Netherlands, including stores at King's Cross station and Heathrow Airport.

"I am proud of our partnership with Autogrill and HMSHost International," said Leon founder John Vincent. "They are our extended family and we are very happy to be opening in more places, to serve more people, in partnership with them."

HMSHost International CEO Walter Seib added: "We are delighted to announce the exclusive co-operation with Leon. We share a commitment for innovation as well as to help our customers feel good with their food choices. The new openings of this popular restaurant provides an appealing option and familiar brand for our guests to enjoy around Europe and the Middle East."

New Leon stores will open exclusively at train stations and airports across Belgium, Germany, Switzerland, Denmark, Norway and the Netherlands. In addition, Leon will launch shops solely in airports in the United Arab Emirates, Bahrain, Saudi Arabia, Kuwait, Turkey, France and Spain.