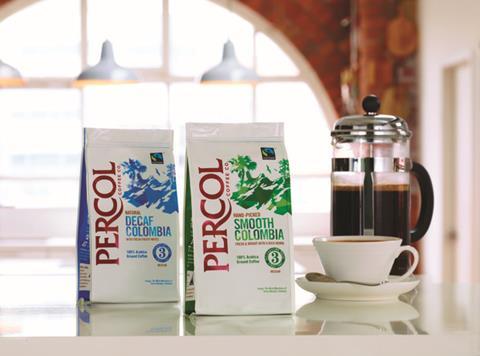 A London pop-up store claiming to be "the world's most sustainable coffee shop" is launching next month to encourage consumers to become more eco-friendly as part of their daily grind.

Running from 18 to 20 April at Old Street Station, Percol Coffee will serve ethically sourced coffee in reusable cups. Customers can buy a reusable cup on site to get free coffee over the two days. Alternatively, they can bring in their own reusable cup to receive a free Percol coffee.

Percol's Next Generation coffee beans are produced by using 100% renewable energy and are served from glass dispensers. Customers can purchase the coffee in reusable silicone ziplock bags, and will receive a 50% discount if they bring in their own reusable containers.

Shoppers can also purchase plant-based compostable Nespresso capsules, and use the state-of-the-art coffee grinders on site.

Prices will reflect the sustainability of each beverage, with the cheapest drinks having the lowest carbon footprint.

Staff will be on hand to advise consumers on how to improve the sustainability of their coffee, Percol said.

The coffee grounds used during the pop-up will be upcycled by its sister company Green Cup.

The site will also be free of plastic packaging, using milk stored in recyclable pouches and bottles and dairy alternatives supplied in recyclable packaging. There will be no disposable straws, stirrers or cups.

Even the shop furniture will be made using recycled plastic.

Percol will also cut paper waste on site by providing a cashless operating system, which emails receipts to customers. It will use washable cloths instead of blue paper roll and any paper used will be recycled responsibly, according to the company.

Exercise bikes will be installed on the site to show how much energy is required to power 'elements of the coffee shop' including the fridge, with the aim of making consumers 'more mindful of how much energy it takes to power the gadgets they have in their homes and lives'.

More than 2.5 billion single-use coffee cups are thrown away every year in the UK alone. Only one in 400 cups are recycled each year, while a mere 1% of consumers use reusable cups.