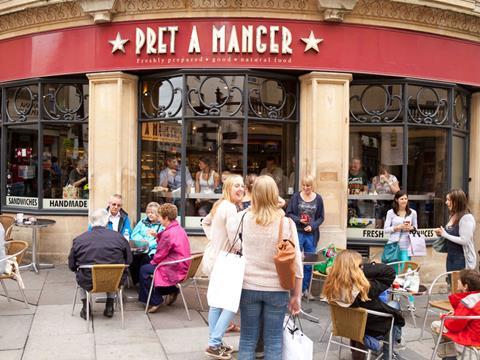 Last week, Pret a Manger announced it had been acquired by JAB in a £1.5bn deal. Here, former Pret staffer and MCA executive director Simon Stenning answers the key questions about the deal and what it means for the future of Pret.
JAB is paying £1.5bn for Pret. What makes Pret worth such a hefty valuation?
"It's a hell of a valuation, but you have to take into account this is a business that's been going for over 30 years but has still got incredibly long legs for the future. The valuation takes into account all the potential.
"The fundamental is that Pret is a food retail sandwich shop selling coffee rather than a coffee shop trying to sell food. The way in which their coffee offer differs from being a coffee shop is they've made it as uncomplicated or least complicated as it can be without falling behind competitors. They're still doing the iced drinks and flavoured drinks, but they're trying to make them as quickly and efficiently as possible because they know their customer base is all about speed and value, whereas the coffee shops have had to develop their drinks portfolio and made them more complicated, which slows down the transaction time.
"Crucially, Pret is much more about food, although coffee does play an important part in its range. Coffee shops do struggle to sell food – it is a big challenge for them to sell an equivalent range of good quality food in the same way that Pret does, because the Pret model is all about retailing food."
How has Pret been affected by the casual dining slump?
"It's not so much a slump; it's just there have been incredible cost pressures coming on every business that employs people at a lower minimum wage and has retail premises with business rates and food costs. Pret has always rewarded its staff better than the norm, so it won't have had to shell out too much to get people stepping up to national minimum wage.
"When it comes to property, Pret will have been affected by business rates the same as anyone, but they've always been very clever with property, which goes back to [founders] Julian Metcalfe and Sinclair Beecham being chartered surveyors and being able to choose the right property deals. Crucially, from a consumer perspective, the slump has not been seen so much in London because we're all working, we're all busy and we still need to eat and drink and fuel our need for convenience and speed, and Pret fills that very well. Because Pret is more centred in central London it's been able to shrug off pressures on disposable income and Pret's consumers have not been as affected as elsewhere."
How will Pret fit in with JAB's wider portfolio, which includes Keurig Green Mountain and Jacobs Douwe Egberts?
"Looking at what JAB's holdings are, I think they are looking at building up a platform of food and beverage companies longer term. I'm sure there will be some synergies across those companies at some point, but it's a long-term play: in a shifting world food and drink is one of the things that will always hold true and be of value.
"I see little risk in JAB's existing holdings overlapping with Pret because Pret is so distinctive and protective of its food and drink qualities. However, when I started working with Pret in 1994 we used Douwe Egberts coffee. We changed it soon after and developed a new coffee system, but originally it was using Douwe Egberts. So can it turn full circle? I'm not sure. I think Pret are really focused with their coffee offer in terms of the sourcing of it and the fact it's organic. They've put an awful lot of effort into developing and protecting that, so I don't think it's something they'd rush to suddenly change."
Can we expect changes to Pret's strategic direction as a result of the deal?
"I think it's got scope to ramp up, and go further forward faster, in its international expansion, just because of the way in which JAB travels stretches over continents. But I know Clive Schlee was keen to not go too fast, to not overexpand at a rate of knots simply because you could and take things a bit slower. I find it hard to think that anyone would change the way they've grown so successfully, but I do see there's scope to take Pret further on a global basis. With regards to them in the UK, it's funny because we talk in the same way about them in terms of Greggs, Costa and McDonald's, but they're a fourth or fifth of the size of their estates, so there is still scope to grow further in the UK. If we let our imagination run away they could go trully global and build up to the same sort of size as a Starbucks."
Which overseas territories is it likely to focus on?
"They will continue expanding in America, but they learnt lessons there from when they first expanded into the States in the early 2000s. They had to retrench because they didn't get it quite right. Now, however, they've got it right and although the Americans don't have a habit of buying ready-made grab and go products Pret has an attractiveness. Why stand in line waiting when you can just walk in, grab what you want and go? As Americans' habits change Pret can certainly grow in America as well as in continental Europe."
Simon Stenning was Pret's senior operations manager from 1994 to 1998, and has been MCA's executive director for over three years