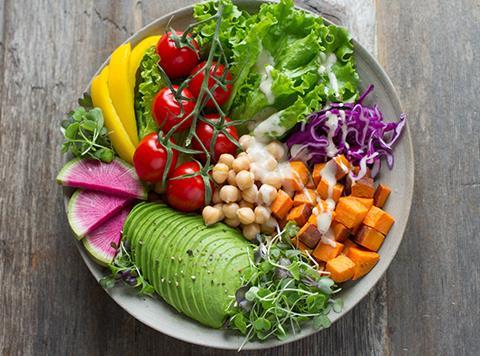 Food to go will be shaken up by new and unexpected partnerships this year and veganism will drive product innovation, according to the latest IGD report.

Head of food to go Gavin Rothwell cited the rise of in-store concession partnerships such as Crussh partnering with Sainsbury's and Benugo teaming up with John Lewis.

"Businesses are increasingly looking for like-minded partners to enable them to develop in food to go," explained Rothwell.

"Part of this could include additional food-to-go specialists looking to target more on-the-go customers, such as working with railway companies and airlines, following the example of M&S and British Airways. At the same time, the idea of food-to-go hubs, inspired both by retail space, shopping mall evolution and food halls, is an area we expect to see grow in 2018."

Rothwell added that health and wellness would play a key role in product innovation in 2018, with an expansion in the vegetarian and free-from market.

Almost a third (30%) of food-to-go consumers are looking for more vegetarian options, 22% for more dairy free choices and 20% for a larger gluten-free range. "We're seeing the expansion of more healthier food-to-go ranges across the board. In the UK for example, Pret has opened the minds of many new customers to vegetarian lunches and breakfasts, while gluten-free options have become more core features in ranges," said Rothwell.

Shoppers are also increasingly moving away from three fixed meals a day to four to fit around their busy lifestyles, providing a key opportunity for retailers to tap into the snacking market.

"We've witnessed the expansion of gym and protein boxes at several food-to-go specialists in the past year, and we'd expect both niche and mainstream operators alike to become more focused on this in 2018," he said.

IGD research also reveals that food-to-go specialists are experimenting with new and different locations. While transit outlets are becoming a more attractive prospect, stores are also moving into workplaces, fitness centres, sports stadiums and festivals.

Rothwell said that food-to-go outlets were looking to expand their market reach even further by tapping into the popularity of street food through a food truck format, as well as trialling delivery services.

"In the US, the likes of both Whole Foods Market and Walmart are even bringing food truck concepts in-store. Meanwhile, in Mexico, we're seeing the delivery app Rappi experiment with food delivery from street vendors, and in the UK a number of food-to-go players such as Subway and Greggs are experimenting with delivery services to broaden their reach further."

Rothwell also flagged up the increasing importance of emotional engagement with shoppers through customer service, in-store décor and product displays such as deli and bakery counters.