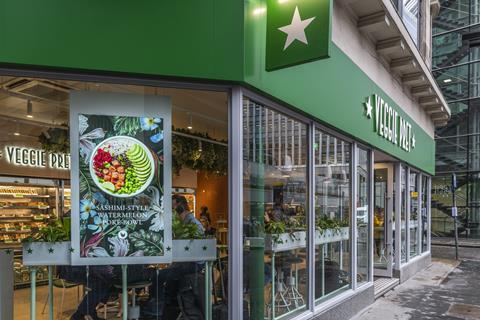 Veggie Pret has unveiled a new 19-strong menu featuring 15 vegan products.
New options including plant-based poke bowls, smoothie bowls and buddha bowls will be available at the chain's London and Manchester stores from tomorrow (21 January).
"This launch is an opportunity for us to establish Veggie Pret's menu, offering customers something different to what they have seen so far," said Pret's global head of food innovation Hannah Dolan.
"We wanted to put a real focus on creating new vegan dishes, so looked at where we could use vegetables and fruits to deliver flavour, rather than mock meat or fish."
Other vegan additions include a Sweet Potato Falafel Mezze Salad Bowl, Apricot & Pistachio Overnight Oats and Carrot & Coriander Soup.
The full range: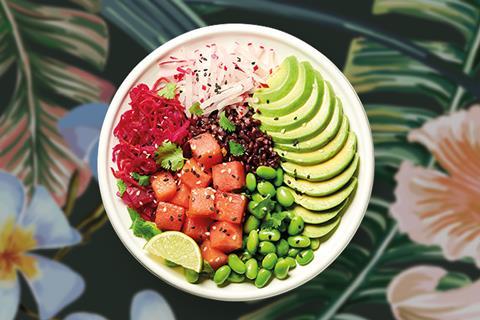 Vegan
Sashimi Style Watermelon Poké Bowl (£5.50)
Marinated Tofu Poké Bowl (£5.50)
Mango & Banana Sunshine Smoothie Bowl (£3.75)
Acai & Almond Butter Smoothie Bowl (£3.75)
Raspberry & Coconut Smoothie Bowl (£3.75)
Tropical Green Smoothie Bowl (£3.75)
Cocoa, Nuts & Berries Smoothie Bowl (£3.75)
Humous, Sweet Potato & Kale Buddha Bowl (£5.25)
Sweet Potato Falafel Mezze Salad Bowl (£4.50)
Chocolate, Almond Butter & Banana Smoothie (£4.50)
Avocado, Mango & Ginger Smoothie (£3.99)
Raspberry, Mango & Ginger Smoothie (£4.50)
Apricot & Pistachio Overnight Oats (£3.25)
Mexican Inspired Sweet Potato Wrap (£3.50)
Lightly Spiced Carrot & Coriander Soup (£2.40-£3.80)
Vegetarian
Roasted Beets & Egg Buddha Bowl (£5.25)
Mozzarella, Pesto & Avo Salad Bowl (£4.99)
Mexican Inspired Salad Bowl (£4.50)
Spicy Egg Brioche (£2.75)