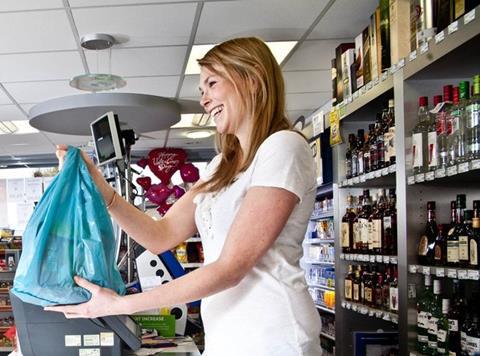 The number of jobs in the UK convenience store sector has dropped by 5% in the past year because of an increase in the national living wage and national minimum wage, a new industry report suggests.

There are currently 370,000 people working in the sector, compared with 390,000 in 2016, according to the Association of Convenience Stores' latest Local Shop Report.

In 2015, there were 407,000 convenience store employees.

"Convenience stores provide flexible employment for over 370,000 people across the UK, but this number has fallen as a result of significant increases in the national minimum wage and national living wage, as well as other associated employment costs, alongside rising costs in other areas like business rates," said ACS chief executive James Lowman.

"In many cases, store owners are having to reduce the number of hours that their staff work whilst picking up extra hours themselves."

The national living wage was introduced in April 2016 as an obligatory minimum wage for workers aged 25 and over.

Initially it was set at £7.20 an hour, with a target of it reaching more than £9 an hour by 2020.

The policy was announced in then-chancellor George Osborne's Budget in 2015, in an effort to create a higher-wage, lower-welfare economy.

Since April 2017, employers have had to pay staff a minimum of £7.50 an hour.

The national minimum wage is currently set at £5.60 an hour for those aged from 18 to 20 years old, with those aged from 21 to 24 earning a minimum of £7.05 an hour.

The ACS report also found sales in the industry have risen by £500m to £38bn, contributing to about a fifth of the UK's grocery market.

Retailers have invested £858m on their stores, of which 33% was on refrigeration; 28% on in-store lighting; and internal building maintenance accounting for 26% of the total costs.

"Convenience stores have to compete not just with other similar retailers, but also with food-to-go outlets, coffee shops, supermarkets and the growing presence of online grocery retail, which is why there remains significant investment in new technology and services within the sector," added Lowman.

"The intense competition and rising sales in the convenience sector demonstrates that local shops have never been more relevant to the lives of consumers, which is why a number of larger companies are now running convenience stores and moving into wholesaling or franchising in the convenience store sector.

"Technology and consumer needs are changing rapidly, so stores are constantly evolving to offer more products and services."

There are 49,918 convenience stores in mainland UK, 74% of which are run by independent retailers, either on their own or in partnership with a symbol group like Spar, Premier, Best-One or Nisa.