You could argue British tea drinkers have never had it so good. For those who still prefer a standard cuppa, prices are being squeezed to new lows (the price of some black tea bags has fallen to as low penny in the past year), and as brands seek new ways to arrest value decline, they're launching a growing array of specialist teas aimed at the connoisseur.

Trouble is, Britain's passion for tea is still going cold, with lower prices failing to encourage us to put the kettle on more often. "Increased dealing has stripped out value without alleviating the issue of shoppers moving away from normal black tea," says Kantar analyst Ed John. "Heavy promotions on larger packs seem to be rewarding core shoppers and pushing down price, rather than encouraging us to buy more."

Tea sales have fallen 4.7% to £619.8m on volumes down 2.1% in the past year [Kantar Worldpanel 52 w/e 22 May 2016]. That's the equivalent of 64 million fewer cuppas. Coffee, in contrast, has grown a solid 3.2% to £1,139.7m, as volumes have risen at the slower rate of 2.1%, reflecting Brits' growing preference for premium, café style coffee.

The falling retail price of tea is hitting brands hard. PG Tips has seen average price per kilo sink 4.8% [IRI 52 w/e 18 June 2016], despite its bid to protect margins by cutting the tea content of its bags by 7% while keeping the price the same in March 2015. Tetley has seen its average fall 4.7%; Yorkshire 5.6% and Typhoo 15.6%. The top 10 brands including own label have lost £59.8m in total.

Now a new storm is brewing for tea: commodity cost hikes following the Brexit vote. "Exchange rate movements have an impact on commodity prices, which are a significant part of our cost base," says Tata customer & shopper marketing director Peter Dries. "Tetley prices have not changed for some years as the cost of production has risen. We conduct regular reviews to determine when price increases might be necessary, and we're in the process of a review now."

So could Brexit end up costing Britain's tea drinkers? How will it impact the wider hot beverages market? And what are players doing to encourage growth? Can anything be learnt from the ongoing success of coffee?

That Brexit could result in higher prices for the national brew has a certain irony. In the build-up to the EU referendum, pro-Brexit campaigners claimed Brussels bureaucrats were coming for British kettles with a new decree banning high-powered domestic appliances. Meanwhile, the Daily Express offered readers the chance to claim a free 'Brexitfast' Tea Caddy bearing the slogan: 'Vote with the leaves - it's in the bag."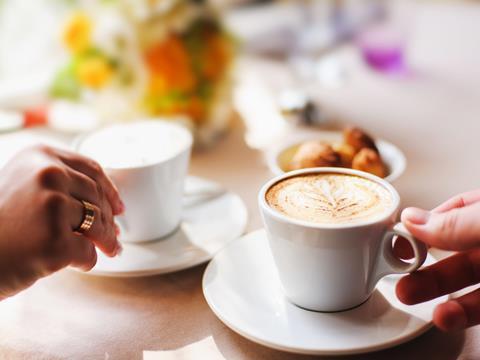 Last year's growth of 1.9% in value was a bright spot in a challenging grocery environment. Growth has now slowed to just 0.2% and downward pressure on prices has not helped to stimulate shopper demand.
The main driver of the slowdown is the accelerated decline of standard black tea. Increased dealing has stripped value back out of the sector without alleviating the issue of shoppers moving away from normal black tea.
Green tea is in double-digit growth this year with major category players like Tetley and PG Tips both featuring this sector in recent advertising and product launches.
Despite the decline of both premium and regular instant coffees, the overall coffee market is buoyant. This is driven by both shoppers buying coffee more often and value being added as shoppers trade up to more expensive formats that recreate the theatre of out-of-home coffee shops at home.
Ed John, Kantar Worldpanel
Currency fluctuations
Now it seems the vote will have an unexpected impact: tea leaves are going to get more expensive. "Should uncertainty prevail and the pound remain weak, there is likely to be an impact for the longer term," says a spokesman for Yorkshire Tea owner Taylors of Harrogate. "We are mindful of the impact of currency fluctuations."

It's not just tea. The pound's weakness is likely to make coffee brands less willing to swallow the commodity price hikes they have been dealing with for some time now, says Lavazza MD David Rogers. "Until Brexit, manufacturers and retailers had largely absorbed any rising cost of raw materials and invested in either everyday price or price promotions to maintain customer loyalty," he says. "Coffee has a particular problem with a shortage of quality available, especially for Arabica, where crop issues and rising demand are fuelling increased prices."

But in today's climate, shoppers expect low prices. They know that if they can't find them in the mainstream multiples, they will in the discounters (see bargain stores and hard discounters' market-leading growth, box left, for proof). This is true for value products as well as premium. Higher-end products such as Pukka and Carte Noir have seen prices fall in the past year as a result of stiffening competition between both retailers and brands.

Premium products have a key advantage in light of rising commodity prices: margins are generally (but not always) higher, therefore there's more scope for absorbing cost fluctuations rather than risking volume decline by passing them on to consumers. The other advantage, of course, is that it allows players to tap growing demand for more premium hot beverages inspired by café culture.

Proof of Brits' increasingly fancy tastes in hot drinks can be found on the next shelf along from standard black tea.

Fruit and herbal tea has grown 2.8% in value, with speciality bags up 8.7% and green tea bags continuing last year's double-digit growth spurt, up 15.8% [Kantar]. Not surprisingly, it's to fruit, herbal and green teas that many brands are looking for the great British tea rescue.
Can a posher cuppa hit the right spot?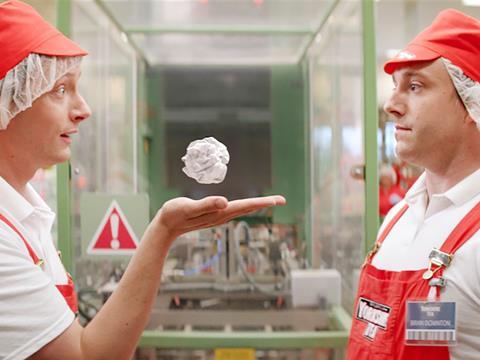 This year's bestsellers list for tea is luke warm at best. All of the top five are down, bar one: Yorkshire Tea.
As retailers rationalise black tea ranges, Yorkshire says it's maintained listings and an above average price thanks partly to TV ads.
PG Tips has responded to the slowdown of black tea by expanding its green and fruit and herbal ranges, launching seven new flavours in March 2016.
The growth of Tata's ultra premium Teapigs points to Brits' growing thirst for premium tea, although a steep volume slide for Twinings, driven by a price spike following a cut in deals, reflects tea drinkers' lasting price sensitivity.
Functional tea

Reflecting trends in the wider category, the real action for Tetley, which has seen value and volume continue to fall in the past year (see box above), is in its health-skewed functional Super ranges. The original Super Green range, launched in early 2015, grew by three variants this year and, says Dries, has made Tetley the nation's favourite green tea brand. Super Fruits followed in September. Together, he says, the ranges have boosted brand performance and improved distribution.

Functional black tea was the next logical step for Tetley, and the Super Everyday range launched in June. With Boost, Alert and Immune variants, the range carries EFSA-approved health claims and has an rsp of £1.59 for 20 bags. "We are confident that we will see a strong performance," says Dries. "The Supers range is another way of pumping life into the tea market. It's tapping into the trend for health. Green is probably where the most health-conscious shopper is and if shoppers are buying into the idea of functional benefits when it comes to green tea, I'm sure they will do in everyday."

Tetley is not the only big brand to broaden its range in line with drinkers' repertoires, of course. Unilever's market-leading PG Tips brand launched seven new fruit and green variants in March, and similar flavours dominate its Nespresso-compatible tea pod range, launched last November.

"By launching new and exciting flavours into our portfolio we aim to build on the growth we've seen across our range of fruit, herbal and green teas in 2014 and 2015, and attract even more new consumers to the category," says brand manager Lola Danlos.

She adds that new packaging and the £5m Keep It Tea campaign, notable for many viewers for the pixellation of Monkey's undercarriage, are part of a programme of investment intended to ensure that black tea isn't overlooked. Overall sales, which are in double- digit value and volume decline, suggest more work is needed, however (see box above).

While the Taylors of Harrogate speciality tea arm innovates in fruit and herbal, NPD from Yorkshire Tea has stuck to black tea. In August it launched Breakfast Brew, Breaktime Brew and Bedtime Brew, based on the signature blend. "Speciality black tea is where, in research, consumers gave us the most permission to go. It's about accommodating consumers who are not traditional six or seven cups a day drinkers," says brand manager Tom Blair. "They want choice."

With speciality bags in such strong growth, the extension has potential, and sales projections are for £2m by the end of 2017. All the big players profess continued faith in black tea, but nowhere does that seem more justified than at Yorkshire. It's up 5.2% on volumes up 11.4% [IRI] and has consistently outperformed its rivals in recent years as it has evolved from a regional to a national brand. The aim to be second in the category (a position occupied by Twinings) will be realised over the next few months, predicts Blair.
Ahmad dessert teas

Launching: September 2016 
Manufacturer: Ahmad Teas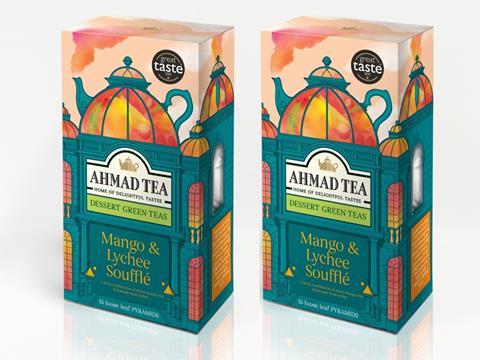 Ahmad Teas' new range, launching at Ocado (rsp: £4/15bags), is inspired by sorbets, cakes and soufflés. Three variants - Citrus & Mint Sorbet, Strawberry Basil Coulis, and Mango & Lychee Soufflé - are based on green tea. The rest - Strawberry Velvet Cake, Pear & Cinnamon Strudel, and Moroccan Orange Slice - are blended with black tea. The company says that dessert teas, along with cold brew teas and tea gifts, exist as established sub categories in international markets, including Russia and the US.

Heath & Heather teas

Launching: October 2016

Manufacturer: Typhoo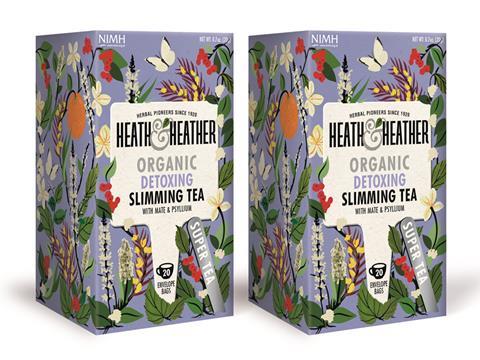 The leading tea and herbal infusion brand in the health food sector, Typhoo's Heath & Heather is now launching five core products with functional benefits, including Energising, Relaxing, Detoxing, Digestive and Supportive (rsp £2.49/20 bags), into the mults, along with green tea flavour innovations such Aloe Vera, Avocado and Coconut.

Taylors of Harrogate Sour Cherry

Launched: June 2016

Manufacturer: Taylors of Harrogate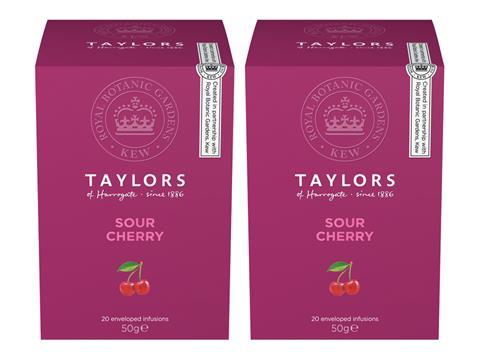 Taylors has added Sour Cherry (rsp: £2.99/20 envelopes) to its range of fruit and herbal infusions, developed in conjunction with the Royal Botanic Gardens at Kew. Blended with hibiscus flowers, dandelion root, star anise and rosehip, the new variant launched at Ocado, Booths and Waitrose, followed by Sainsbury's and Morrisons.

Teapigs matcha sachets

Launched: July 2016

Manufacturer: Teapigs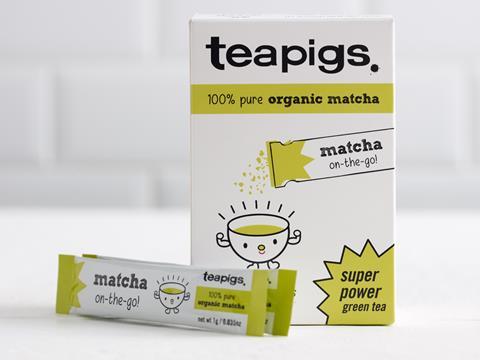 Teapigs' on-the-go single-serve sachets of matcha powder launched in Waitrose and Sainsbury's this summer. Sold in boxes of 14 (rsp:£12), the 1g servings of Japanese organic matcha include polyphenols for healthy skin and amino acids for concentration and alertness. The powders can be whisked into milk or shaken with water for a cold drink.
Saviour of tea?
"We accept that there needs to be a rescuer of the tea category and we think that's going to be us," he says, adding that Yorkshire's success has two drivers. "One is that we have maintained equity in the brand. We took sixth place in YouGov's BrandIndex this year, above the likes of Apple. The second is that we have recruited 550,000 new households [Kantar]. The main driver for that has been our TV ads. Last July we launched a TV commercial called Brewtopia, an assertion of our values as a brand and a business. A lot of brands are centred around me-time and rescuing. We're way more upbeat than that. We try to celebrate how brilliant tea is."

This brand equity has allowed Yorkshire Tea to maintain an average price that weighs in at more than a pound per kilo over Tetley's and PG Tips and means the brand is significantly less reliant on promotions to shift volumes. "The category norm is up to 70% of volume sold on deal, and we're not having to go with it quite so much," says Blair. "Over the past 12 months, major retailers and tea brands have increased their promotional spend and activity. We've had to slightly step up our promotions and move with the market, but not to the same extremes as the rest of the category."

Others are also finding the positives in the everyday cuppa. Wessanen's Clipper brand has lost 2% in value on volumes that inched up 0.2%. But "Clipper's black tea products grew by 7.7% to £5.86m, making Clipper the fastest-growing mainstream black tea [IRI 52 w/e 16 July 2016]," says controller Rebecca Vercoe. "This growth shows that many consumers value the emphasis we place on a high taste profile and sustainable tea sourcing and are remaining loyal to our black tea."

Punjana, meanwhile, will launch its redesigned Thompson's Everyday Blend packs in England in October, and joint managing director Ross Thompson says, "Despite the decline in the mainstream black tea market, our Punjana Original Tea Blend continues to grow year on year by providing the British tea consumer with a top quality tea taste experience whilst retailing at the same price as all other mainstream black tea brands."
No More Tea Bags

Launched: August 2016 
Manufacturer: YumCha Drinks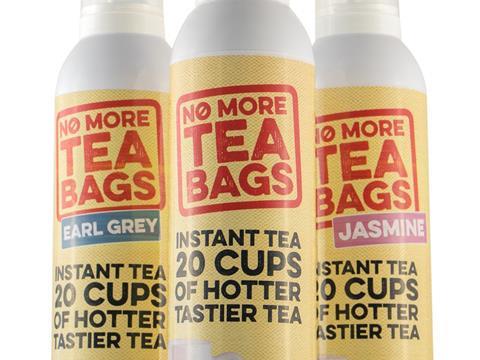 A liquid tea concentrate dispensed from an aerosol-style can, No More Tea Bags is the creation of drinks entrepreneur Guy Woodall, who also founded Thorncroft Drinks and YumCha iced tea cordials. The black tea liquid leads the range, which is being distributed by Cotswold Fayre, and there are also Earl Grey and Jasmine variants (rsp:£3.95/200ml).The concentrate is made from whole leaf tea rather than fannings (small particles of leaf) and is brewed for five minutes for a fuller flavour.
Yorkshire Tea Speciality BrewsLaunched
: August 2016
Manufacturer
: Taylors of Harrogate
Based on its black tea blend, Yorkshire's occasion-specific brews come in three variants (rsp: £2.29/40 teabags). Breakfast Brew has added Assam, Breaktime Brew includes orange & lemon, and 'seriously snuggly' Bedtime Brew is a decaf blend with lemon balm and nutmeg. Available at Morrisons, to be followed by Waitrose.
Tetley Super Everyday Launched
: June 2016
Manufacturer
: Tata Global Beverages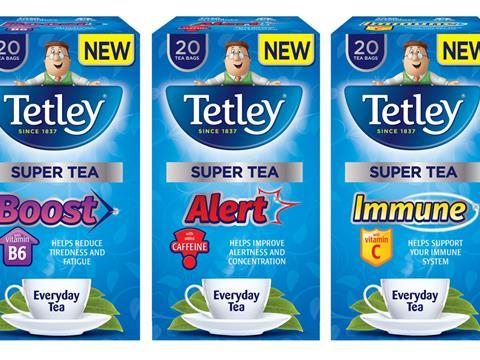 Tetley's new range (rsp: £1.59/20 bags) of with-benefits 'super' teas are the first functional black teas to launch in the UK with health claims approved by the European Food Standards Agency. Tetley Super Everyday Boost has added vitamin B6, Immune has added vitamin C, and Alert contains Assam tea which boosts caffeine levels.
PG Tips Black Tea Caramel & VanillaLaunched
: November 2015
Manufacturer
: Unilever
Launched as part of the Nespresso-compatible tea pods range, Black Tea Caramel & Vanilla is a new variant for the Unilever brand. The range also includes Classic Green Tea, Punchy Peppermint and Scrumptious Raspberry & Apple. The capsules launched at Amazon, Asda.com and Ocado at an rsp of £2.79 for 10 pods and £9.99 for a gift pack of 24.
Tea pods

PG Tips' capsule launch shows faith in a small but growing sector within tea. It also demonstrates the market appeal of green, fruit and herbal flavours (the fourth variant is a black tea with caramel and vanilla). The value of tea pods grew by just under half in the past year to £2.1m and Twinings' English Breakfast pod, for use in Tassimo machines, is the biggest SKU in the category [Kantar].

That the Twinings pods carry an rsp of 25p each (£3.99 for a pack of 16) and the PG Tips capsules 28p (£2.79 for a pack of 10) is, of course, significant: the higher price of the pod format is a major draw for beleaguered tea brands, says Kantar's Ed John. "Such is the incremental value of the pod format that manufacturers outside of coffee are looking to get into the action."

Dualit says its fruit and green capsules made up 37% of the brand's total online sales in the past year. It continues to invest in its tea pod range and introduced updated design, reduced packaging and peelable lids, which protect the filtration paper, in March this year. But other brands are reluctant to push the button. Yorkshire's Blair says his team have detected coffee taint in tea capsules used in a Nespresso system.

Delica AG's Café Royal, which launched coffee pods in the UK last year, is reluctant to bring its tea pods here from Continental Europe. "There are no current plans to target these products within the UK as tea drinking habits are established and are unlikely to change in the same way as coffee," says head of UK platform David Matthews.

Of course, there's more than one way to add value in tea. As pods grow on the back of rising demand for convenience and quality, Booths, which began as a tea merchant, claims to be seeing strong growth in its loose leaf teas. "Our Booths brand lines are driving growth in the category, and the introduction of two Booths tea caddies and three new loose leaf varieties, including green teas, has further driven growth," says category development manager Sarah Plevey.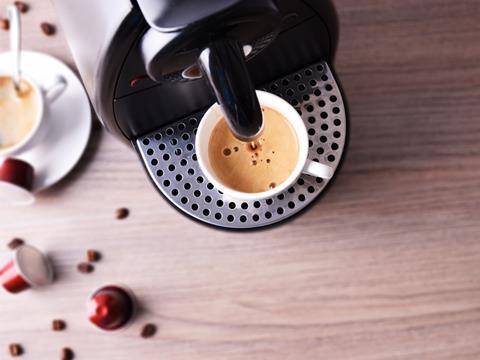 Loose leaf tea

Booths isn't the only one that's cashing in on those who still like a bit of ritual. "There's ­certainly a renaissance in loose tea under way," says Daren Spence, founder of We Are Tea, which sells caddies of loose leaf black, green and infusion teas. "Our loose volumes have doubled year on year, which is way ahead of sector trends."

Teapigs, meanwhile, is bringing matcha to the mults in a new, super-premium format. The powdered green tea is traditionally spooned out instant coffee-style and whisked into drinks. Teapigs Organic Matcha sachets, which each contain 1g of matcha powder, hit Sainsbury's and Waitrose in August, with an rsp of £12 for a pack of 14 sachets, equating to a hefty 86p per cuppa.

"The sachets are the equivalent of a teabag but the customer gets the full gram of matcha, rather than a green teabag with a tiny smattering of matcha powder which tends to fall out of the bag," says Teapigs co-founder Nick Kilby. "We know in this country that people like convenience, and we've seen great sales where it's been listed already." Premium brands such as Teapigs are facing stiffening competition from own label, however. "One of the big groups launched their private label, the format was very similar to ours," adds Kilby. "We took it as a sign that we've arrived."

Own label is worth 17% of the hot beverages market but growing faster than brands, which are static against own label's 1.5% growth [Kantar]. As part of Booths' continuing shift towards own label, the northern grocer has revamped its prepacked tea range, introduced new variants and added Ethiopian Yirgacheffe coffee beans to its line-up. Coffee pods are a particular focus for Sainsbury's. The strategy seems to be working: it's the only one of the big four growing value sales of hot drinks, albeit by a modest 1%.

"The launch of Sainsbury's own label Nespresso-compatible pod demonstrates that retailers are giving more space to compatible pods on shelf," says Chris Payne, brand manager at Taylors of Harrogate, which added two new coffee pods to its range this summer. When CaféPod recently extended into Dolce Gusto-compatible capsules, it did so at Sainsbury's; the store is also home to Café Royal's Nespresso-compatible pods.
Nescafé full of beans as coffee cools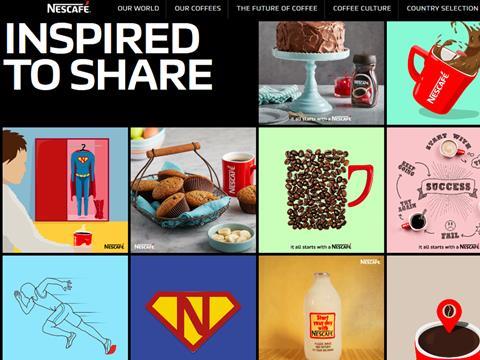 Growth is slowing as demand for instant coffee cools. Still, Nescafé is up £14.8m thanks to big ad spend for its standard lines and growth for pricier lines Azera and Gold Blend.
Tassimo's growth is the fastest in the top 10, aided by tie-ups with the likes of Costa and Carte Noir. The volume fall is down to new milk technology allowing liquid to be condensed. Units sold are in growth.
Taylors has turned in the next greatest growth after extending its range of Nespresso capsules with Brazil Decaffeinated and India Karnataka variants. "India is likely to become our star performer," says the brand's Chris Payne.
Range rationalisation

Despite the steady stream of NPD in hot beverages, the category has seen plenty of range rationalistion over the past year. "The retailers have a strong and broad range and that has been slightly tightened through range reviews," says Tetley's Dries. "That was the right thing to do."

Twinings lost 18 SKUs as part of Asda's Project Renewal. "Twinings remains strong in Asda accounting for half of all premium tea sales and we still have the biggest range of premium teas, with 38 SKUs," says Keenan. "We worked with Asda to identify how we could make the fixture easier for shoppers, reviewing duplication of range and merchandising flow. We identified NPD gaps representing opportunities for Asda. This led to the launch of our Selection Packs in June."

The discounters, meanwhile, are steaming ahead with 8.3% value growth in tea and coffee; bargain stores not far behind with 6.5% growth [Kantar]. The biggest brands are reaping the benefits of shopper loyalty, especially in tea. PG Tips claims to have the bestselling tea SKU in the discount sector, but all the major brands are well represented. "As the discounters' businesses grow, our business grows with them," says Dries.

But Yorkshire Tea - stocked at Aldi, B&M, Home Bargains and Poundstretcher - says the sector isn't without its risks. "It is a growing part of our business, but the majority of our business is growing," explains Blair. "The mults are hot on read-through of prices so we had a look at how we manage value across the outlets. It's a constant balance. We're not going hell for leather in that arena - we're managing that growth responsibly alongside the growth we're seeing in the multiples."

Premium brands can also benefit from the discounters' success, says Daren Spence of We Are Tea. "Paradoxically the discounters have helped smaller, more premium tea brands get more airtime with buyers and shelf space in store as retailers look to more niche brands to deliver differentiation."

The push to posher tea mirrors the ongoing trend in coffee: the migration from standard instant to more premium products that take their cues from coffee shop culture. Regular coffee is down 4.5% in value while roast & ground and café style - characterised by whole bean instant brands Kenco Millicano and Nescafé Azera - are 2.5% and 3.6% respectively; pods are up a staggering 29.6% to £137.5m [Kantar].

Still, market leader Nescafé claims to be bucking this trend, with its entry-level product growing share. "Although the everyday coffee segment is declining, Nescafé Original has seen volume sales return to growth at 2.5% year to date [IRI] thanks to continued support for the brand," says a spokesman, adding that a £7m investment in marketing Gold Blend has also paid off. "Gold Blend, Azera and Dolce Gusto are showing very strong performance."
Café Royal Limited Edition Agent's Choice Espresso

Launching: September 2016 
Manufacturer: Delica AG
No, that's not Bond pouting out from the pack, it's brand ambassador Robbie Williams, whose tie up with Café Royal reflects the brand's intent to carve out a greater share of the UK coffee market. Ocado is launching 16 of the brand's Nespresso pods , including this exclusive limited edition (rsp: £3/10 capsules), part of a rolling programme of non-standard lines featuring Williams. Drinkers have the chance to win a barista course and meet Williams in London as part of an on pack promotion.

Dualit Compostable Pods

Launched: September 2016

Manufacturer: Dualit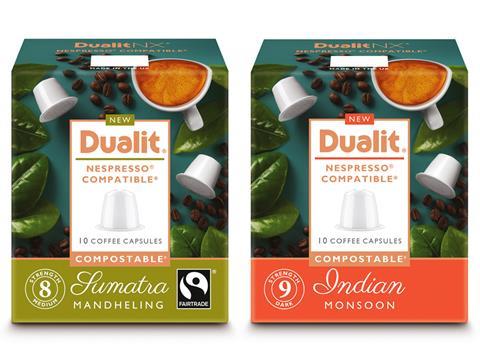 Dualit has added two new compostable coffee capsules to its line of Nespresso and Dualit compatible pods. Cornstarch is used to produce the pod, lid and protective bag for Indian Monsoon and Fairtrade Sumatra Mandheling (rsp: £2.90/10 capsules), meaning they can be disposed of in food waste bins for industrial composting.

Pelican Rouge

Launching: September 2016

Manufacturer: Pelican Rouge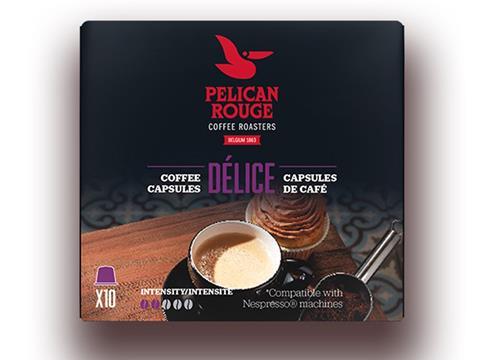 Pelican Rouge's wholebean, roast and ground and Nespresso compatible pods are listed at Nisa, with 250g packs of Delice, Superbe and Supreme blends carrying an rsp of £3.29. It also has a premium single origin product, Nicaragua Single Estate (rsp: £3.69/250g). The range of four pods (£3/10 capsules) includes a decaf Arabica variant.

CaféPod Dolce Gusto Compatible

Launched: November 2015

Manufacturer: CaféPod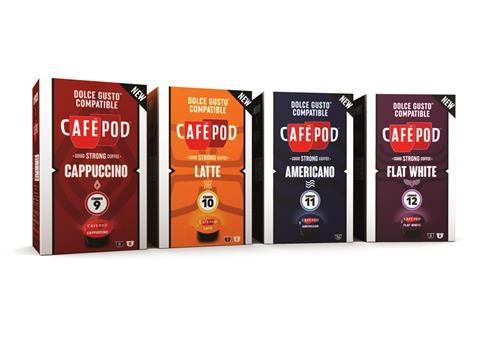 The only Dolce Gusto compatible capsules currently on the market, CaféPod's four-strong range is stocked by Sainsbury's (where it launched), Waitrose, Ocado and Amazon. The variants include a Flat White capsule - not currently offered by Dolce Gusto - alongside Cappuccino, Latte and Americano pods (rsp: £3.89/16 capsules).
Whole bean instant

As we've seen, the more rapid growth is in pricier coffees such as Kenco Millicano, Nescafé Azera, Lavazza Prontissimo! and Percol Barista, which combine microground coffee beans with instant powder. And it's a sector well worth pushing into, says Nigel Padfield, category & shopper controller at Jacobs Douwe Egberts, quoting Nielsen data. "Consumers are typically willing to pay 3p per cup for mainstream instant, which increases to 6p for super premium."

Azera is helping to drive the growth, says Nescafé, by tapping into the consumer trend of barista-style coffee made at home, repeating its collaboration with University for the Creative Arts students to produce collectable limited-edition pack designs, and launching NPD such as its just-add-water Coffee To Go Latte and Americano cups.

"The launch of Azera in a to-go format including its own disposable coffee cup offers consumers the convenience to carry their coffee out of the home," says Kantar's John. "While at an average of 60p per cup it's by far the most expensive sector in take home, a more relevant competitive set would be Costa and Starbucks. Like similar launches in biscuits and porridge, the NPD justifies a significant price premium by offering cash-rich, time-poor shoppers convenient solutions."

With many brands now taking their cues from coffee shop chains, and own label on it too (Tesco introduced its barista-style product in 2013), some risk being left behind. "It's likely that brands not operating in the premium and super premium arena will continue to experience long-term decline," says Rogers at Lavazza, which has splashed out record sums on ads in the past year in support of its 2014 extension into super premium instant coffee with the Prontissimo range.

"Premium and super premium brands promise coffee shop quality with ease of preparation in your own home. Tactics deployed include the creation of lifestyle values alongside the usual promotional and display mechanics to offset price premiums."

There's another hope for instant coffee, however: variants which replicate flavoured coffee shop drinks. Douwe Egberts has four sweet-flavoured instants in its Flavour Collective range and flavoured coffee brand Beanies is stocked by Sainsbury's and Tesco and has 15 instant variants, including Double Chocolate, Gingerbread and new Cookie Dough. "The flavoured instant coffee market grew by 27.4% year-on-year to June 2016, equating to an incremental £2m to category value," says MD John Evans. "The Beanies brand is growing rapidly."
Sales of the 30p cuppa soar as tea goes posh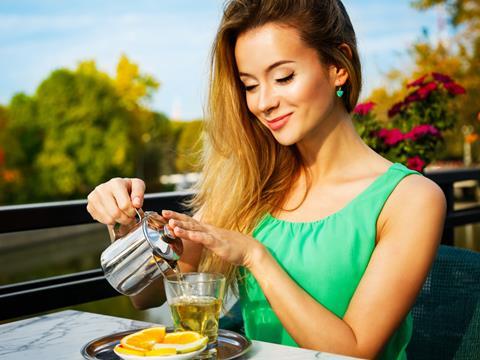 Can small premium brands drive value back into tea? They're certainly strong. Pukka Herbs has grown 26.6% in value on volumes up 42%, bringing brand value to £13m. Teapigs, owned by Tata, is heading for £5m brand value after adding 13.2% in value and 8.6% in volume [IRI]. These gourmet brands, specialists in green, herbal, fruit and functional teas, are small but influential.

Pukka's marketing director Fox says the company's growth is driven by penetration, which has almost doubled in three years [Kantar]. Wellbeing is key to its innovation. "A wide consumer base is coming into the fruit and herbal and green categories led by interest in a healthy lifestyle. They're looking for functional benefits."

Indie We Are Tea has taken a similar route with its Everyday Good range, launched in Sainsbury's in July. At nearly 30p per bag, variants Svelte, Glow and Soothe are pitched above products like Pukka's Cleanse, which is around 12p. Brand founder Daren Spence says "it's important that pricing strategies don't turn the premium sector into a race to the bottom".

Super premium brand Teapigs' strong performance comes from gains in distribution.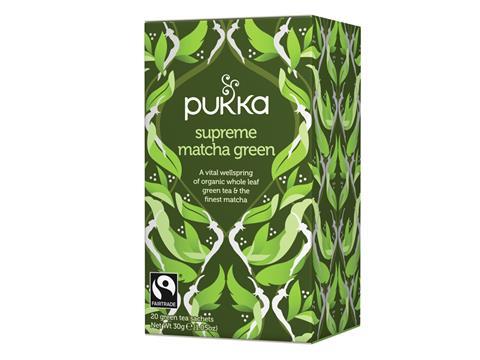 "We're benefiting from and partly creating premiumisation within tea," says co-founder Nick Kilby. "Consumers are trading up in foodservice and at home. We tell buyers that when people upgrade to Teapigs, you get much higher value sales and cash margin."

Kilby says super premium is a small luxury. "Our bags are 20p-25p. That's a huge differential from a standard big brand black tea bag, which can be bought on deal for a penny and a half. "

Kilby finds the wider interest in premium tea, grown by companies like his and Pukka, rewarding. But is the brand under pressure from Tata to scale up quickly? "We want to lead and dominate super premium sales globally. That comes from Teapigs, not anyone else."
Roast & ground coffee

That's off a small base, of course. Meanwhile, roast & ground sales are up 2.5%; growth worth £4.1m [Kantar]. Specialist coffee (which states a specific geographic origin on pack) is also up, by 1.3%. Wisely, brands with growing pod businesses are not neglecting their roast and ground heartlands. UCC Coffee makes private label pods but has also, says head of category and insight Phil Smith, seen double digit sales growth on its Orang Utan and ThreeSixty brands, with the latter boosted by four Great Taste Awards.

As well as extending its pod range (see box, p50), Taylors of Harrogate continues to evolve its roast & ground offering with limited editions and range changes. "We've managed to maintain our filter cafetière and beans businesses, which have contributed half a million in sales each," says brand manager Chris Payne. "Filter cafetière has remained relatively static in terms of penetration, but we've had a lot of success trading people up from other brands and we're growing at 1.3%."

The brand launched its Brazil single origin coffee in April, replacing existing Rwandan and Indonesian products. Brazilian was added to the range to attract premium own label drinkers and trade consumers up from Taylors blends. "Premium own label is an area of growth," adds Payne. "We're seeing more people moving out of standard own label towards more single origin propositions. Our ability on sourcing, roasting and blending and expertise on how we can deliver flavour allows us to differentiate from the premium own label propositions."

Although roast & ground and specialist coffee is already a pricier choice, top-end roast and ground brands such as Union Hand-Roasted Coffee, which costs £4.90-£5.50 for 200g, say drinkers' willingness to pay more for a cup of Joe is growing as the coffee shop sector continues to premiumise. Union revamped its packaging and product range late in 2015 and introduced roast profiles, quality scores and tasting notes on the new brown paper packs - all details more commonly seen in the speciality coffee sector than in retail. It's working. "As part of its relaunch Union secured strong listings in Ocado, Waitrose and specialist independent retailers," says commercial director Ben Styche. "With such strong growth in the high-end independent coffee shop market, the time is right to capitalise on this quality shift."
Hot drinks splash out £41m on ads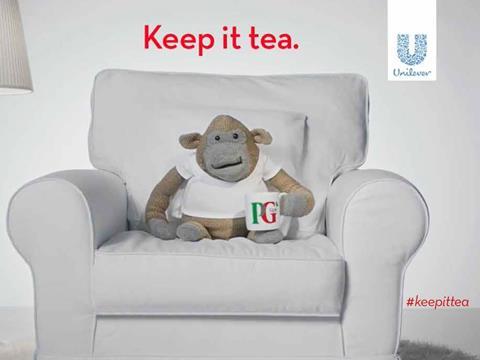 Nescafé's shift in spend to premium whole bean instant Azera reflects the way the wider coffee market is going: posh.
Tea is following suit, even if brand leader PG Tips is taking a more playful tack with ads featuring the pixellated nether regions of its monkey posterboy.
PG is still tea's biggest spender, but Yorkshire is hot on its heels, having splashed out an extra £2.3m on traditional ad space in the past year. It seems to be paying off in terms of sales, too.
The biggest spike in spend came from Lavazza, which made its debut on British TV screens with ads trumpeting Prontissimo!, the instant coffee it launched in 2014.
Coffee pods
Still, coffee pods are the category's star performer. And they're a dead cert to increase their 12.1% share of the coffee market by the end of the year, leapfrogging roast & ground to come third behind standard and premium instants. "Single serve coffee pods are being embraced by the UK consumer, with 14.7% of households buying into this format in the past year," says JDE's Padfield, quoting Kantar figures. "With a few pushes of a button consumers can be confident of a consistent tasting beverage. Tassimo is the most popular system and contributed nearly 49% of the absolute growth category growth. Nescafé Dolce Gusto is the second largest system, and also contributing to single serve growth."

With Nespresso capsules only available online and at a handful of 'boutiques', there's been a boom in compatible capsules in recent years. Taylors, Dualit, Café Royal and Pelican Rouge have all brought Nespresso-compatible range extensions or new products to market in the past year and own label has followed suit. "The capsule category has grown immensely in 12 months - supermarkets are launching own label Nespresso compatible capsules and existing players in the market have increased ranges," says a spokesman for Dualit. There's a super-breed of premium Nespresso compatible capsules on the way, too, from niche players like Cru Kafe and Colonna & Small's.

London-based CaféPod was first to market with Nespresso-compatible capsules in 2012. It launched Dolce Gusto-compatible capsules, stocked at Sainsbury's, Waitrose, Ocado and Amazon, in November. The launch has not been without technical challenges (a new system poses new specifications) but, says commercial director Rowland Hill: "We're targeting 10% market share of Dolce Gusto within two years and are currently on track to achieve that through our grocery partners."

For CaféPod, the attractions of the Dolce Gusto system were obvious, continues Hill. "In the UK, Dolce Gusto is worth around £50m but there was little or no commercial activity," he explains. "We had the opportunity to launch a range of compatible products that were a slightly lower rsp - £3.89 or lower versus £4 - and we were also able to offer commercial activity, promoting to £3 around six times a year."
Freddo Drinking Chocolate

Launching: September 2016 
Manufacturer: Mondelez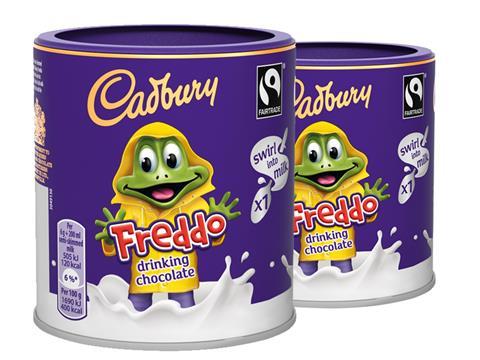 Category-leading hot chocolate brand Cadbury is extending its range with the launch of Freddo Drinking Chocolate. The milk chocolate drink (rsp: £1.49/179g) can be made with hot or cold milk for maximum family appeal. The pack features Cadbury's 33-year-old frog character, splashing around in a puddle of milk. The brand says the product tested favourably with a Mumsnet consumer panel before launch, with nearly four out of five saying they would purchase or recommend it.
CascaraLaunched
: August 2016
Manufacturer
: Union Hand-Roasted Coffee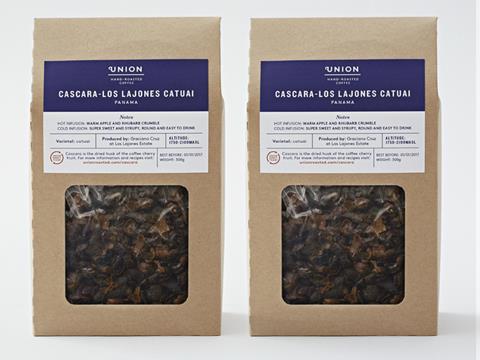 Also known as coffee cherry tea, Union Hand-Roasted's new infusion (rsp: £8/300g) is made from the pulped fruit of the coffee cherry, collected after the coffee beans have been removed. The pulp is dried in the sun and used to make a drink that's completely unlike conventional coffee, with a sweet, fruity taste. It can be brewed hot or cold.
White Maltesers Hot ChocolateLaunched
: March 2016
Manufacturer
: Mars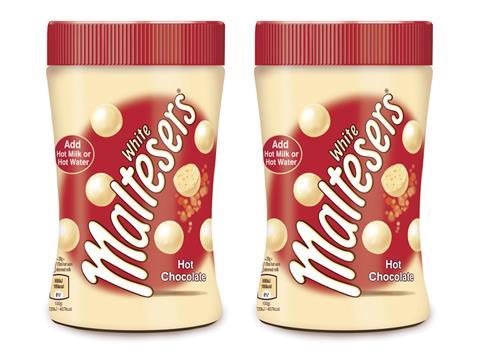 A White variant of Mars' Maltesers Hot Chocolate, launched earlier this year, comes in a 200g jar (rsp: £1.29) and can be prepared using hot milk or water. It joins a brand line-up which, says Mars, continues to drive strong category growth within malted drinks and outperforms the market at 17.5%.
PhrootiLaunched
: July 2016
Manufacturer
: Phrooti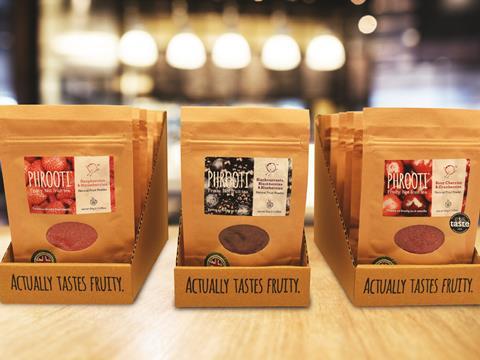 Taken on by Cotswold Fayre after a soft launch in December 2015, Phrooti is a caffeine-free instant fruit 'tea' made with freeze-dried ground fruit. The Sour Cherries & Cranberries; Blackcurrants, Blackberries & Blueberries; and Raspberries & Strawberries variants (rsp: £4.95/30g) are made with 95-97% real fruit and natural flavouring.
Hot chocolate pods
CaféPod's may not be the only Dolce Gusto compatible pod in market for much longer, with European roasters such as Swiss firm Delica AG, owner of the Café Royal brand, able to produce private label solutions including Dolce Gusto compatible pods. While Tassimo and Dolce Gusto systems also offer tea and hot chocolate, JDE's Tassimo has stolen a march on its rival by tying up with brands including Cadbury, Twinings, Costa and Oreo. "Whilst coffee remains the most popular beverage in the system, hot chocolate and tea drinks are seeing strong growth," says Padfield. "Twinings is seeing growth of 25% and Cadbury's 74%."

Tassimo has the lead among hot chocolate brands in a disappointing year for many, according to IRI. Only Maltesers and Sweet Freedom are in growth alongside it. Overall, the category has grown a modest 1.3% on volumes that have dipped 2.3% [Kantar], with own label advancing faster than brands.

A mild winter held sales back, say brands. With brand leader Cadbury, Highlights and Green & Black's on its books, Mondelez is the leading manufacturer. It's investing in Cadbury, which has lost 4.1% in value on volumes down 1.9% [IRI]. The Highlights range was relaunched with a new pack design and lower-salt reformulation in August, and Cadbury will also launch a new Freddo drinking chocolate this month (see box, p62). New packaging will also roll out this month on Drink Me Chai, the leading chai brand.

In the current climate, brand owners hoping to win shelf space for new launches need to put their money where their mouths are. Many hot beverages players say retailers want proof of significant marketing investment as they weigh up which products are worthy of space during range reviews. Small wonder then, that the market's biggest advertisers are shelling out more (see box, p56).

Over in coffee, Douwe Egberts is looking to appeal to shoppers' consciences with the latest phase of the Kenco Coffee vs Gangs project, which was launched in 2014 to equip at-risk Honduran youths with skills in coffee-farming, maths and English, as an alternative to lives of organised crime.

"Gangs are a constant threat in Honduras, with many young people left feeling that joining one is the only option for survival," said a spokesman in June, when the first bags of beans from the project went on sale. Some of the students involved in the project, who spent 11 months being taught, have already gone on to run their own businesses in coffee farming, hairdressing and other sectors.

As can be seen with Yorkshire, big ad spend can be a crucial factor when it comes to growth or loss for tea brands. "The ambition is to invest heavily in marketing," says Blair. "We do overinvest versus our competition, but we haven't had to take it from here and move it to there - we're planned out with a mission to grow the brand equitably and responsibly."
Mild winter hits sales of hot chocolate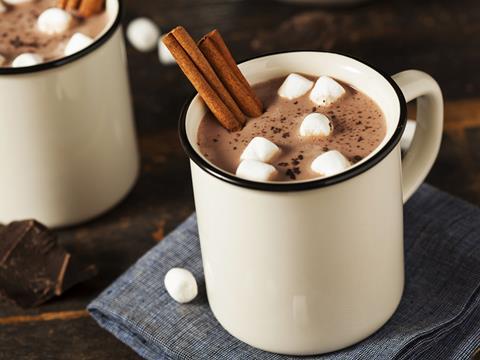 A mild winter led to hot chocolate sales falling £3.1m between last October and February, as retailers continued to rationalise the ranges they stock.
Mondelez dominates the category with its Cadbury and Green & Black's products. Both are in decline, but the company says there's still opportunity for growth with only one in two households buying hot chocolate despite its popularity out of home.
Hot chocolate, especially low-calorie, faces increased challenges from flavoured instant coffee and sweet green teas, as well as instant chai lattes such as Drink Me Chai chocolate.
Marketing
Typhoo, which has struggled with 12.3% value losses on volumes up 3.9% [IRI], hopes to regain its mojo with a collaboration with Nigella Lawson. Exclusive recipe cards for a Nigella chocolate cake will appear in packs later this year, with the brand supported by a new TV advertising campaign. Marketing controller Adil Hamid says the Nigella effect has already cooked up substantial gains in distribution for the brand.

Taylors has also brought a foodie on board. It took Jimmy Doherty to Colombia to meet coffee farmers, with the resulting TV ads aired from October last year and due to be repeated this year. "It's started to improve consumers' consideration and potentially preference for Taylors as a brand," says Payne "It gives an idea of the lengths we go to, which ties in with the logic of paying that extra price."

In August, PG Tips kicked off a new campaign offering tea drinkers the chance to win a personalised mug when they buy packs of 80 and 160 Original tea bags. "Personalisation is a huge trend at the moment, and this exciting promotion will give PG Tips fans the chance to get their hands on their very own personalised mugs," said Danlos, on launching the campaign, which will run to the end of September. "Whether they keep it for themselves, or give it as a gift to friends or family members, we are expecting them to be a huge hit with everyone."

Tetley has taken a similar tack to Kenco by teaming up with a charity. In August the brand launched an on-pack initiative to promote Smile Train, a charity that funds surgery for children born with cleft lips and cleft palates. The drive - which follows a $1m (£757,000) donation by the tea brand and its owner Tata - will appear on Tetley Everyday's 160-bag format in major multiples from September, inviting shoppers to log on to a bespoke digital platform to take the Tetley Smile Challenge.

At Twinings, the focus of TV advertising is primarily on drumming home the premium nature of the core English Breakfast offering. "Twinings is continuing to invest in premium tea; our latest campaign demonstrates the brand belief that a cup of Twinings tea is a small thing that can make a big difference to your day," says Keenan. "TV is used to drive mass awareness of our brand positioning, supporting English Breakfast. Over the summer we have been supporting Infusions and Green with a £1.5m media investment in June of this year, encouraging consumers to 'sip some summer feel good'. We are seeing strong results off the back of the campaign with a 7.6% value growth across our Infusion and Green Tea ranges in the last four weeks."

The cuppa, resurrected?

But despite the growing emphasis on such teas, brands are unanimous about the Great British cuppa: it can be rescued through a combination of savvy marketing, NPD and collaboration with retailers. Indeed, Tetley's Dries says the cuppa's fortunes are already starting to turn around. "Tea is intrinsic to UK customers and yes, there's been a slowdown, but there's certainly lots that can be done to keep the cuppa top of mind. Over the last 12 weeks we've started to see a significant improvement, and that's down to a renewed focus on everyday tea and closer involvement with our retailers. We have a role when it comes to category advice."

But sadly not when it came to advising on Brexit and the possible impact on our national drink.