If the stampede caused by the appearance of a wild Snorlax in Taipei, Taiwan this week is anything to go by, catching the rarest Pokémon requires dedication and a full phone battery. And if you want to be a Pokémon master, you've gotta catch 'em all.

"This has been the year power has had to go portable," says Natalie Carney, UK marketing manager for Varta. "An average consumer spends three hours a day online on their mobile and just 30 minutes of playing Pokémon Go will get through about 15% of the average smartphone battery."

Therein lies the opportunity. Although not powered by the likes of AA and other traditional batteries, the category's brands and retailers are keen to capitalise on consumers' dependency on their smartphones. For Varta, this means launching a portable power bank series for Poké-hunters, alongside more powerful chargers capable of refuelling multiple smartphones or a tablet. "Most grocery retailers now include power banks in their technology areas," adds Carney.

The success of Pokémon Go - as popular with adults as it is with kids - reflects a growing opportunity for the battery brands: the rise of the kidult, grown-ups with interests traditionally seen as suitable for children. So, how can batteries capitalise on consumers' often nostalgic love of toys? And can this boost category value following another flat performance? Value, once again, was fairly static with just a 0.3% increase but volume sales have changed significantly from a year ago when they were down 0.7% - they have grown by 7.6% [Kantar 52 w/e 22 May 2016].

"The battery market is suffering from reduced prices and the trend for bigger packs, leading to minimal market growth," explains Kantar analyst Tesni Steele Jones. "Despite the category remaining relatively flat, the discounters and bargain stores have seen significant value growth, seeing penetration and spend gains from the big four."

Aldi and Lidl saw the biggest gains as sales rose 24.9% and 32.2% respectively, although both still undertrade significantly in the category. But Lidl's growth isn't necessarily at the cost of brands. "We do focus more on own label," says Lidl buyer Helen Watkins. "However, there are times throughout the year when we complement our own-label assortment with a range of batteries from both Duracell and Panasonic. These help to attract new customers to the category."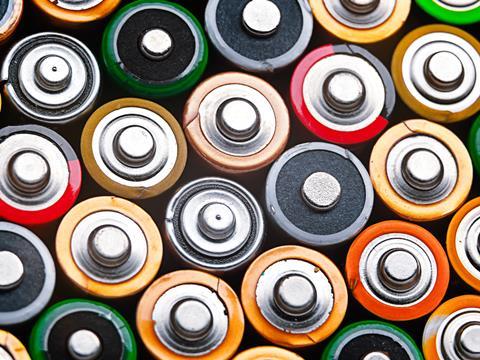 The battery category has seen minimal value growth in the latest year, as shoppers buy more volume at cheaper prices.
Despite the category remaining flat, the discounters and bargain stores have seen significant value growth, seeing penetration and spend gains from the big four.
Sainsbury's is the only one of the big four grocers to see success.
Just under one third of batteries are sold on promotion, with an increase in temporary price reductions and a move away from volume promotions.
Specialist batteries have seen an increase in average prices, driving value and volume decline, while general purpose batteries have seen price decline alongside value and volume growth.
Branded batteries have seen slight growth, with lithium and zinc carbon key to this development, as consumers rely on brands for specialist battery needs. Contrastingly, own-label batteries are growing within general purpose, especially alkaline.
Tesni Steele Jones, Kantar Worldpanel
Convenient purchase

Battery sales in the indies and symbol groups have also soared, by 21.2%, but there's plenty more room for growth, believes Tim Clark, sales manager, UK & Ireland, Panasonic Energy. To overhaul the category, the brand has pioneered a six-week trial with Londis retailer Ramesh Shingadia. "Batteries can be a bit of an afterthought for convenience retailers. It's a complex category and many retailers - even successful, experienced, expert innovators - aren't confident about the products or the brand positioning," says Clark.

The brand's trial with Shingadia has seen it relocate the tobacco gantry to drawers under the counter to allow for high-margin items such as batteries and spirits to take its place. And the move paid off: the c-store reported a fourfold increase in battery sales. "That's a 400% increase before the key sales period has even started," says Clark. "I would urge retailers who have the flexibility to exit their contracts with tobacco suppliers to make the best use of the highly valuable space left by dark."

That peak sales period is the run up to Christmas and New Year, although batteries maintain high levels of sales in January and February as well. The 12 weeks leading up to 3 January 2016 saw a 74.4% increase in sales compared with the 12 weeks to 13 September 2015. And the category is expecting another stellar performance this year.

"The Argos top Christmas toys list is out and six of the top 10 all require batteries, and some need two varieties," says Richard Podevin, North Europe marketing, Energizer Group. "For example, the Star Wars: The Force Awakens BB-8 toy requires four AA batteries and two AAA batteries, and the Little Live Pets Snuggles My Dream Puppy requires four AAA batteries - none of which are included in the box. Retailers stocking these toys can help maximise this opportunity by secondary placing batteries down the toy aisle."

Star Wars also proved successful for Duracell last Christmas, riding on the phenomenal success that was the seventh instalment in the saga. "Pairing up with popular toys and devices is a very impactful way for us to get our superiority benefits across to consumers," says Christina Turner, associate marketing director at Duracell UK. "By partnering with the Hasbro Lightsaber last year, we were able to communicate our message to 'Battle The Dark Side for up to 15 hours longer' on our Duracell Ultra line."

Panasonic, meanwhile, looked to another blockbuster movie for growth. "Following our highly successful partnership in 2015 with the release of Minions, we went even bigger this year," says Clark. "A partnership deal with the phenomenally popular Angry Birds brand as it extended to the big screen positioned Panasonic perfectly for its key target audience - families with children - as well as strengthening the brand's in-store presence."

Family life is at the heart of Varta's new Powering the Moment campaign - the brand's first ever UK media campaign, which includes a five-month TV sponsorship package. The eight 10-second idents will air across property and DIY programmes on the Discovery Network's Home & Health, Quest, Shed and Animal Planet channels from 1 September 1. It is hoped the campaign will raise Varta's profile in the UK, where it only has a tiny share.
Varta Powerpack

Launched: July 2016 
Manufacturer: Varta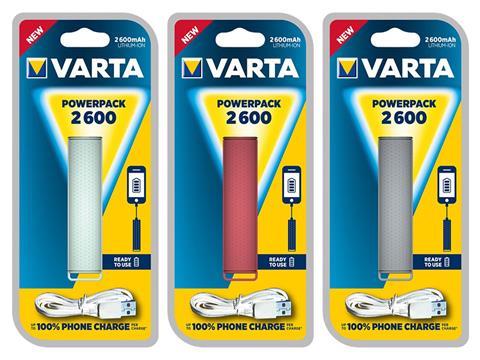 AA batteries look a tad past it in this digital age of 24-hour connectivity. So Varta has unveiled a new range of portable power packs aimed at giving smart phone and tablet users extra juice on the go. The entry-level product is this neat little Powerpack (£7.99), providing enough power to fully charge an iPhone, available in a range of colours and handbag and keyring attachable. Once used they can be recharged on any USB device.

Energizer Recharge

Launched: June 2016

Manufacturer: Energizer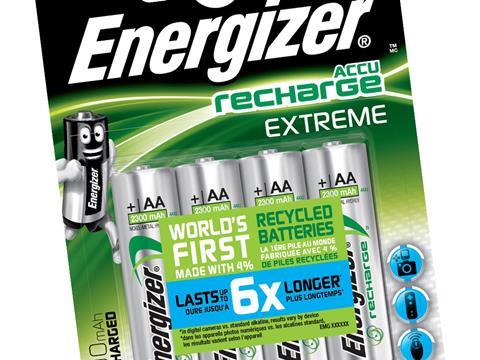 A 'world first', claims Energizer, these AA and AAA batteries are made with 4% recycled battery material and can be recharged hundreds of times, helping to assuage the guilt of the more ecologically minded battery user. RSPs start at £9.99 for a pack of four and they are stocked by a growing number of retailers.

Duracell Plus Power

Launched: April 2016

Manufacturer: Duracell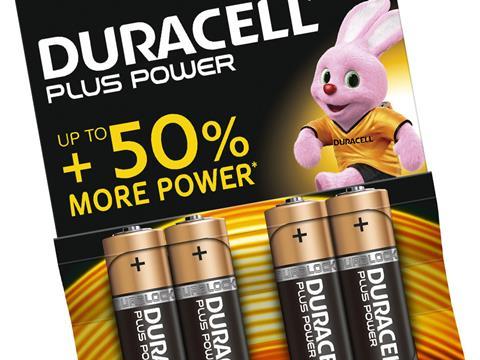 Forget eco credentials, Duracell says there's one thing that flicks most shoppers' switches when it comes to batteries: power. So it's given its Plus Power range of AA batteries (rsp: £3.50/four-pack) a shot in the arm, increasing their power by 50%, making the bold claim that these are the world's best alkaline batteries.

Eneloop Lite for DECT phones

Launched: July 2016

Manufacturer: Panasonic Energy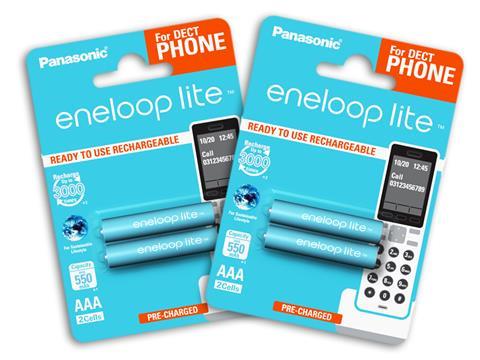 This new launch from Panasonic Energy has been designed specifically for low to medium power devices such as cordless telephones. Available in packs of two in the AA and AAA format (rsp: £4.99), these batteries are rechargeable in reflection of research that found 78% of shoppers use rechargeables in their cordless phones.
Long-lasting
Quality and longevity are key in batteries, especially for those seeking a happy Christmas morning. "Many of these devices are getting more and more complex. As a result, they need more power," Turner adds. "For consumers, it's important to know that buying the right batteries can make a difference to how much functionality they get out of a toy, and why it's important to look at the quality of the batteries they buy."
Making batteries as powerful as possible is a key driver for innovation. Duracell has pumped up the power in its Plus Power (right), building on the success of its Ultra Power range. Energizer, meanwhile, is playing the long game, having developed Ultimate Lithium Batteries which carry a lifespan of 20 years, ideal for devices such as smart smoke alarms and wearables.
But consumers are looking to long-lasting disposal batteries as opposed to rechargeable ones for this. Sales of rechargeables have fallen 18.3% on volumes down 15.8% [Kantar]. They command a significantly higher price than other batteries, one that consumers are seemingly unwilling to pay. That's not to say they won't in the future. "Rechargeable batteries still have plenty of room for growth, as consumers gain more awareness of their environmental benefits and the value for money they offer," adds Clark.
So, like a Pokémon master's phone, the batteries market still has plenty of opportunity to recharge.