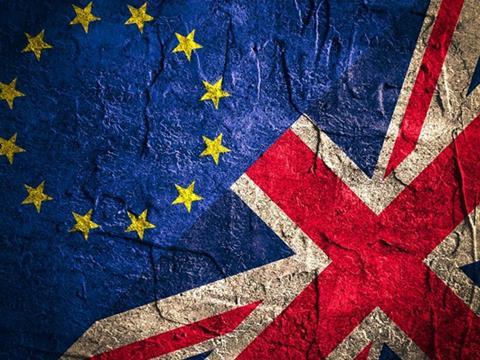 The UK has voted to leave the EU by 51.9% to 48.1%, sending shockwaves through the country and around the world.
Prime Minister David Cameron resigned shortly after the result was confirmed.
The city reacted hard and fast. The FTSE 100 dropped 8.3%, wiping £137bn off UK companies, the third biggest fall in history. Meanwhile the pound slumped to a 31 year low.
Grocery stocks have plunged by up to 30%. Associated British Foods (ABF) is down 15% to 2,400p, Greencore (GNC) has fallen 15% to 273.8p, Cranswick (CWK) is down 13% to 1,951p and PZ Cussons (PZC) falls 12% to 299.1p.
Of the retailers, Sainsbury's (SBRY) dropped 12% to 215.5p, Ocado (OCDO) dropped 11.8% 223.1p, Tesco (TSCO) fell 9% to 152.9p and Morrisons (MRW) dipped 4.4% to 181.2p. Marks & Spencer (MKS) plunged 29% to 260p.
The food and drink industry has been swift to react.
"In March we released the results of a poll of our members which showed 70% support for Britain to remain in the EU," said Ian Wright CBE, director general at the FDF. "It's inevitable in the light of those results that the majority of FDF members will regard this as a disappointing result for the food and drink industry."
NFU President Meurig Raymond urged the government to "construct new arrangements" for British farmers "as soon as possible."
Will Gemmill, head of farming at Strutt & Parker, said Brexit would delight significant numbers of farmers, although he warned there were still a huge number of questions about the likely impact on farm profitability.
"If sterling drops, then in the short term we could see improvements in our competitive position which will help exports and push up prices," he said. "However, over the medium term there are crucial questions about the level of support UK farmers will be paid and on the terms of any trade deals struck with the EU and the rest of the world. At this stage there are huge numbers of unknowns. It is not even clear how long it will take the UK to negotiate its way out of the Europe."
In crisis or opportunity you can always trust The Grocer. Access wherever, whenever. Subscribe now!
"The question is, what does this mean for British growers and producers going forward?" said Jack Ward, CEO of British Growers. "With over 60,000 seasonal workers recruited from EU countries each year to assist with harvests, we need the government to dispel any uncertainty and address whether there is still an opportunity to work with the EU to fill these seasonal roles to enable growers to meet demand."
"We are now entering a period of considerable uncertainty which is not great for UK businesses. Inevitably investment decisions will be put on hold pending answers from the politicians about what the new political landscape will bring. We need to minimise the potential for disruption and ensure UK growers get the level of political backing they need to compete successfully".
The Forum of Private Business has also demanded "immediate action to support SMEs and address their many issues and concerns that they have. Politicians need to act quickly and effectively. The clock is ticking. We have two years to extricate ourselves from the EU and cannot afford for any petty political squabbling within government".
Ed Salt, MD of Delamere Dairies said: "As a co-owner of a business who relies on international trade and the benefits the EU brings I am hugely disappointed that the UK has voted to leave the EU. I am fearful of what the future might hold".
Euromonitor International has said its forecasts show that Brexit will hit "discretionary purchases" that are "reliant on income" hardest, such as "confectionery, ready meals and sweet and savoury snacks".
From a retail perspective, BRC CEO Helen Dickinson also urged the government to "move quickly to explain the process of disengagement from the EU. Retailers should be prepared for the possibility of significant swings, particularly in the exchange rate and consumer confidence."
Moody's warned Brexit will "weigh on the country's economic and financial performance and will be credit negative for the UK sovereign and other rated entities".
And Carolyn Fairbairn, CBI Director-General, said the "urgent priority is to reassure the markets. We need strong and calm leadership from the Government, working with the Bank of England, to shore up confidence and stability in the economy."
Jon Copestake, chief retail and consumer goods analyst at the Economist Intelligence Unit warned that retail sales "will decline in the short term. The sales growth already achieved in 2016 will be pegged back for the rest of the year as consumers retrench and consolidate their expenditure. A weaker pound will push up prices while uncertainty during the negotiating period will weigh on household spending and retailer balance sheets. Worse is likely to come in 2017 when retail sales volumes could decline by over 3% as the economy falls into recession and uncertainty mounts, especially as higher import prices also act to depress demand."
"A weak sales environment will only be one of a number of challenges for retailers though," he added. "As consumers rein in spending retailers will be scrambling to renegotiate agreements with suppliers and reassess the regulatory environment in which they operate. Other factors such as exclusion from the Common Agricultural Policy and Digital Single Market will have both ramifications for retail supply and for cross-border trade with EU markets."
The "uncertainty" caused by Brexit "may mean consumer spending is tempered in the short term" which will "exacerbate the strain that retailers are already under from deflation, the national minimum wage, as well as required investment in infrastructure," said Julie Carlyle, EY's retail sector leader. "For many retail businesses, the impact of any further devaluation of sterling will have a significant impact on the costs in the supply chain. Retailers will further be considering the impact on their labour force in the longer term, especially within distribution and logistics where there are a significant number of EU employees, as well as the yet unknown impact on trade tariffs."
Peter Ward, CEO of the United Kingdom Warehousing Association said all the polls carried out by the UKWA polls had "consistently shown a clear preference among members to remain" and that the decision to Brexit heralded "serious global implications, bringing new challenges for British businesses and particularly for those within our industry."
"Many of our members trade across Europe and have enjoyed the benefits of 'logistics sans frontiers' for 40 years, with goods entering and leaving our country freely. My hope now is that as new trade agreements are forged, there is no return to red tape and complex customs regulations that prove burdensome and costly for UKWA members".
"As usual the devil is in the detail, and we will work hard on behalf of our members to ensure those negotiating Britain's exit fully understand the ramifications."
In crisis or opportunity you can always trust The Grocer. Access wherever, whenever. Subscribe now!