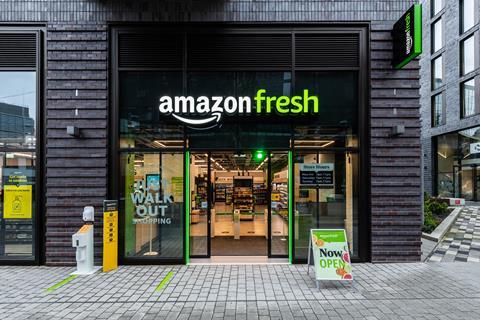 I visited my local Amazon store – a phrase that still sounds odd – the other day. The thing that struck me was the sheer number of people! But not shoppers. I was the only one in fact. (And I was only there to return a package.) It was the number of staff. There were loads of them. Three outside, bizarrely offering free bananas to passers-by. Two at the barrier. One in the parcel booth (though he couldn't accept the package I was trying to return as it was bought on Amazon Marketplace rather than Amazon), and two others stocking shelves.
In contrast, in the Tesco across the road, I have regularly completed a self-scan-based shop without encountering a single member of staff on the shop floor, or with a colleague taking only a passing interest in me and my fellow shoppers.
Of course, it's early days for these Amazon Fresh stores. And no doubt the number of personnel on hand will come down, while shopper numbers will increase, as familiarity with the fascia, the range and the Just Walk Out technology grows. But there's no guarantee Amazon will make any money from its convenience stores.
Even though it can afford to outbid rivals for prime sites, landlords are still sceptical about its long-term performance (and put off by its "excessive" demands). Its JWO tech costs, though falling, are still sky-high. Meanwhile, increased working from home has resulted in less footfall at the transport hub locations it's so far chosen.
There's no guarantee it will make money from online food shopping either. In The Grocer's latest Online 33, Amazon's basket was middling in terms of price competitiveness. And it came last on service. It shows just how competitive it is in online grocery, and what a good job the grocers are doing.
What Amazon is brilliant at is selling stuff – cheaply and at speed – in brown parcels, especially ones that fit in letterboxes.
Selling food online is a lot harder. And, to be fair, they've had a lot more practice. Tesco launched an online grocery shopping service in 1996 – two years before Amazon even opened for business in the UK.
Amazon isn't even the fastest game in town when it comes to online grocery delivery. Having concluded in 2020 that two-hour delivery was overkill, it's seen a bunch of young Turks (and Germans and Yanks and Brits) create a new turf, meeting a need for instant gratification that Amazon itself helped create – and dialling it up to 11. It goes to show, you cannot rest on your laurels, in this market. And size is no guarantee of success.