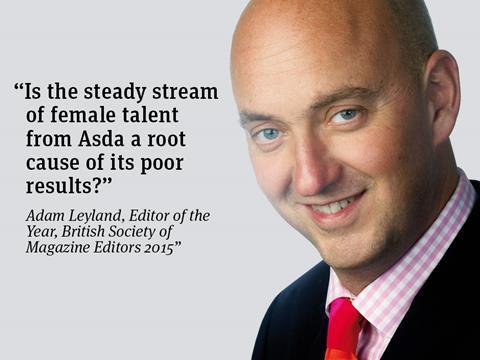 Since Christmas there have been some pleasant surprises on the trading front. Share growth, which has been positive but marginal since the summer for the big four, accelerated markedly, resulting in positive trading statements from all the listed supermarkets, and that was reflected in solid results from Premier Foods this week.

But this week has mostly been about rude shocks.

The first came from Holland & Barrett, with a heavy-handed letter to suppliers from CEO Peter Aldis demanding a 5% price cut. The health food retailer isn't big enough for its behaviour to be investigated by the Groceries Code Adjudicator, but with £513m sales and 1,071 shops it holds a lot of power over its specialist suppliers.

Even worse news was to follow. In a grim week for Asda, 204 head office staff left on Monday. Another 600 have till this weekend to decide their future after significant changes to their roles. That's on top of the 210 middle management roles axed in March 2014 and a further 30 last October under Project Renewal.

It's not just head office. In another shop floor blow all its canteens will go, and a number of service counters are threatened, resulting in a further 5,000 shop floor jobs being under review.

It's difficult to present such devastating news well but as my colleague Ian Quinn argued in a great blog on Tuesday, the restructure has once again seemed heavy handed, and further threatens morale following Asda's alarming sales slide and the massively unpopular shop floor restructure in early 2014 (which saw 1,360 jobs lost). It's surely no coincidence that customer service levels at Asda in our Grocer 33 have dipped this year. Some of the job cuts Asda is making you can understand. Why did property and IT need their own HR/recruitment function, for example? Facilities management sat across multiple departments. Perhaps the bigger question is how a so-called EDLC operator has allowed itself to operate in such a way for so long?

In any event, when you're losing sales at the rate Asda is you need to make cuts to protect the bottom line. But at what point are the cuts unsustainable? Is the focus on profit at the expense of the customer?

The departures of Fiona Lambert and Helen Milford also highlight a growing macho/boys club tendency.

In has message to the troops, Andy Clarke pointed out that Helen Milford "has been a significant campaigner for Inclusion and has led our Women in Leadership programme and was personally asked by [CEO] Doug McMillon to be a member of the Women's Global Council of Women Leaders and represent Asda."

Similarly Fiona Lambert had "also made a significant contribution throughout her time with Asda", he added, not only in her contribution to the success of George, and the introduction of homeware, but "as an ambassador for Tickled Pink and as a supporter of Women in Leadership".

So how have they been allowed to leave? By offering them diminished roles. That's how. Asda always championed women. At one point it looked like COO Judith McKenna might become the first CEO of a British supermarket.

But there's been a steady stream of talented female leaders leaving Asda, be it VPs such as Ellie Doohan, Karen Hubbard, Fiona Briault and Amanda Cox, or senior directors like Karen Doran, Claire Lenighan, Emily Nield and Sarah Fothergill. Even the MW of wine, Philippa Carr, is considered a luxury. How does that serve Asda's predominantly female customer base? Could that be a root cause of poor results?

I've always felt, among the myriad roots to revival/turnaround, one option might be to appoint an all-female exec. That would make quite a story, and have huge PR value - quite aside from the strategic plan an all-female team might come up with. Sadly it's further away than ever.